D.C. Mayor Says She Hasn't Reviewed 'Defund the Police' Message Near Black Lives Matter Mural
Washington, D.C., Mayor Muriel Bowser has not disclosed whether her office plans to remove a "Defund the Police" message painted onto a roadway near the White House Saturday night, close to the site of Black Lives Matter Mural she commissioned late last week. Upon the mural's completion, Bowser renamed the area Black Lives Matter Plaza.
Speaking to reporter Martha Raddatz during an appearance on ABC News' This Week, Bowser said she had not reviewed the new message, which appears to have been added by activists belonging to Black Lives Matter's D.C. chapter.
"I actually haven't even had an opportunity to review it, Martha, but we—the response that we've gotten from people about the Black Lives Matter—Black Lives Matter mural has just been incredible," Bowser said Sunday morning.
She added: "It's not a part of the mural, and we certainly encourage expression but we are using the city streets for city art."
Black Lives Matter DC shared several posts to Twitter Sunday morning with photos and videos of activists dancing while painting the additional statement, so the mural now reads "Black Lives Matter = Defund the Police." The group issued a press release early Sunday afternoon, elaborating on previous criticism of the mural, which it called "performative," and sharing names of individuals who died at the hands of D.C. police.
"We stand by our critique of the DC Mayor Muriel Bowser after the unveiling of the Black Lives Matter Mural and the renaming of Black Lives Matter Plaza," the statement read. "We hold that we have a duty to the loved ones named above to ensure that they are not forgotten and their deaths are not exploited for publicity, performance, or distraction. Mayor Muriel Bowser must be held accountable for the lip service she pays in making such a statement while she continues to intentionally underfund and cut services and programs that meet the basic survival needs of Black people in DC."
The Black Lives Matter mural and the 'Defund the Police' message came amid rallies protesting systemic violence and racism by law enforcement, which have taken place across the United States every day since Minneapolis resident George Floyd died in police custody on May 25.
During her This Week appearance on Sunday, Bowser said that public participation in protests has grown in the aftermath of heightened federal intervention and threats from President Donald Trump last week.
"What he actually did, as you saw for the remaining days, was turn out more people, and more people who were there for peaceful protests," she told Raddatz, noting that Saturday's D.C. demonstrations were the largest to take place since Floyd's death.
"What Americans saw was federal police forces teargassing peaceful Americans," Bowser continued. "And how they responded made clear to the president that Americans would exercise their first amendment rights and they would do it peacefully."
Numerous U.S. states activated their National Guards after looting, property damage and other crimes were carried out during some demonstrations, and city officials implemented week-long curfews to discourage gathering. Authorities in D.C. and elsewhere used force to disperse crowds on multiple occasions. Peaceful protesters were teargassed near the White House last Sunday, and again on Monday evening as Trump threatened to deploy active federal military troops to states that failed to establish an "overwhelming law enforcement presence" as means to "dominate" demonstration sites.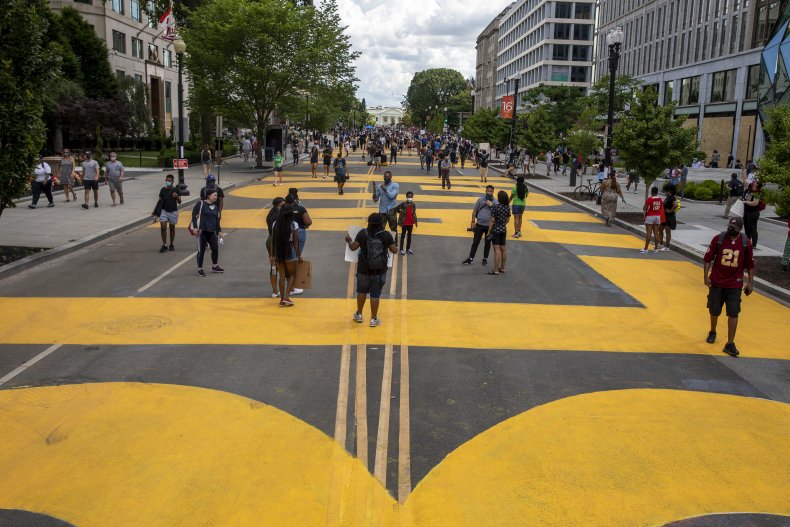 More than 43,300 National Guard members were deployed to support local law enforcement in 34 U.S. states and Washington, D.C., the agency confirmed on Twitter Saturday. At least 5,000 of them were stationed in D.C. alone.
Trump and Bowser have clashed over federal response to protesters. On Thursday, Bowser issued a statement expressing concern about "unidentified federal personnel" patrolling D.C. streets, saying their presence inflamed demonstrators and exacerbated grievances. She asked for the president to withdraw them. On Friday, Trump called Bowser "incompetent" on Twitter.
Newsweek reached out to Mayor Bowser's office, Black Lives Matter DC and the White House for additional comments, but did not receive replies in time for publication.