The rancid smell of cheap weed in the air. Empty beer and liquor bottles and rotting food on the ground. A rainbow of tents. The bump bump bump pounding of music from several directions. Many groups of people, unwashed, chatting and laughing. You'd be forgiven for thinking this is describing a weekend music festival, when in reality it was the scene at Columbus Circle in front of Washington, D.C.'s iconic Union Station.
For the past two years, visitors who arrived in our nation's capital via rail were greeted not by a breathtaking view of the U.S. Capitol or the National Mall, but rather by a different breathtaking one––of people shooting up, urinating, defecating and engaging in a range of other unsavory and, often, unspeakable acts. This vulgar reality was, and remains, far from isolated. It is replicated in many public parks and grassy spaces across the city––from Columbia Heights to Logan Circle to Navy Yard to Union Market. Even tony Georgetown, long thought to be impenetrable, has also found itself a victim of homelessness and all the licentiousness that comes with it.
Then suddenly, last Wednesday, the National Parks Service sprung into action. It removed the homeless encampment in Columbus Circle. One previous "resident" told Axios that she had been living at the location since September 2021. On record, D.C. has over 6,380 individuals experiencing homelessness on any given day, which is roughly a quarter of the estimate for the entire state of Texas. In 2010, D.C. had an estimated 6,539 individuals experiencing homelessness on any given day. So a bit over a decade later, we're at least marginally better off, right?
Wrong.
After the McKinney-Vento Homeless Assistance Act was enacted in 2009, D.C. changed the way it counts the homeless. In a nutshell, it stopped counting them. People pulled from the street and pushed into "permanent supportive housing" no longer factored into the homelessness tally.
Absent the fuzzy math of government agencies, one can easily deduce that the number of homeless persons in D.C. has exploded over the past decade. All you have had to do is look around the nation's capital yourself. Even the rabidly progressive denizens of the District––who voted 92.15% for Joe Biden in 2020 and have supported radical measures for people on the streets, like a "Homeless Bill of Rights"––are fed up. Just several months ago, 75% of Washingtonians said they supported clearing the homeless camps strewn about their city.
The residents of D.C. have been frustrated with the epidemic of homelessness for a while now. Tellingly, last year alone, more than 23,000 people left D.C., notching a record high for the last two decades. The city had the lowest marks for both domestic and net migration among all states. Most normal people, no matter how "progressive" they claim to be, don't want to live, work, spend time with friends and raise families in a city plagued with homelessness—not to mention rampant, violent crime.
But why is D.C.'s mayor, Muriel Bowser, finally doing something about it now? It's nothing more than a political stunt––an attempt several months before an election to fend off Democratic challengers by covering for her total failure to end, or even to curb, homelessness in the city. (She started doing biweekly homeless encampment cleanups before the 2020 election, as well.)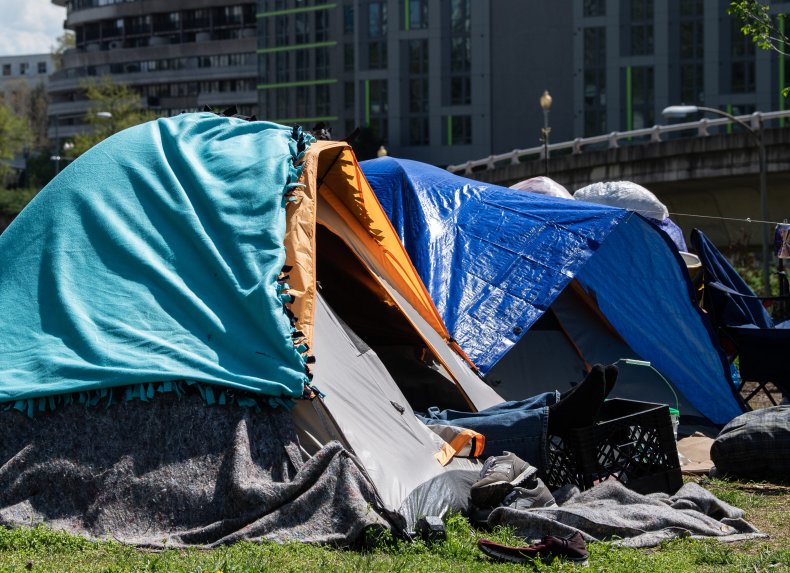 In 2015, Bowser declared in her inaugural State of the District address, "We will deliver on another promise: ending family homelessness by 2018 and chronic homelessness by 2025 in the District of Columbia." In 2018, the year she promised that family homelessness would be gone, she shuttered the doors of D.C. General, the largest family shelter in the city, which housed up to 260 families during peak periods. Today, the total number of families in D.C. experiencing homelessness is 767, and thousands more indigent remain without permanent housing. Promises made, promises broken.
Since then, Bowser's policy has been to allow those who need the most assistance to camp wherever they please, cruelly leaving them to weather the elements, deal with crime, use public spaces as restrooms and suffer from addiction and untreated mental health problems. She has provided porta-potties and offered crack pipes to those afflicted by drug addiction. But those actions aren't compassionate, either. They will only perpetuate homelessness and addiction––and thus make the city even more unlivable for those oh-so-judgmental types who still care about "law and order."
Bowser is currently trying to acquire $31 million to "end chronic homelessness"––her new promise—as well as $114 million to improve local shelters. Her budget proposal has yet to be approved by the D.C. Council. But know that $25 million went to D.C. alone in 2021 through the U.S. Department of Housing and Urban Development's (HUD) Continuum of Care competition for permanent housing with access to supportive services for the homeless. That money appears to have been flushed down the drain. Given city leadership's pitiful track record, one can't expect that throwing even $150 million at the problem will make a dent.
Another dose of absurdity: The formulas HUD uses to decide how much money cities will receive for homelessness assistance grants are written in a way that allocates more money––you guessed it––the greater the extent of the homelessness. So you can surmise how that's turned out in nearly every city virtually every time.
The measures for combating homelessness that radical left-wingers like Bowser would like to claim are "humane" are, in fact, terribly inhumane—both for people on the streets and the residents who have to deal with the noxious spillover effects. Those on the streets need transitional housing with wraparound services for treating addiction and mental health problems. And contra progressive dogma, the cause of homelessness in America isn't "the unaffordable cost of housing"—it's addiction and the permissive policies paired with millions of dollars from government and nonprofits that go toward smartphones, food and clothing. These misguided policies strongly disincentivize people from lifting themselves up off the streets.
And so the game goes on. The number of homeless persons is fudged by corrupt officials and unelected bureaucrats to be lower when an election rolls around, and then afterward is fudged to be higher once the government's coffers are open again.
Left-wing groups that advocate for the homeless somehow believe that allowing human beings to dwell in their own feces and sleep among broken glass and needles is more compassionate than arresting those who have committed crimes. There is no doubt that D.C.'s problem lies with those who use the homeless as political pawns as they sit in marbled cathedrals pumping out white papers and steering hundreds of millions of dollars in taxpayer money and activist cash.
Jonathan Bronitsky and Robert Donachie are colleagues at ATHOS, a Washington, D.C.-based publicity firm and literary agency. You can follow them, respectively, @jbronitsky and @rjdonachie3.
The views expressed in this article are the writers' own.