Officers from Washington, D.C.'s Metropolitan Police Department said Wednesday that 4 people had died in connection with violent riots at the U.S. Capitol. Meanwhile, D.C. Mayor Muriel Bowser's office announced the extension of an emergency order within the city which is not expected to expire until after Inauguration Day.
At the apparent urging of President Donald Trump, rioters descended upon the Capitol building on Wednesday seeking to disrupt the Congressional certification of President-elect Joe Biden's victory in the Electoral College. An undetermined number of rioters stormed the Capitol rotunda and were able to gain access to the offices of some lawmakers. In a Wednesday press conference, D.C. Police Chief Robert Contee said that not only had people been arrested, but 4 individuals had died during the riots.
Contee noted that a woman whose identity has not been released was shot by a Capitol police officer. The individual was "transported to a local hospital where, after all life-saving efforts failed, she was announced deceased."
Contee added that the shooting was under investigation by the police department's Internal Affairs Division, "as we investigate all officer-involved deaths in the District of Columbia, including ones from other agencies."
Three other individuals—one woman and two men—suffered "separate medical emergencies which resulted in their deaths," Contee said.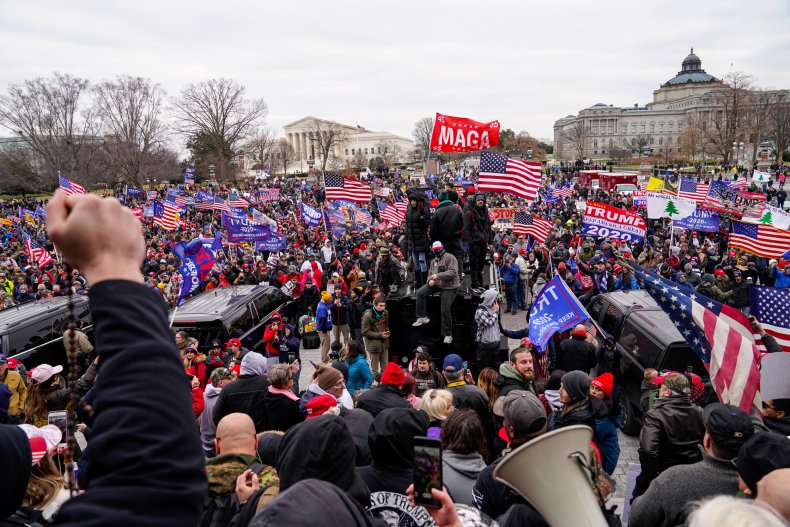 More than 52 arrests were made, including 47 violations of the citywide curfew enacted by Mayor Bowser on Wednesday. On Wednesday night, Bowser's office released a statement announcing the extension of the city's emergency order.
"First Amendment protests have turned violent," the statement read. "Many persons came to the District armed and for the purpose of engaging in violence and destruction and have engaged in violence and destruction. They have fired chemical irritants, bricks, bottles, and guns. They have breached the security of the Capitol and their destructive and riotous behavior has the potential to spread beyond the Capitol."
"Their motivation is ongoing," the statement continued. "Today, they sought to disrupt the Congressional proceedings relating to the acceptance of electoral college votes. President Trump continues to fan rage and violence by contending that the Presidential election was invalid. Persons are dissatisfied with judicial rulings and the findings of State Boards of Elections, and some persons can be expected to continue their violent protests through the inauguration."
Under Bowser's emergency order, authorities are permitted to "disconnect, suspend, or shut-off public utilities," change business hours or prevent people from traveling if a curfew is enacted and "exercise operational discretion over all District government departments."
Newsweek reached out to the office of Washington, D.C. Attorney General Karl Racine for comment.
Barring unforeseen circumstances, Biden is expected to be sworn in as the next U.S. President on January 20. According to Biden's inauguration planning team, the celebration will be conducted in a virtual format. "The parade will celebrate America's heroes, highlight Americans from all walks of life in different states and regions, and reflect on the diversity, heritage, and resilience of the country as we begin a new American era," read a Sunday statement from the Presidential Inauguration Committee.