Watch: DC Police Tow Van as Climate Protester Clings to the Roof to 'This is Not Safe' Shouts
Climate protests in Washington, D.C., heated up on Monday morning when police towed a van blocking an intersection despite an activist clinging to the roof of the vehicle and fellow protesters shouting the action was "not safe."
A minute and a half-long video by a Twitter user whose profile states "transit enthusiast" shows a truck marked with "Metropolitan Police" positioning to tow a van with a large banner stating "ROAD CLOSED CLIMATE EMERGENCY" and a woman lying on top. The action was part of global climate strikes that young activists have been organizing since Friday to try to push government officials to address climate change.
"This is not safe. It is not safe," a man's voice can be heard shouting, but authorities continue to prepare to remove the van blocking a major intersection. "This is not safe to tow a vehicle with people on it. There are people on this van and they're towing the vehicle."
As the police truck actually begins moving the van, the male voice says, "What the f***," and, "Holy s*** they're literally towing the van with people on top of the f****** van."
The woman on top of the van remains silent and clinging to the vehicle as it is towed away by the police truck.
Another protester's voice can be heard saying, "If you're, free stand on the road, let's go," encouraging activists to keep the demonstration going.
The video got thousands of views when it was shared by Ian Miles Cheong, managing editor of the conservative newspaper and website Human Events.
"Climate strikers are trying to shut down infrastructure in DC by refusing to move, and laying down on vehicles blocking intersections while their supporters say its 'unsafe' to tow them while they're on it. You know what? Tow that s***." Cheong tweeted, along with the hashtag #ShutDownDC that climate protesters were using.
In Washington, D.C., climate protesters held on to a boat in the intersection of 16th Street Northwest and K Street Northwest until they were removed by police. It was recorded on video by the climate change activists organization Extinction Rebellion Washington DC.
Some protesters sat at a crosswalk at Independence Avenue Southwest and 14th Street. They encouraged onlookers to join the strike.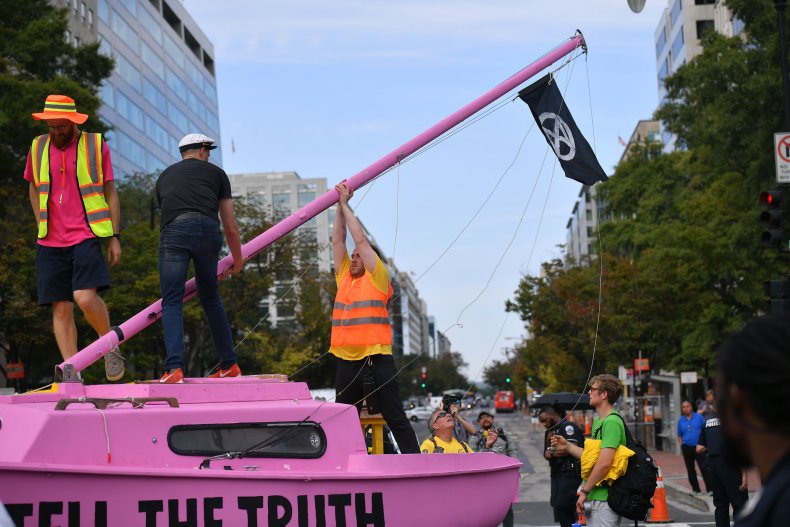 The climate protests in Washington, D,C., occurred on the same day that the United Nations planned to host a Climate Action Summit in New York, with Secretary-General António Guterres calling on global leaders to present "concrete, realistic plans" to lower greenhouse gas emissions.