D.C. Riot Like 'Bad B-Movie,' Crossed Dangerous Threshold: Former German Minister
Former German foreign minister Sigmar Gabriel warned Friday that the deadly riots by supporters of President Donald Trump at the U.S. Capitol this week crossed a dangerous threshold for American politics.
In an interview with a German radio station, Gabriel said the images of rioters attacking the Capitol looked like they were taken "from some bad B-movie film" and called it a "huge threat to the American institution."
"Look, a few days ago it would have been unthinkable to imagine such pictures, you would have said, well, this comes from some bad B-movie film, someone thought up a catastrophe and made a film about it."
"Now the threat to constitutional organs, the storming of buildings all at once, is part of what is politically possible. There are many conceivable institutions in America that could be exposed to such violent attacks," he added.
Referencing his own country, Gabriel said that while the attack was different than the political instability of pre-War Germany in the 1930s, the situation in the U.S. had suffered "a major deterioration in quality."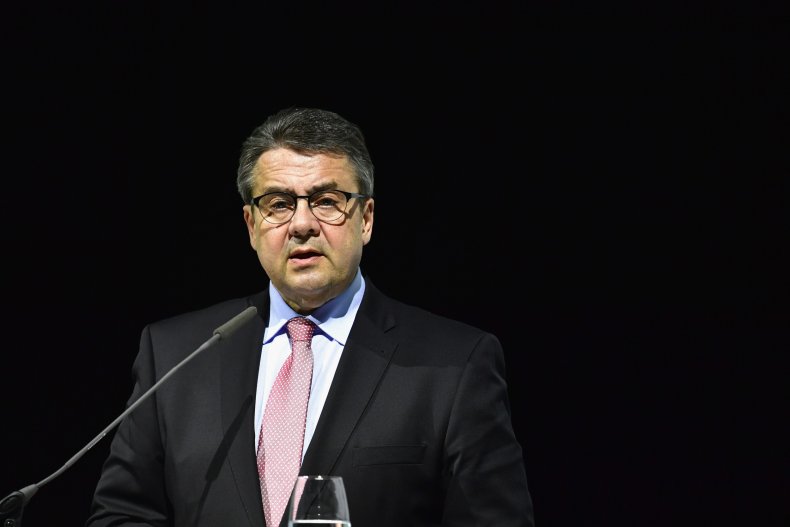 Gabriel's statements add to a growing list of world politicians who have condemned Wednesday's acts of violence against the U.S. Capitol.
U.K. Prime Minister Boris Johnson, a one-time ally of President Donald Trump, called the scenes at the capitol "disgraceful" on Wednesday.
"Disgraceful scenes in U.S. Congress. The United States stands for democracy around the world and it is now vital that there should be a peaceful and orderly transfer of power," he wrote in a post on Twitter.
Other leaders, including French President Emanuel Macron, said the riots were "not American."
"When, in one of the world's oldest democracies, supporters of an outgoing president take up arms to challenge the legitimate results of an election, a universal idea—that 'one person, one vote'—is undermined," Macron said. "Today France stands strongly, fervently and resolutely with the American people and with all people who want to choose their leaders."
Wednesday's violent attack on the Capitol ultimately left five people dead, including U.S. Capitol Police officer Brian D. Sicknick. Rioters stormed the building and broke through barriers and windows, clashed with officers and ransacked congressional offices.
The political unrest has been deemed an act of domestic terrorism by President-elect Joe Biden.
Jonathan Wackrow, a security expert who served in the presidential protection division during Barack Obama's presidency, said that the building was stormed due to a "breakdown in risk intelligence planning."
"I am literally stunned. My junior analysts had been looking at this for weeks. So, trained law enforcement professionals and intelligence professionals missed it? No way. I don't buy it," Wackrow told CNN. "I mean, this was a huge miss. And, again, it speaks to the governance and oversight of the law enforcement entity that's protecting the Capitol, the Capitol Police."
A number of Democrats and some Republicans have since called for Trump to be removed from office in his remaining few days.
Senator Bernie Sanders, an Independent from Vermont, tweeted Friday: "Some people ask: Why would you impeach and convict a president who has only a few days left in office? The answer: Precedent. It must be made clear that no president, now or in the future, can lead an insurrection against the U.S. government."
Newsweek reached out to Gabriel for additional comment, but did not hear back in time for publication.