D.C. Needle Policy Change Led to Massive HIV Infection Decline in 2 Years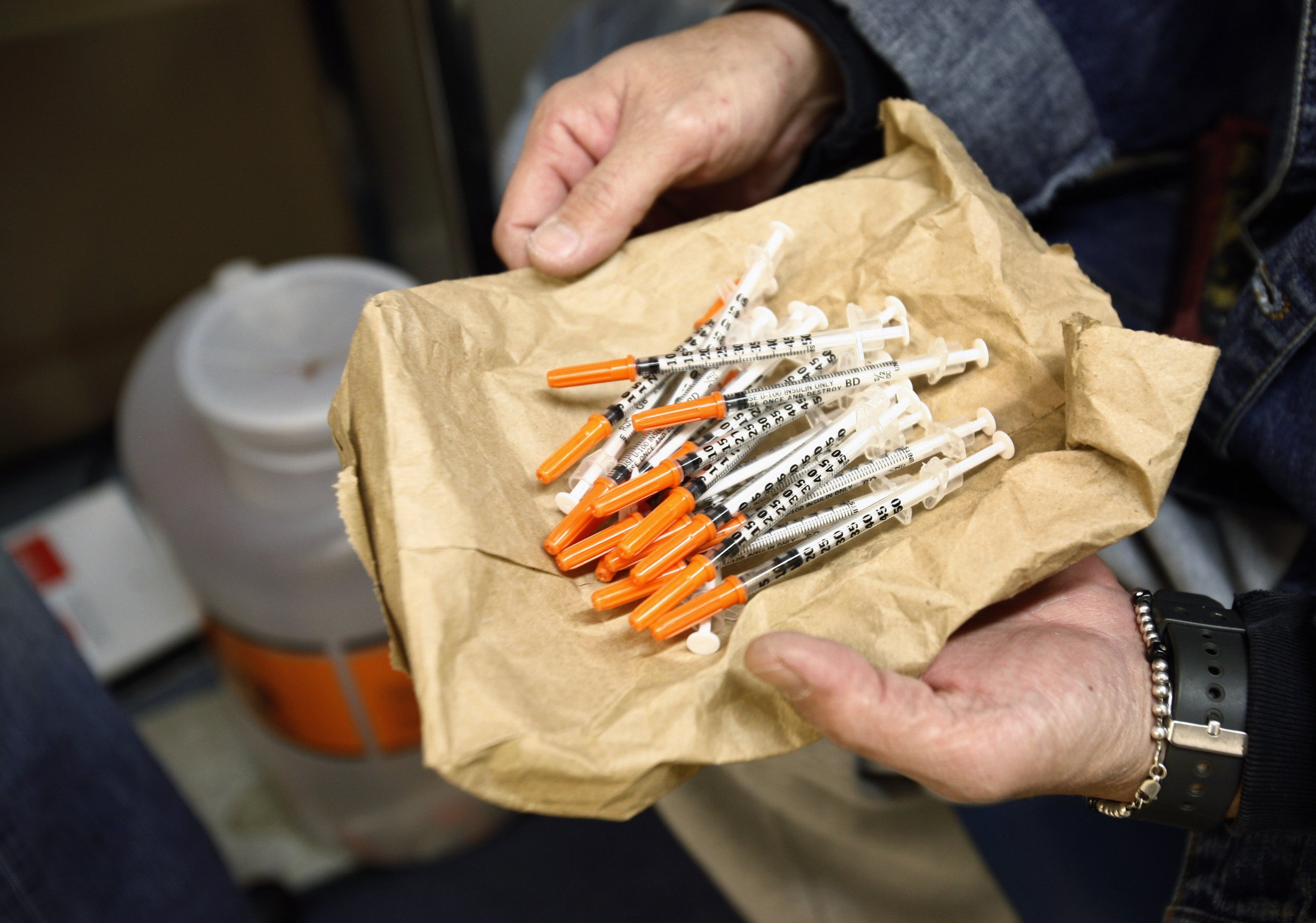 Syringe exchange programs for injection drug users have proved successful at decreasing rates of needle sharing without increasing rates of illegal drug use. But for years, a policy shortcoming made Washington, D.C., the only city in the country that could not fund them. Caught between federal and local jurisdiction, the District has long faced issues regarding its autonomy. And according to research published Thursday, those policy issues can cost lives.
In 1998, the federal government banned the use of federal funding for syringe exchange programs. State and local governments could fund them, but the District could not. In 2007, the federal government altered that policy, and the District's municipal government began funding programs in 2008.
In a new study in the journal AIDS and Behavior, researchers used mathematical modeling to calculate how many HIV infections the policy change prevented and how much money it saved. The researchers found that in the two years after the municipal money started flowing following the policy change, there were 176 new HIV cases reported in the District involving injection drug use. Without that policy change, the researchers estimated, the number would have been 296 cases. The policy change had helped avert 120 cases.
"When we think about HIV prevention strategies, a lot of the time we think about the individual, that the person needs to change his or her behavior," says Monica Ruiz, lead author of the study and an assistant research professor at George Washington University. "We forget to realize that the individual lives within a social context that may include policies that make it harder for people to do what they need to do to stay healthy." Ruiz adds that her team's study is the first to "look at the impact of policy change as an intervention."
Daniel Raymond, policy director for the Harm Reduction Coalition, who reviewed the findings but was not involved with them, says the study is "solid," and "the results were pretty stunning."
Before the policy change, from 1996 to 2008, there were on average 16.33 new HIV cases related to injected drug use identified per month. After the change, from 2008 to 2011, the average was 4.45 cases, a 72.7 percent decrease.
Preventing those infections saved money, the researchers found. Based on estimates from the Centers for Disease Control and Prevention (CDC) of how much an infection typically costs someone living with it, averting 120 cases saves people $45.6 million, much of which "is absorbed by publicly funded programs," the study says. Earlier this year, researchers at Weill Cornell Medical College and other institutions determined that preventing a single HIV infection saves a person $229,800 to $338,400 in lifetime medical costs.
Syringe exchange programs are based on providing sterile needles to drug users, but they also often offer other health care services, including contraceptives and referrals to HIV testing and addiction treatment. As of 2013, there were 223 sterile syringe exchange programs in the United States, including four in the District, according to the Kaiser Family Foundation, a health policy nonprofit. The programs cost the city only $650,000 per year.
"Needle-exchange programs meet injection drug users, meet addicts, where they're at. They don't try to force people into treatment," Ruiz says. "They're doing everything they can in their power to reduce the harm associated with those risk behaviors.… For many of these populations that use needle exchanges, this is their sole source of care."
Critics claim the programs encourage drug use. However, several studies have shown positive effects.
"A lot has changed in terms of the landscape for treatment," says Ruiz, who has worked in AIDS prevention since the 1990s. However, she says, policy barriers and access to care remain challenges.
Injection drug use is a leading cause of HIV transmission in the District and nationally, second only to certain sexual practices, such as unprotected vaginal and anal intercourse. In the District, 2.4 percent of residents older than 12 have HIV or AIDS. Of those, 14.2 percent got it from injection drug use. The Kaiser Family Foundation says in 2010 14,465 people were living with HIV in the District.
As of 2008, when stacked up against the 50 states, the District has one of the highest rates of adults living with HIV, according to the CDC.
The U.S. government's ban on federal money going toward syringe exchanges dates to the Financial Services Appropriations Bill of 1998. A 2008 bill paved the way for the District to join states and local governments in using their own funds for such programs. In 2009, Congress dropped the federal ban, but reinstated it in 2011.
Still, Raymond, of the Harm Reduction Coalition, which represents needle-exchange providers, drug users and advocates, says in recent years, the House and Senate have expressed more willingness to fund programs in states experiencing or at risk of HIV or hepatitis C outbreaks. The caveat, however, is that the money could not go toward the syringes themselves, but fund other aspects of the programs, such as personnel salaries.
States that had previously banned such programs are also opening up, Raymond says. Following an HIV infection outbreak linked to injection drug use in Indiana earlier this year, the government allowed for a "short-term authorization of syringe exchange," according to the CDC.
"Syringe exchange programs save lives. Policy changes can save lives," Ruiz says.