DC Universe Streaming Schedule Released At NYCC 2018
The only DC Universe original series with a solid release date is Titans, set to premiere Oct. 12. Thanks to NYCC, there's now release windows for the remaining five shows on DC Universe: Young Justice, Doom Patrol, Swamp Thing, Harley Quinn and Stargirl. Check out the infographic below: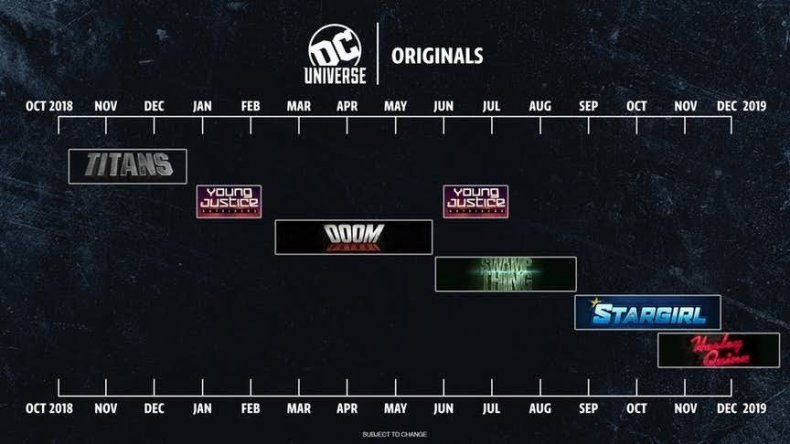 No new original premieres until after Titans Season 1 finishes its run in January 2019. Young Justice: Outsiders is next to premiere, airing from January to February with multiple episodes dropping each week. The 26-episode season will be split into two parts, with the second half releasing in June.
Titans spinoff Doom Patrol premieres after the first half of Young Justice wraps up in February. According to the infographic, the series will air until late May. Swamp Thing premiers late May/early June and airing until mid-August.
Next up is Stargirl, premring in late August/early September. The series' conclusion appears to overlap with the premiere of the animated Harley Quinn series, which appears set for a mid-October release.
Are these original shows enough for a $7 monthly subscription? Sound off in the comments and stay tuned for DC Universe news out of NYCC 2018.