DC Universe Tests the Future of Comics
But its success still rests on original shows
It's 3 p.m. on a Saturday. I'm still in bed, with a coffee, reading all about Hawk and Dove, a duo soon-to-be featured in the upcoming live-action Titans series. The comic isn't in my hands or downloaded on my phone, it's streaming on my TV.
It's also Batman Day, which this year celebrates the launch of the DC Universe streaming service on all platforms — iOS, Android, Apple TV, Roku and, of course, web. Feeling a little remorse that Batman is far from my favorite DC character, I click on some recommended festive reading: Batman and The Outsiders. Remembering I've already read that, I head back to the home page and notice Static Shock (a.k.a. my adolescence). Let the Kids' WB nostalgia commence.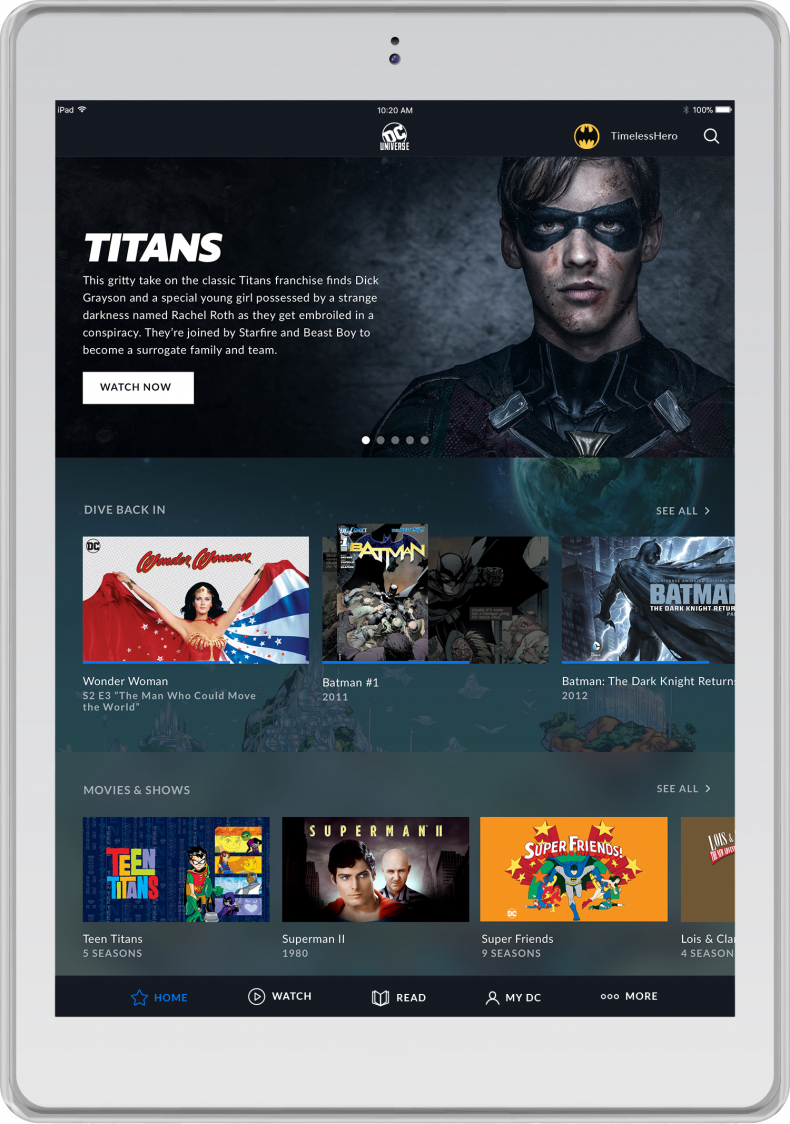 Hulu, Amazon, Netflix are successful streaming platforms for a reason. Subscribers have the illusion of fresh, new content at all times. The emerging problem is that a lot of it is average — the catalogs are becoming nearly impossible to navigate without help, either from friends, co-workers or the internet at large telling you what to watch. There are dry months on each service where it seems impossible to get hyped about any particular original show, let alone find anything new and great to watch. Navigating the home page can be overwhelming.
DC Universe doesn't suffer from these problems. There will always be hype (positive or negative) when it comes to anything surrounding DC Comics, movies, TV and, now, its standalone streaming platform. There's no comic book fan who won't be excited about a service that has Batman: The Animated series in HD, six original shows (slowly rolling out in October), the option to read thousands of free comic books and social connectivity all in one place. The hyperfocus is a relief—finally a streaming platform where you can actually watch (or at least scroll past) everything you're paying for. This is new territory.
But innovation always comes with more questions than answers. In this case, can DC Universe be a successful streaming platform that's worth the cost? It's betting on its target audience, therefore its relative success depends on how much fans want to read DC comic books, the quality of the DC Universe original programming and how well the platform can marry the two over time.
The comic book collection is vast. DC Universe boasts around 2,000 at any given time. The selection will rotate, and featured titles have ties to original programming, such as the upcoming Titans series. If you're used to an established service like Marvel Unlimited, what's visible now on the homepage could feel a bit narrow. If you're a more experienced reader, make sure to "browse all" instead of relying on recommendations. The comics reader itself is on point. Like both Comixology and Marvel Unlimited, it thrives on mobile devices or tablets, but it's also surprisingly easy to read on your TV screen with autoplay.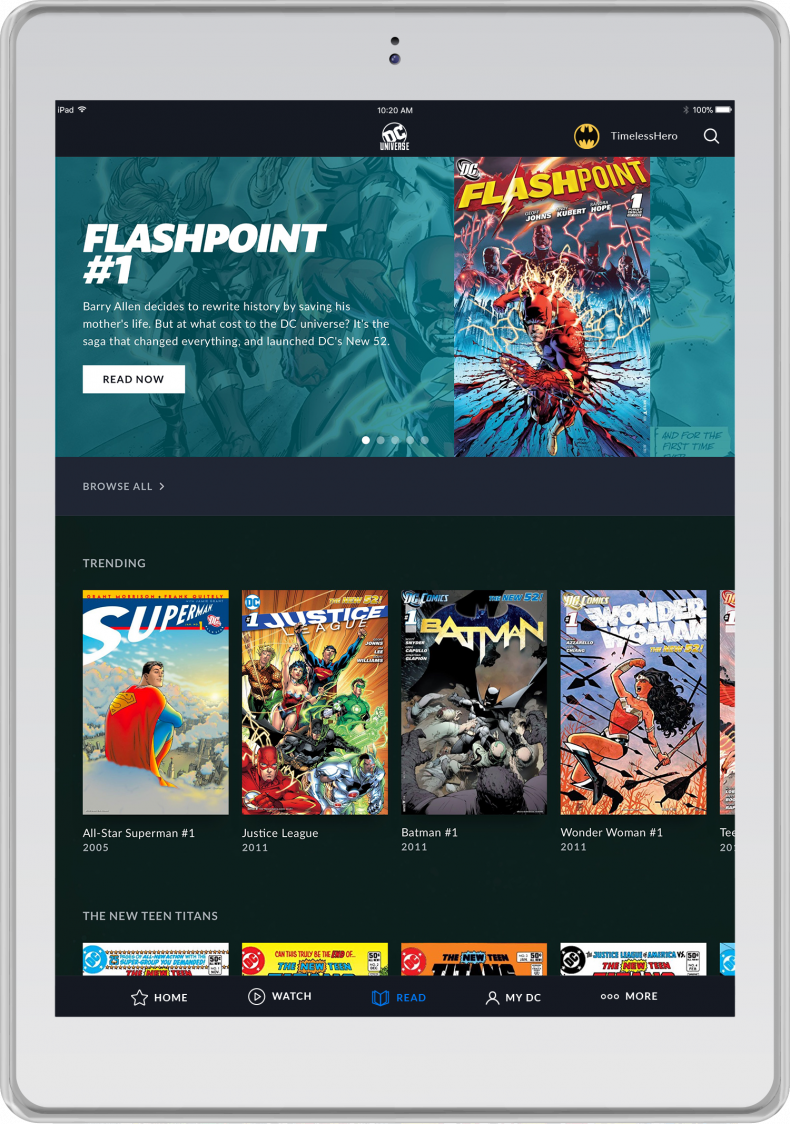 As of right now, there's about 75+ movies and TV shows to watch. The service does not offer recent DC films like Wonder Woman or DC shows currently airing on cable networks yet, but the animated and early live-action TV show and movie catalogues are plentiful. There's an encyclopedia section, basically DC Universe's own internal wikipedia, and the opportunity to create reading playlists and share with others. Anticipate each section to grow over the course of the next few months, especially the sections curated by editorial staff—news, community discussions, encyclopedias, shop and recommended readings. That growth will hopefully be followed by stronger interconnectivity; episode or issue references in news or encyclopedia pages linking to content within the service would be an intuitive next step.
Titans, the first original outing on the service, doesn't arrive until Oct. 12. The public at large will get a first look at the quality of DC Universe shows at New York Comic Con Oct. 4-7. The Titans trailer looks promising, which isn't surprising since Greg Berlanti is inolved. He's known for building The CW's DC TV empire— Arrow in 2012, The Flash in 2014, Legends and Supergirl in 2016 and Black Lightning in 2018. DC Universe's goal feels similiar, but more exciting since there's creative autonomy.
The freedom DC Universe has to produce its content sets a precedent in the comic book world's increasingly cross-narrative climate. And while there's no proof of concept yet, there will be plenty come 2019 after Titans premieres.Young Justice Season 3, Swamp Thing, Doom Patrol, an animated Harley Quinn and Metropolis series, and a live-action Stargirl series are all in production.
The future of this streaming service is perhaps more exciting than its launch. It feels fairly flat now, with nothing new except for old shows you've already seen revamped in HD, but there's plenty of potential down the line. DC Universe has the foundation to evolve the way fans think about comic books in relation to animated and live-action counterparts. Arrow and it's spinoffs don't feel inventive anymore, but the Arrowverse established grounds for the Marvel-Netflix universe all while proving non-comic book fans will watch comic book shows. DC Universe has the opportunity to take that universe-building to the next level.
At its best, DC Universe is making a considerable effort to say comic books are just as good, and just as important (if not more) than the TV shows and movies they inspire. Given how popular comic book movies and TV shows are now, it just feels right to promote credit where it's due. DC Universe puts comic book writers and artists right next to the adaptations themselves. This strategy furthur embodies today's internet culture of always wanting more than what's offered, except now fans don't have to go as far to find what they want.
DC Universe is aiming for a new episode of original programming every week, and if the platform holds to that promise and these shows are at least Netflix-level quality, I'll spend $7.99 a month ($75 a year) on this platform. It's a bargain compared to comics-only services Comixology ($5.99 a month) or Marvel Unlimited ($9.99). Like the aforementioned, unfortunately new comics aren't free, but you can buy them right from the DC Universe platform.
It's a little odd the DC Universe didn't wait until days before the October Titans premiere to officially launch with original content, but the platform promises a new, niche approach to cable-cutting and more. If you're a DC Comics fans, it's worth a shot. If you're not, it might just make you one.