De Blasio Accused of Misusing Security Detail, Running Up 300K in Expenses During POTUS Run
New York City Mayor Bill de Blasio "misused" his security detail for personal and political purposes, the city's Department of Investigation (DOI) said on Thursday.
In August 2019, the DOI launched a probe into allegations against the mayor concerning his use of the detail. The DOI's report released Thursday said that New York Police Department (NYPD) Inspector Howard Redmond, who is in charge of the de Blasio's family's security detail, "actively obstructed and sought to thwart this investigation, frustrating DOI's efforts to learn the full facts regarding these allegations."
The findings were detailed in the 49-page-report, which said de Blasio misused personnel from the NYPD Intelligence Bureau's Executive Protection Unit (EPU) to transport his 2020 presidential campaign staffers, "reflecting a use of NYPD resources for political purposes."
The DOI also found that New York City spent $319,794 on the security detail to transport campaign members. De Blasio hasn't reimbursed the city for these expenses, according to the report.
Newsweek reached out to the mayor's office for comment but didn't hear back in time for publication.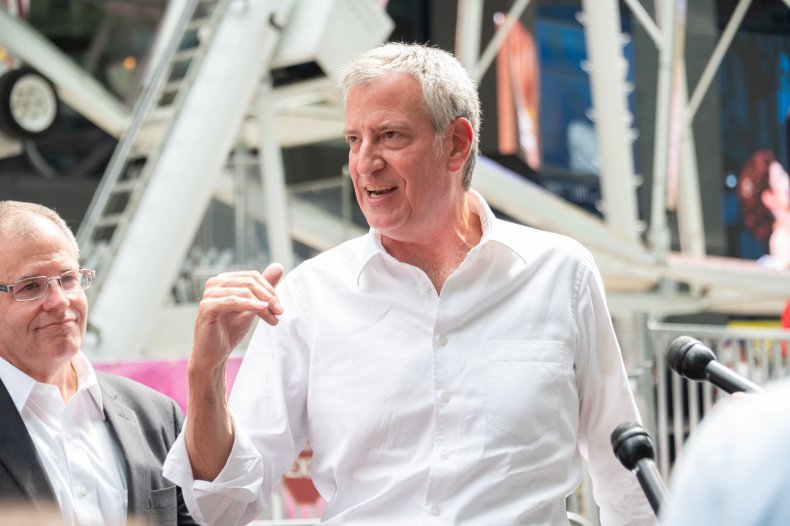 During interviews with the DOI, de Blasio repeatedly said that he was never provided any guidance regarding the appropriate use of a security detail during his administration.
De Blasio and his wife, Chirlane McCray, told the DOI they were using security detail based on their common sense and their previous experiences working with the government. They both understood that they would be provided protection at all times and that "the security detail could not be used for personal or political matters other than merely accompanying them to such events," according to the report.
De Blasio said that he usually asked the NYPD when he had questions about his security detail or how to use EPU members, saying that the NYPD "had to determine how their people would operate," according to the report.
But the NYPD didn't have any documents, general written policies or procedures that indicated the department provided guidance to the mayor or his representatives regarding the use of EPU resources, the DOI report said.
On numerous occasions, EPU personnel also drove mayoral staff members to their homes, among other locations, and helped them run errands for the mayor. Security detail members also were asked to transport de Blasio's guests without his presence in the vehicle.
EPU personnel also helped the mayor's children, Chiara and Dante de Blasio, move around and transfer belongings.
In one instance, at least one EPU member helped Chiara move her belongings into and out of an NYPD sprinter van as she moved from her Brooklyn apartment to Gracie Mansion. De Blasio said he didn't recall specifically speaking with Redmond about Chiara's move but said that such a conversation "wouldn't have been unusual," according to the report.
"The provision of the sprinter van and the assistance of NYPD personnel in physically moving furniture was a misuse of NYPD resources for a personal benefit, whether it was requested or merely accepted," the report said.
The DOI also said that, for about one year, frequent trips were made for security checks at houses that the mayor owns in Brooklyn where he and his family don't currently reside.