De Blasio Calls for 'Complete Recanvass' of Vote Count After NYC Mayor Election Errors
New York City Mayor Bill de Blasio has called for a "complete recanvass" of the city's Democratic primary mayoral results after results were retracted because of errors.
"Yet again, the fundamental structural flaws of the Board of Elections are on display," de Blasio said in a statement. "There must be an immediate, complete recanvass of the BOE's vote count and a clear explanation of what went wrong. The record number of voters who turned out this election deserve nothing less."
"Going forward, there must be a complete structural rebuild of the board. I once offered the BOE over $20 million to reform themselves," de Blasio's statement continued. "They refused, leaving legislative action as the next available recourse. After waiting hours in line myself to vote last fall, I presented a plan to remake the Board of Elections."
De Blasio's statement comes in response to the New York City Board of Elections' announcement that the board was retracting previous results in the city's Democratic primary mayoral race after the results included 135,000 test vote records.
"The Board of Elections conducts rigorous and mandatory pre-qualification testing for every election. It has been determined that ballot images used for testing were not cleared from the Election Management System (EMS)," the New York City Board of Elections said in a statement posted to Twitter. "When the cast vote records were extracted for the first pull of RCV [ranked choice voting] results, it included both test and election night results, producing approximately 135,000 additional records."
According to the statement, election officials removed the test ballot images from the system and will re-tabulate the ranked-choice voting results.
"The Board apologizes for the error and has taken immediate measures to ensure the most accurate and up-to-date results are reported," the board said.
The ranked-choice voting results released on Tuesday showed Brooklyn Borough President Eric Adams receiving 51.1 percent of votes in the 11th round of voting, while former New York City Sanitation Commissioner Kathryn Garcia received 48.9 percent of votes, closing in on Adams, who has led since Election Day.
In addition to DeBlasio, both Adams and Garcia issued statements following the announcement by the city's Board of Elections.
"The Board of Elections' release of incorrect ranked-choice votes is deeply troubling and requires a much more transparent and complete explanation," Garcia said in a statement. "Every ranked-choice and absentee vote must be counted accurately so that all New Yorkers have faith in our democracy and our government."
Similarly, Adams called the Board of Elections' mistake "unfortunate."
"We appreciate the Board's transparency and acknowledgment of their error," Adams said. "We look forward to the release of an accurate, updated simulation, and the timely conclusion of this critical process."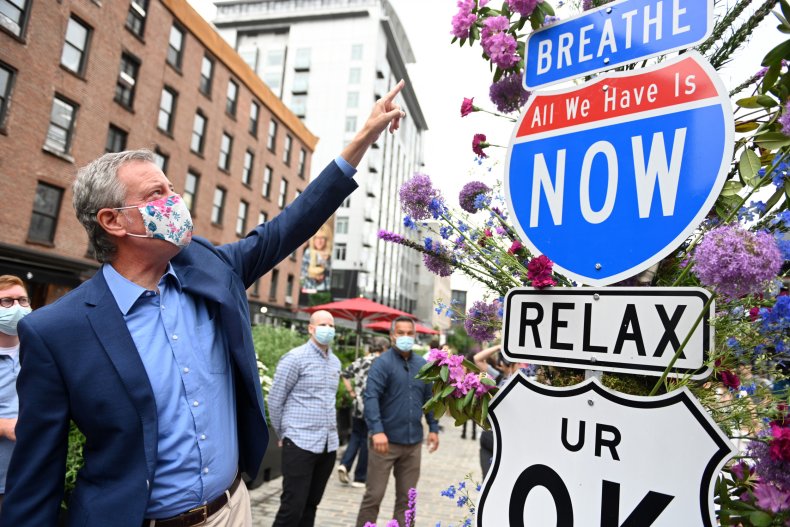 Newsweek reached out to de Blasio for further comment but did not receive a response in time for publication.