New York Attorney General Letitia James's announcement that she would end her bid for governor could result in a likely favorable landscape for New York City Mayor Bill de Blasio to enter the race.
While early polls of the gubernatorial race have indicated that current Governor Kathy Hochul is a favorite among Democratic voters, James's departure as the most formidable opponent has opened up the slot for a second-place choice.
Although de Blasio has yet to announce his candidacy for governor, the mayor's second term will end this year and some suspect his desire to remain in public life may fall to statewide office, especially now that former Governor Andrew Cuomo has been ousted and won't seek re-election.
The most recent gubernatorial primary poll of New York Democrats showed that Hochul holds an 18-point lead over James, who had not yet announced her campaign's suspension at the time of the survey's Tuesday release.
But a significant portion of the participants in the Siena College poll also supported James, bringing her up as the second top contender ahead of New York City Public Advocate Jumaane Williams and Congressman Tom Suozzi.
Eighteen percent of likely voters said they would back James, while 10 percent expressed support for Williams and six percent said the same for Suozzi.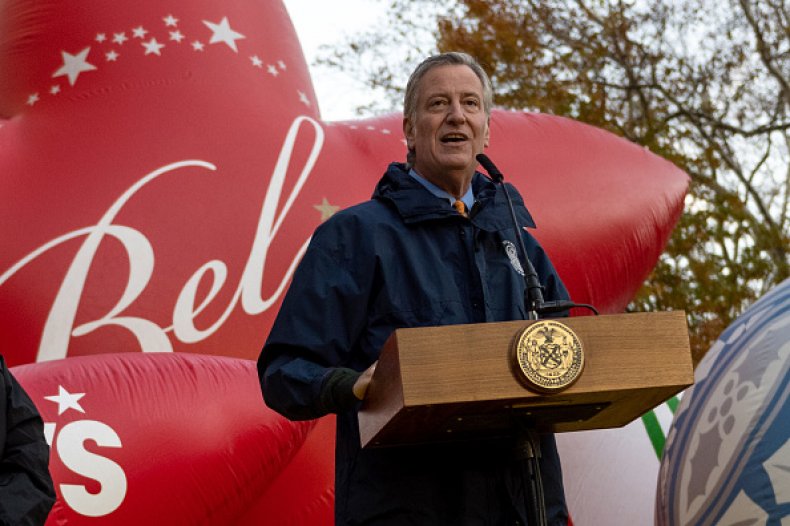 The poll also found that 6 percent supported de Blasio, should he enter the contest, as another 24 percent remained undecided.
In another poll published by the New York Post last week, de Blasio and Williams shared 7 percent of voter support, while James held onto 17 percent. Suozzi was not included in the survey.
Although fewer voters backed de Blasio compared to Williams in the latest poll, the two could now potentially divvy up James's 18 percent, which may be enough to bring the mayor into second place.
De Blasio, who mounted an unsuccessful bid for the Democratic presidential nominee in 2020, would likely run on the achievements his administration made over the last eight years, which include free universal kindergarten, paid sick leave and affordable housing, among others.
The mayor would also be a more centrist candidate in comparison to Williams, who has campaigned as the most progressive candidate and unsuccessfully ran against Hochul for lieutenant governor in 2018.
However, de Blasio would have to overcome low approval ratings and the latest scandal surrounding his ethics violations.
On Wednesday, the city released documents to the New York Times that showed he had improperly solicited donations from well-connected donors even after he received warnings from the city's Conflicts of Interest Board.
The mayor's spokesperson defended his communications with those figures, telling the Times that de Blasio "has consistently acted in good faith and followed the process set out for him."
"The board closed these cases and determined no enforcement action was necessary," his office added.
It remains uncertain if de Blasio will mount a bid but he has increasingly hinted that he intends to join Hochul in the gubernatorial race.