De Blasio Apologizes for 'CP Time' Skit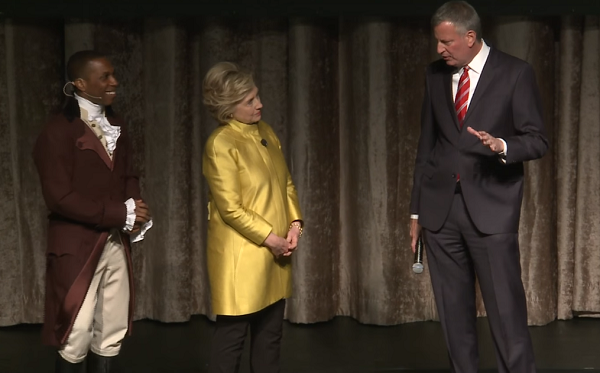 New York City Mayor Bill de Blasio said a racial joke he made alongside Democratic presidential front-runner Hillary Clinton at a private comedy event on Saturday was not intended to offend.
"Let's be clear: In an evening of satire, the only person this was meant to mock was the mayor himself, period. Certainly no one intended to offend anyone," an official told Newsweek.
The joke was about how de Blasio "took [his] time" to endorse Clinton for the presidency because he runs on "CP time." The slur usually refers to "colored people's time"—a pernicious myth that people of color are always running late.
Clinton offered a groan-inducing clarification that, by CP, de Blasio meant "cautious politician," not colored people. Leslie Odom Jr., an African-American actor from the acclaimed Broadway musical "Hamilton," also participated in the skit.
The mayor apologized after receiving criticism on social media and the front page of the New York Daily News.
On Monday, the mayor told CNN that critics were "missing the point" and that the skit was meant to be "counterintuitive."
The backlash comes at an inopportune time for Clinton. On April 19, New York state Democrats will head to the polls to cast ballots for her or opponent Bernie Sanders. Clinton maintains a comfortable lead in most polls, but Sanders has won surprise victories before, such as in Michigan's primary.
The event, at the Inner Circle dinner, is an annual comedy show in which the mayor and other state and local politicians are roasted by journalists.