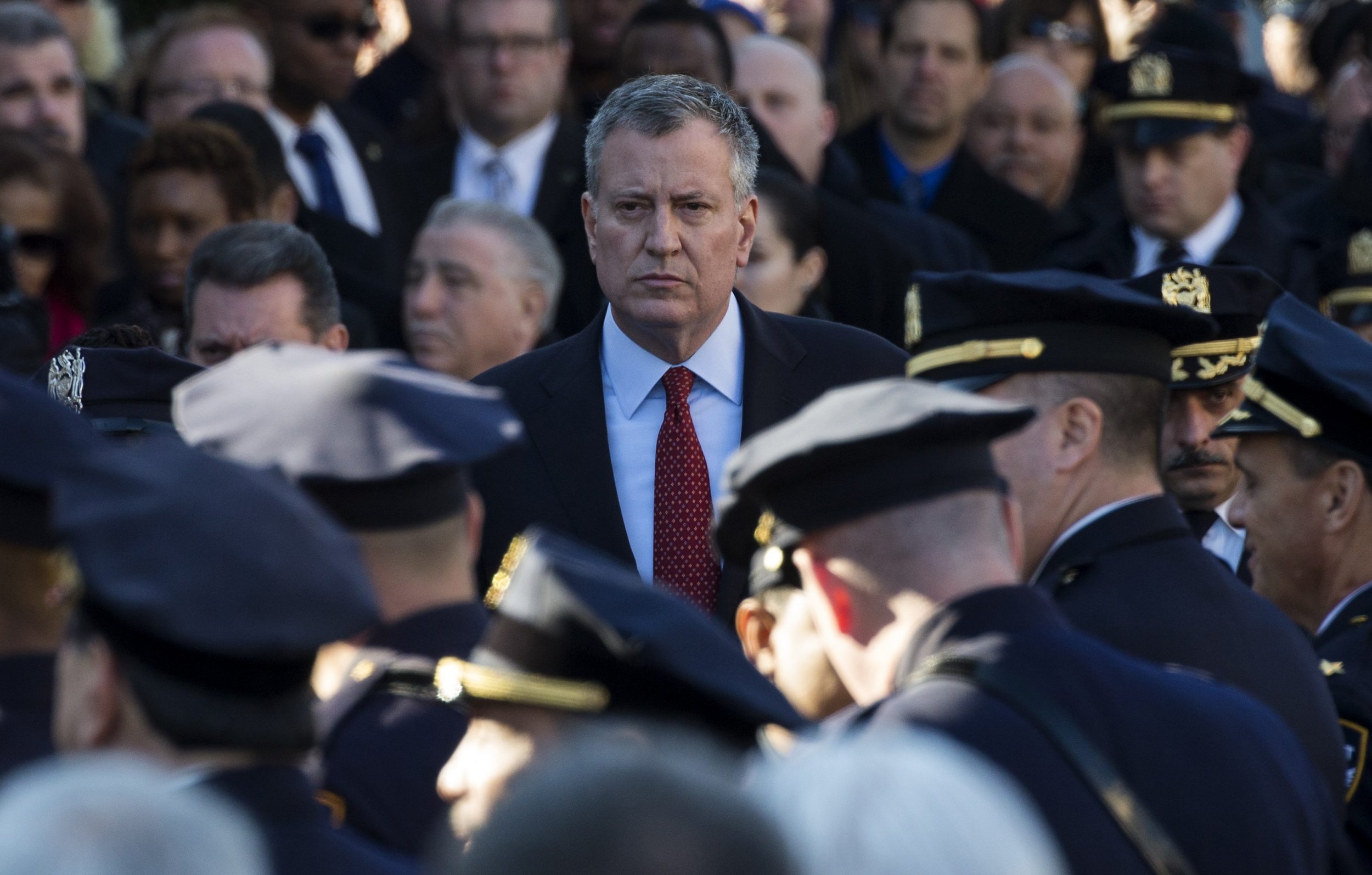 NEW YORK (Reuters) - New York City Mayor Bill de Blasio on Monday drew heckles and boos as well as cheers when he addressed graduating police cadets on Monday, two days after thousands of uniformed officers turned their backs on him at a slain policeman's funeral.
The mayor's appearance at the New York Police Department graduation ceremony at Madison Square Garden came as he struggles to mend the most toxic rift between police and City Hall in decades. The rift was triggered by the mayor's support for protests against the deaths of black men at the hands of white officers in New York, Ferguson, Missouri and elsewhere.
The rift sharpened after the weekend before Christmas when two policemen were ambushed and shot to death as they sat in their squad car in Brooklyn.
De Blasio, addressing nearly 900 graduating cadets, said, "You will confront all manner of problems. Problems that you didn't create."
A heckler cried out: "You created them!" Some in the audience applauded the outburst.
De Blasio, briefly flustered, continued with his speech.
A dozen or so people turned their backs on the mayor as he spoke, repeating a gesture by thousands of officers at Saturday's funeral for policeman Rafael Ramos.
Before he had even finished speaking, the mayor's press office circulated a long, evidently prepared email to journalists.
"Want to remind folks that today was not the first time a NYC Mayor has been booed at a police graduation," Marti Adams, a spokeswoman for the mayor, wrote before pointing reporters to old news reports about de Blasio's three predecessors getting similar treatment.
The wake for the second slain officer, Wenjian Liu, is due to be held on Saturday in Brooklyn and the funeral on Sunday.
The man who shot the officers, Ismaaiyl Brinsley, said he was seeking to avenge the deaths of two unarmed black men who died in confrontations with white officers last summer in Ferguson and New York. Brinsley shot himself after the two officers were killed.
The black men's deaths triggered a wave of demonstrations against police violence in New York and other cities this fall.
The killing of Ramos and Liu has become a rallying point for police forces beleaguered by months of criticism.
The head of the Patrolmen's Benevolent Association police union, Patrick Lynch, has said the mayor had the officers' blood on his hands.
Police Commissioner William Bratton has said some of the tension is due to labor negotiations between the city and police unions.