De Blasio Has No 'Immediate Solution' For Illegal Basement Homes After Multiple Ida Deaths
Addressing the multiple deaths that occurred as New York City was hit by the remnants of Hurricane Ida, Mayor Bill de Blasio said he has no plan to tackle the illegal basement homes that flooded and trapped 10 of the city's victims.
"We don't have an immediate solution for this one," de Blasio admitted at a Tuesday press conference.
"I could tell you that we've got some miraculous plan to solve the illegal basement problem overnight. We don't. Let me be blunt about that," the mayor added. "It is a massive structural problem in the city. It has been for decades."
According to the city's estimates, there are at least 50,000 basements across the five boroughs that have been illegally converted into tenant dwellings. Of the 13 people who died due to the flash flooding from Ida, at least 10 were trapped in the illegal units.
Only one of the victims killed by floodwaters lived in a legitimate apartment, Department of Buildings Commissioner Melanie La Rocca announced on Friday.
"DOB inspectors have confirmed that five of the six properties where New Yorkers tragically lost their lives during the floods were illegally converted cellar and basement apartments," La Rocca said.
De Blasio said a "massive investment" of tens of billions of dollars and a "huge amount of work" would need to go into converting the illegal dwellings into legal apartments but the mayor stopped short of providing any timeline on when the conversions would come.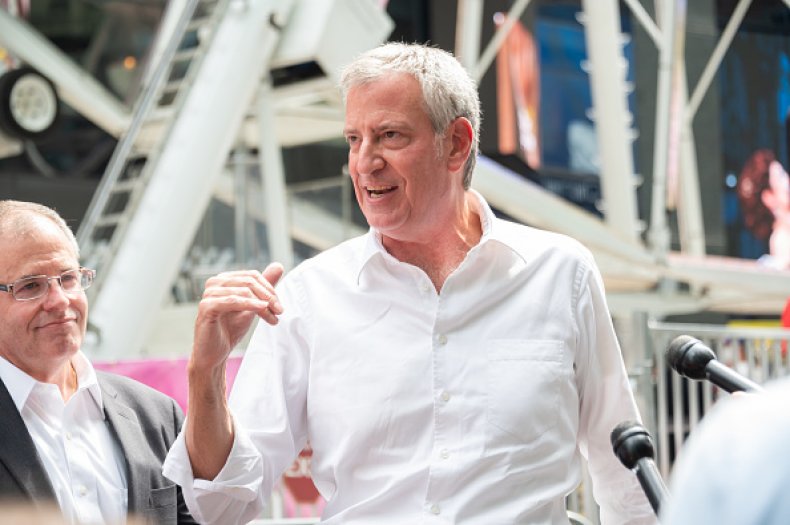 De Blasio also vowed not to punish the tenants in those units, acknowledging that the demand for these apartments is due to a shortage in affordable housing for New Yorkers, but noted the city would "hold people accountable."
"The answer is to protect people with what we have now with new approaches, and then over time, as we get more and more resources in, particularly from the federal government, do the painstaking work of converting as many of them as possible," De Blasio said on Tuesday.
"It's going to take a huge amount of public money to do that. Homeowners themselves just aren't going to have the resources to do that realistically," he added.
Last week, the mayor announced the formation of a 30-day Extreme Weather Response Task Force to examine how the city could better prepare and respond to extreme weather, including faster evacuations of basement apartments.
"We have an illegal basement problem and then we have a problem that so many people end up in illegal basements are fearful to communicate for fear they might be evicted or, worse in their mind, deported," de Blasio said on Friday. "It's just an extraordinarily challenging set of circumstances."
"We need to have an absolute accounting of all of them and then we can apply these door-to-door techniques if we need to," he added. "We've got to have a clear database to work from and certainly begin with knowing the areas, which we do know, where they are prevalent."