Bill de Blasio Sounded Like He Inhaled Helium at Iowa Labor Event Via Video Call, Crowd Burst Out Laughing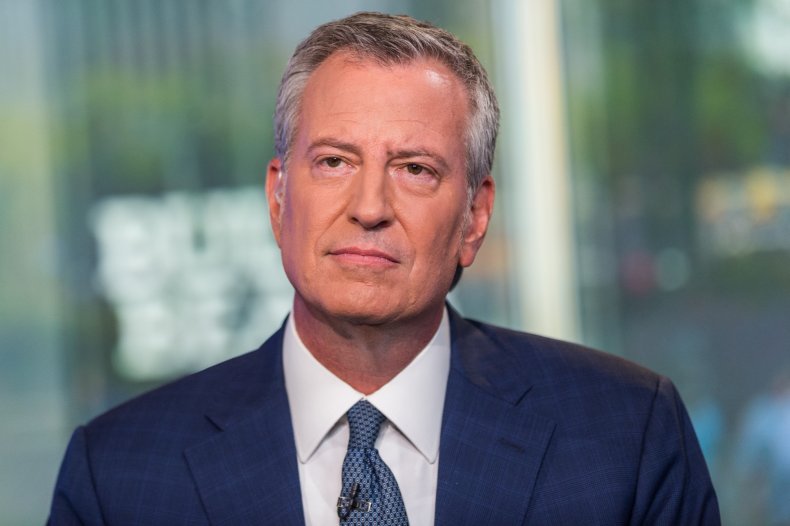 New York City Mayor Bill de Blasio had been scheduled to appear on the campaign trial in Iowa before his flight was canceled last minute due to inclement weather. The mayor and 2020 presidential candidate arranged for a video link to be established, allowing attendees of the labor event to hear his remarks, but things did not go as planned.
Speaking before the union crowd, de Blasio's unexpectedly high-pitched voice set off laughter within the dining hall. An apparent snafu with the connection made it seem like the mayor had inhaled helium before delivering his remarks.
The mayor was trying to extol the virtues of organized labor, though the defective connection overshadowed his appearance. Sixteen other Democratic candidates were scheduled to speak to union members in person at Wednesday's gathering, which was sponsored by the state's AFL-CIO chapter, the Iowa Federation of Labor.
Iowa is home to around 185,000 union members, and the federation's secretary told a local TV station that union workers were enthused about hearing from the candidates during their quadrennial campaign stop.
"They're really interested in what candidates have to say about these bread and butter issues, these kitchen table things that affect their families. These are the things that give them anxiety and keep them up at night," Iowa Federation of Labor Secretary-Treasurer Charlie Wishman said. "They want to know that there's job security for them and that if you are a building trades-member you want to know that there's gonna be a good economy and that they are going to be able to continue to do work."
In order to qualify for the fall Democratic debates, candidates have to, among other criteria, achieve two percent in four nationally recognized polls, something de Blasio has failed to do. In a recent CNN poll, he did not surpass one percent.
In one poll of Democratic voters released earlier this month, de Blasio's campaign was rejected by more respondents than any other candidate. Thirty percent said that they would be disappointed if he became the party's 2020 nominee, the highest disapproval rating earned by any candidate measured.
The mayor has waved away concerns about his viability as a candidate, saying that he thinks voters will make last-minute decisions which differ from their initial preferences.
"There is not, in the end, I think, a sense among Democratic voters that they are secure where they want to go," he told CNN. "The vast majority of Democratic voters are going to make their decision late.