De Blasio Says City Should 'Assume' Omicron Is in NY After Convention Attendee Gets Variant
New York City Mayor Bill de Blasio on Thursday responded to news of the Omicron variant case detected in Minnesota, involving a man who attended a convention in NYC just days before developing symptoms.
The Minnesota man tested positive for COVID-19 on November 24 and attended the Anime NYC 2021 convention at New York City's Javits Center from November 19-21.
"We are aware of a case of the Omicron variant identified in Minnesota that is associated with travel to a conference in New York City, and we should assume there is community spread of the variant in our city," de Blasio said in a statement on Thursday.
The mayor said city officials are working with state officials, the Centers for Disease Control and Prevention (CDC), and event organizers with the Javits Center to contract trace conference attendees.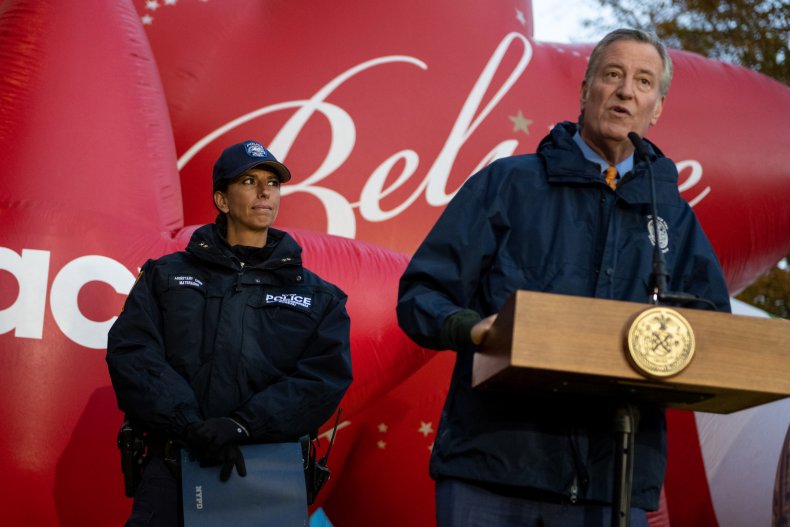 He noted that the conference required masks and complied with the city's vaccine requirements.
"Anyone who attended the AnimeNYC conference, especially anyone experiencing symptoms, should get tested immediately and take additional precautions, including social distancing," the mayor stated.
"I urge all New Yorkers to get vaccinated, wear a face mask while indoors and in public, and help our city beat this virus once and for all," he added.
On Thursday, Minnesota became the second state to identify a case of the Omicron variant of COVID-19. The first Omicron case was discovered in California on Wednesday.
On Twitter Thursday, New York Governor Kathy Hochul said "we have the tools to fight omicron and any other variant."
"Get vaccinated, get your booster, get tested, and wear a mask," she added.
Addressing the case detected on Thursday, Minnesota Governor Tim Walz said the "news is concerning, but it is not a surprise."
"We know that this virus is highly infectious and moves quickly throughout the world. Minnesotans know what to do to keep each other safe now—get the vaccine, get tested, wear a mask indoors, and get a booster. Together, we can fight this virus and help keep Minnesotans safe," Walz said in a statement.
The Omicron variant was first discovered in South Africa late last month, and has now been detected in more than 20 countries.
Last week, the World Health Organization (WHO) deemed Omicron a variant of concern. The variant displays at least 50 mutations, and public health officials are concerned that Omicron may be highly transmissible and capable of evading the protection provided by COVID-19 vaccines.
Update 12/2/2021, 1:20 p.m. ET: This story has been updated with additional information including statements from New York Governor Kathy Hochul and Minnesota Governor Tim Walz.