De Blasio Turns Down Uber's Request to Debate Legislation Slowing App's Growth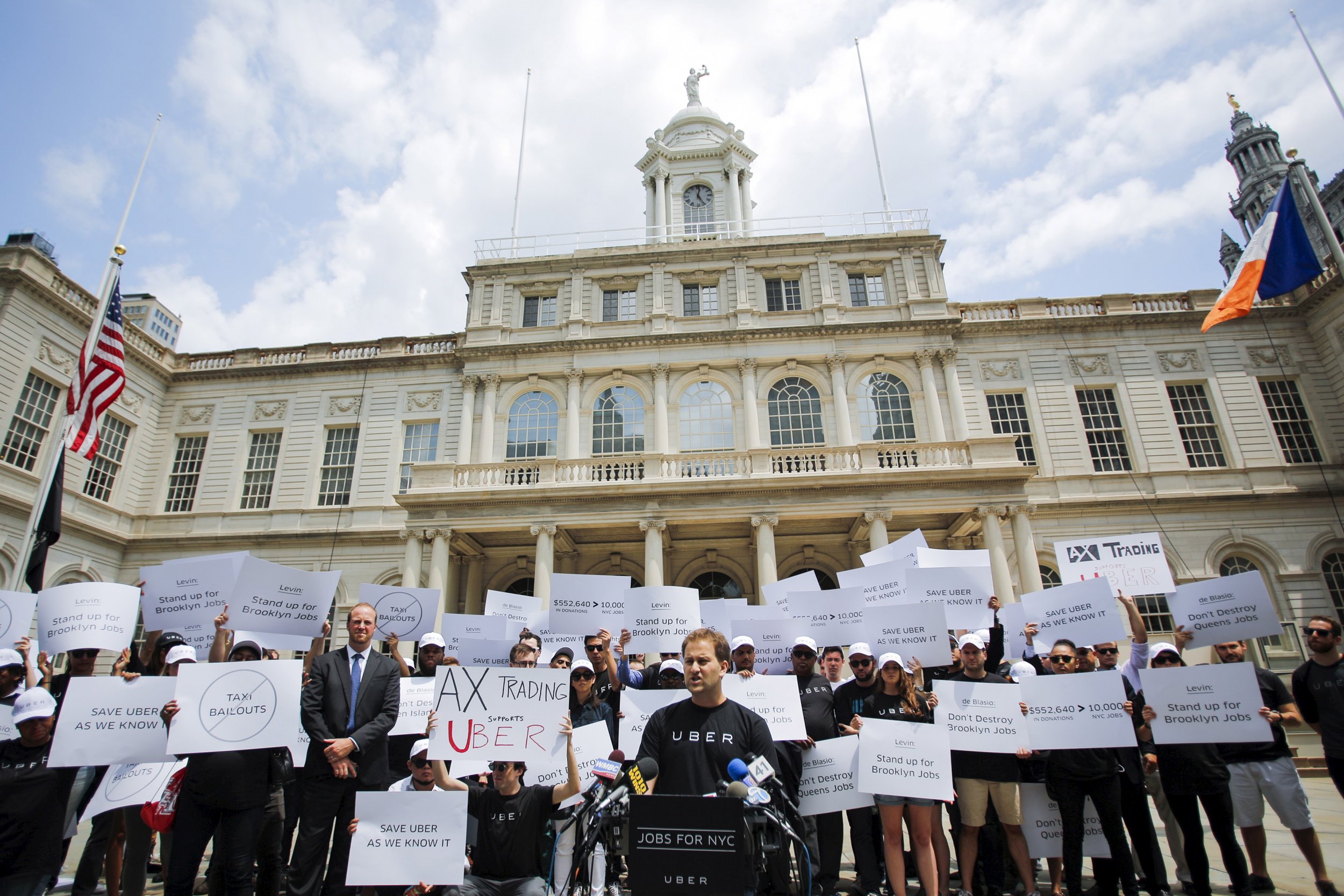 Uber would like a debate with New York City's mayor, Bill de Blasio, in advance of legislation that could change the way the app operates in America's largest city. De Blasio would like no part of that. The showdown is the latest turn in a fight between the city's boss and the rapidly expanding app.
City officials are reviewing legislation that would cap the amount of for-hire vehicles added to the road each year, which would directly affect Uber's growth. Uber would be forced to stay within the city's limits, which would allow car bases larger than 500 vehicles to increase only by one percent each year.
The city believes this legislation is necessary to prevent further congestion and improve the city's air quality. A study by the city found Uber had added 23,000 vehicles since 2011 and average speed in the city had fallen from 9.25 mph to just 8.5 mph, a nine percent decrease. Uber, however, believes the cap would make their service almost unuseable in New York. Uber also argues that the cap would limit their ability to create more jobs, as they have thousands of contractors on their payroll.
This legislation could be passed as quickly as Thursday, bringing Uber's explosion growth in New York to a halt. Last week, Uber representatives met with city officials to discuss the app's future in the city. David Plouffe, Uber's chief adviser, attended the closed door meeting, and it seemed like there was progress: the two groups discussed handicap accessible vehicles and the mayor's Vision Zero campaign for protecting pedestrians.
However, Uber's representatives had one larger goal in mind: halting the base capping legislation. When the mayor's office made it clear this was not an option, all other points of discussion vanished and the meeting ended. The next day, Uber doubled down against the mayor, adding hailing a "de Blasio" to their app, which brings users to a petition page, and launching an advertising campaign against city officials.
With the legislation looming, de Blasio packed his own punch in the form of an op-ed in the New York Daily News. The mayor called for protecting workers and riders, improving accessiblity, allocating funds to public transportation (50 cents of every yellow cab ride goes to the MTA) promoting low carbon transportation and, in the mayor's words, "keep our transporation system moving."
"Uber is welcome in New York City. Passengers deserve more and better service—and new companies like Uber are helping provide it. There are and will continue to be more for-hire cars and drivers on our roads than at any time in our history," de Blasio wrote. "But no company's multi-billion-dollar political war chest gives it a blank check to skirt vital protections and oversight for New Yorkers. We wouldn't let ExxonMobil or Wal-Mart or any other corporate giant operate in New York City without basic rules in place to protect the public. And no number of lobbyists or ad campaigns will change that."
Uber believes the mayor isn't as focused on congestion as the the legislation may have New Yorker's believe. "When your proposal to cap Uber was introduced, your administration said it was about congestion," Uber's general manager, Josh Mohrer, wrote in the debate proposal. "The op-ed you wrote...was about everything but congestion. If you have new concerns, we want to discuss them, face-to-face, and invite you to do so in a live-streamed conversation so all New Yorkers can watch." Uber tried this strategy before, back in May they asked to debate London mayor Boris Johnson.
The mayor declined the debate and those in his camp said they first heard of the debate proposal through media coverage—not through a direct request to the mayor's office. "All we ask is that you put aside your current proposal to cap Uber," Mohrer writes in his request for debate. Neither the request to table the growth cap, nor the request for a debate, will be carried through, as the politician who introduce the legislation, Ydanis Rodriguez, has his own bone to pick with Uber.
City Councilman Rodriguez,who serves on the transportation committee and introduced the legislation in question, met with reporters on the steps of City Hall on Monday. Rodriguez made it clear Uber's advertising practices and debate requests would do little to the progress of his bill.
"Uber: Your tactics are shameful, do not speak to the truth and only seek to spread lies and misinformation. Your tactics have gone too far, and New Yorkers won't tolerate them any longer," Rodriguez said in a statement. Rodriguez also tore into Uber's claims about the economic successes of the app:
Now many of you have heard throughout this debate that Uber is creating jobs and a path out of poverty for minority and low income communities throughout our city. This lie couldn't be further from the truth. Not only is Uber investigating methods of making drivers obsolete by creating a driverless car but they're lying about the wages their drivers receive! In meetings with Council members and throughout their public materials Uber claims to only retain 20% of a fare's profits leaving 80% for the drivers. But what we know from talking to real drivers is that Uber actually retains 32% of revenue. Based on Uber's own study, 50% of drivers leave after them 1 year!

Now, those are not the only lies this multi-billion dollar corporation is telling. Last week, many of my constituents, and some of my colleagues' constituents, received a mailer saying that it was our intention to kill 10,000 jobs and damage our small businesses. You heard that right: A company valued at over $50 billion just called itself a "small business." Not only is this totally false, but insults the daily struggle the small businesses of our city, struggling to make ends meet and shows just how desperate Uber has become trying to stop New York from making the right decision and combating unprecedented growth in congestion protecting our environment and our children's health.
As it stands, the two sides are very far apart and resorting to increasinly harsh blows as the deadline looms closer. If the legislation passes, as many believe it will, Uber only has about 72 hours left in its current form in America's largest city.