Dead Animals Found in Trunk of Suspects' Van After 2 Police Officers Shot, Killed
Two men were arrested in the overnight death of two police officers who discovered poached wild animals in their van near Kusel, Germany.
Prosecutor Udo Gehring said the crime was "disturbing" and "rare," while Chancellor Olaf Scholz, who took over on December 8 after Angela Merkel stepped down, said he was "deeply saddened," according to AFP.
Gun crime is rare in Germany, which has some of the strictest gun laws in Europe. The Weapons Act requires a weapons possession card to own and buy a firearm, and citizens need a weapons license to use and carry a loaded firearm.
Authorities identified one suspect from a driver's license and national ID card, according to the Associated Press. They tracked down the other suspect on Monday in Sulzbach and later discovered the van with dead animals.
Police official Heiner Schmolzi said two officers radioed for backup after discovering "the whole trunk was full of wild animals,' according to AP. Shortly after, the officers reported they were being shot at and radioed, "Come quickly, they're shooting."
A 24-year-old female officer who was still completing her training was killed by a single gunshot to the head. The other officer, a 29-year-old man, died later.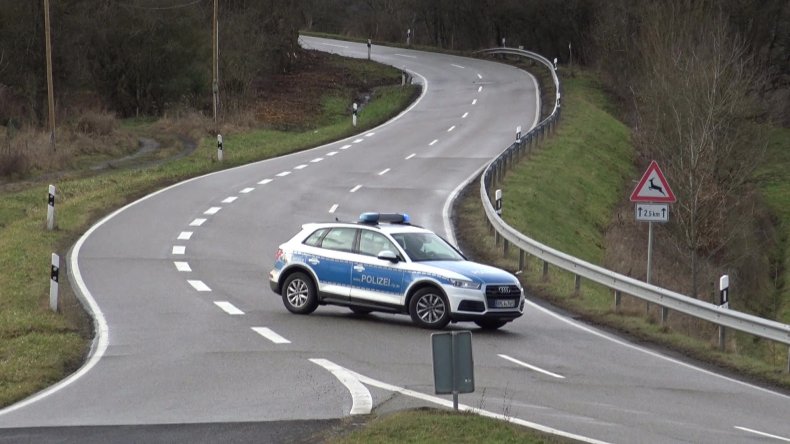 In a news conference in Kaiserslautern, Prosecutor Stefan Orthen said a judge ordered both men kept in custody under suspicion of murder with a pending indictment. The men were arrested more than 20 miles from where the officers were killed, according to AP.
Orthen added that a 32-year-old suspect, whose name was not released, admitted to poaching wild animals, which is why the two men were on the road. However, he denied firing any shots at the officers. Suspect Andreas Johannes Schmitt did not offer any information, according to Barron's.
Authorities do not believe the incident was politically motivated, according to AP. Orthen said he believes "this killing of the two police officers served to cover up the poaching that preceded it."
Investigators also believe a shotgun and a hunting rifle were used to shoot the officers, AP reported.
Police said authorities already knew both suspects—Schmitt for poaching and fleeing the scene of an accident, and the 32-year-old for fraud allegations, according to Barron's. However, neither suspect has been previously convicted.
Prosecutors added that the suspects' finances were "anything but orderly."