'Dead or Alive': President Trump Appears on Al-Qaeda Wanted Notice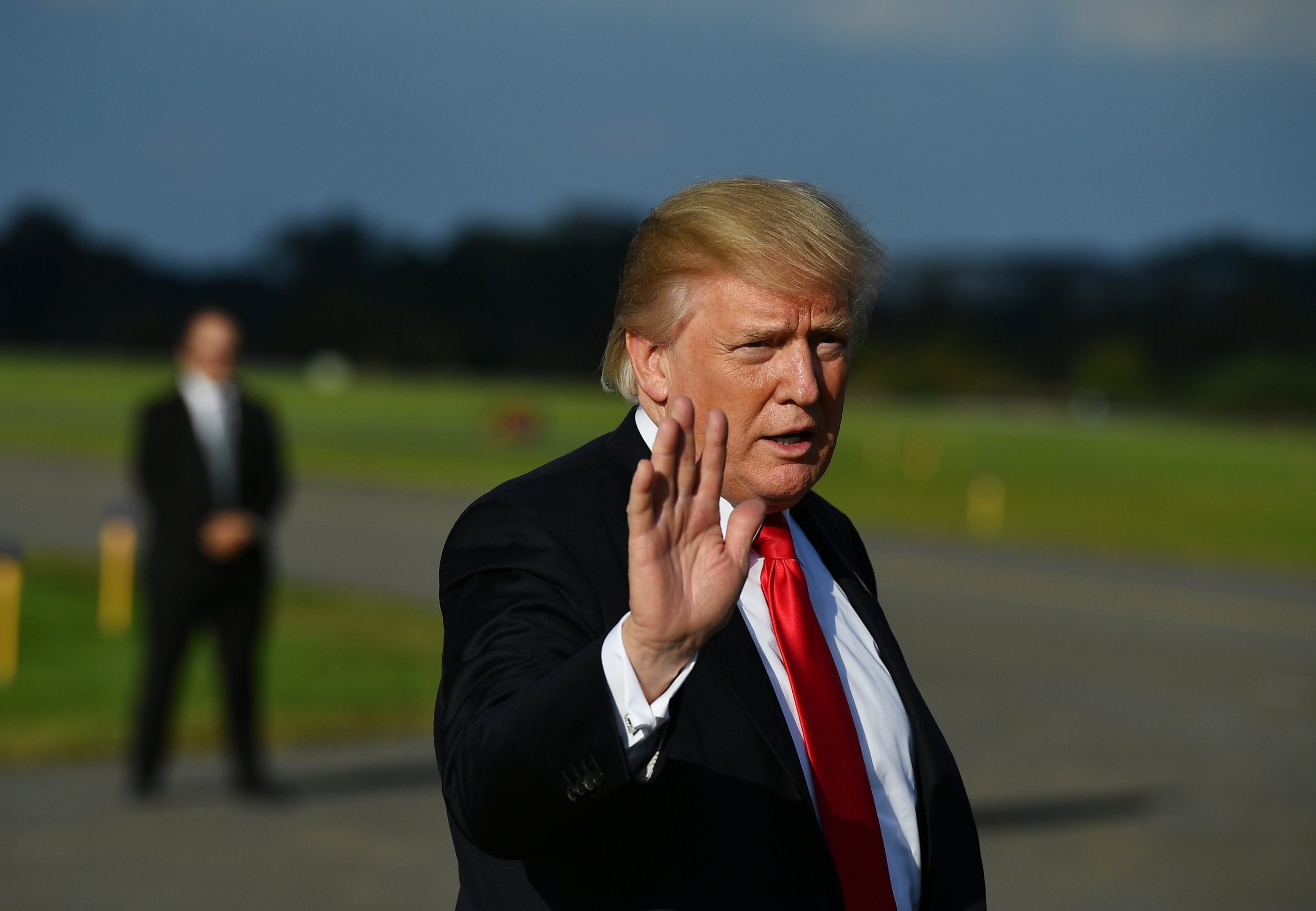 Al-Qaeda has had a resurgence online in recent months, using the heir of the group's late leader Osama bin Laden—his son Hamza—as a propaganda pawn whose family lineage boosts its image. Now, Al-Qaeda's supporters are using another notable name to attract attention: President Donald Trump.
On Tuesday, the Al-Hijrah media group, marked by a green logo and active for only the past several months, released a wanted notice for the U.S. president, calling for his capture "dead or alive."
The notice, provided to Newsweek by the jihadi monitoring site Jihadoscope, says Trump should be targeted for his "crimes against Islam." It says he is sought for "treason, murder, injustice, kidnapping, massacre, extremism, negligence, hate."
The release came a week after the jihadi channel warned it would have "a message to Trump and the people of America coming soon."
Tuesday's release also includes a message that pointed to Trump's decision to expand U.S. military presence in Afghanistan.
"Trump is talking about winning in Afghanistan. And you Americans what do you think? Do you not know history?" it reads, referring to the failure of the Bush and Obama administrations to defeat the Taliban mujahedeen, Arabic for holy warriors.
"It is clear that Trump is waging this war only for his hatred of Muslims," it says. "You will never be victorious, you will be defeated." The statement repeats the Taliban phrase that Afghanistan will become a "graveyard" for American troops.
The Taliban is the most prominent insurgent group in the country, and Al-Qaeda is allied with it. Both are vying for influence against a growing Islamic State militant group (ISIS) affiliate in the country.
Al-Qaeda has long been an adversary of the U.S., claiming the deadliest attacks on U.S. soil, the 9/11 hijackings that killed almost 3,000 people in 2001.
The jihadi group's grievances with the U.S. stem from a hatred of democracy and the Western world, but it has long listed American foreign policy as its main justification for violence against civilian and military targets. The U.S.-led invasion of Iraq in 2003 gave birth to Al-Qaeda in Iraq, an insurgency that left a bloody trail across the country for occupying Western forces.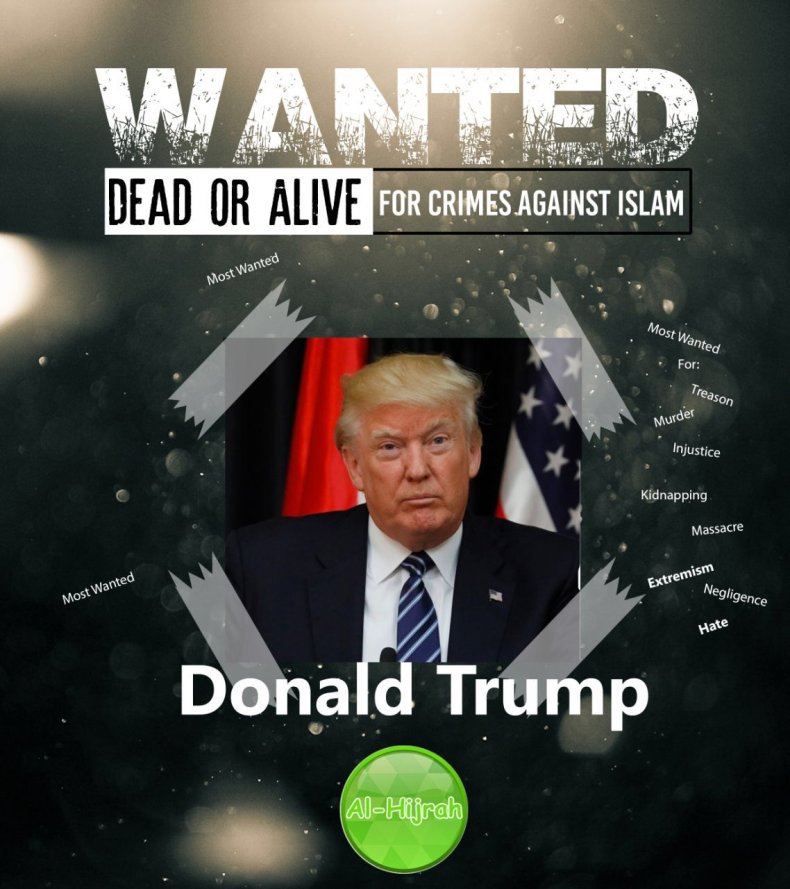 That group would later develop and split into what is now ISIS, the target of a U.S.-led coalition of air forces that is bombing the militant group in Iraq and Syria. The U.S. is also conducting drone campaigns against Al-Qaeda affiliate Al-Shabab in Somalia and Al-Qaeda's most powerful wing, Al-Qaeda in the Arabian Peninsula.
Trump, throughout his presidential campaign and first months as president, has pledged to go to war on "radical Islamic terrorism." He has given U.S. commanders greater remit to conduct airstrikes in the Middle East and has put forward a travel ban on six Muslim-majority nations, a decision that community leaders have suggested will alienate young, disenfranchised Muslims in the U.S. who could sympathize with Al-Qaeda and ISIS propaganda.
But Trump's war on radical Islamism energized his base of support, and the real threat that extremist groups pose to the president is low because of the resources of the U.S. security services. The wanted notice is less a meaningful threat and more likely an attempt to drum up support among potential supporters in line with the group's recent recruitment drive.
Using Hamza bin Laden, Al-Qaeda has attempted to rally support for its cause after losing influence to ISIS during the so-called caliphate's rise from mid-2014 onward. However, ISIS has suffered a series of battlefield losses that have greatly reduced the territory it holds.
In May, Al-Qaeda's propaganda arm As-Sahab released an English- and Arabic-language audio message from Hamza giving "advice" to "martyrdom seekers in the West." He mentions conflicts across the Middle East, particularly in support of Sunni Muslims in Syria, Iraq, Afghanistan and the West Bank and Gaza Strip, to inspire supporters.
"Be perfect in your choice of targets, so that you may damage your enemies more," he said. "Be professional in your choice of weapons. It is not necessary that it should be a military tool. If you are able to pick a firearm, well and good; if not, the options are many."
As Al-Qaeda continues to put out more propaganda, a report released late Monday showed Americans and non-Americans based in the U.S. were some of the most frequent consumers of radical Islamist material, behind only Turkey, and ahead of Saudi Arabia, Iraq and Britain. The report, entitled "The New Netwar," collected data between February 19 and May 3 that showed the U.S. with 10,388 clicks on jihadi propaganda, followed by Saudi Arabia (10,239), Iraq (8,138) and Britain (6,107).