More Than 300 Endangered Sea Turtles Found Dead in Fishing Net Off Mexican Coast
More than 300 endangered sea turtles died after becoming entangled in an illegal fishing net off the southern coast of Mexico, environmental officials in the country announced. The animals were found dead off the coast of La Barra de Colotepec.
Mexico's Federal Attorney for Environmental Protection (PROFEPA) said that hundreds of Olive Ridley (Lepidochelys olivacea) sea turtles died of drowning due to the illegal fishing net. Officials said the net was prohibited in the area and they are searching for those responsible, CNN reported reported.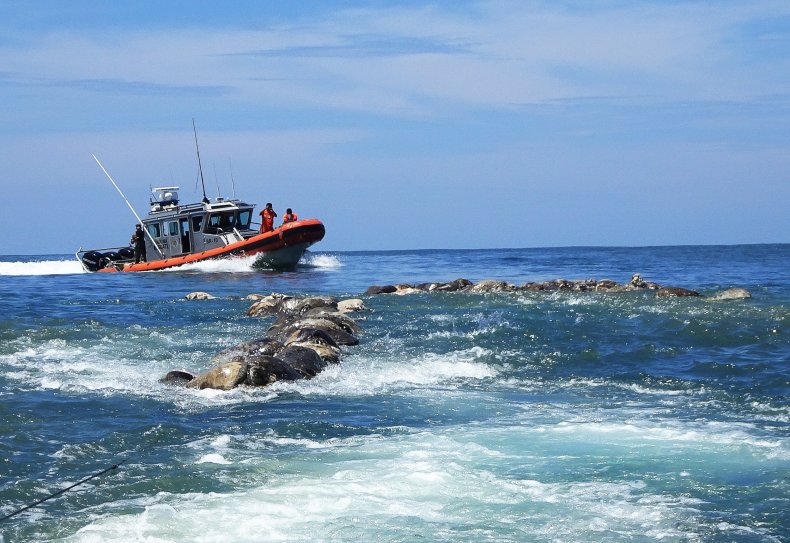 In a statement released Tuesday, the federal attorney's office said the turtles had were dead for eight days before they were found. The dead turtles were found in an "advanced state of decomposition, and some were in pieces."
The dead sea turtles were removed from the water and buried in two pits order to avoid contamination, PROFEPA said in its statement.
The illegal nets that the animals became entangled in are used for riparian fishing on riverbanks, not for fishing shrimp or tuna from the ocean, PROFEPA said. The federal attorney's office said it would work with Mexico's National Commission of Aquaculture and Fishing CONAPESCA to educate local fishermen about the risks in using the illegal nets.
Olive Ridley sea turtles are considered endangered by the U.S. Fish and Wildlife Service and by Mexican officials, CNN reported. The species is listed as vulnerable by the World Wildlife Fund.
According to the WWF, Olive Ridley sea turtles are listed as vulnerable because they nest in a limited number of places. Despite being the most abundant of sea turtles, any disturbance to one of the animals' nest beaches could have detrimental effects on the population.
The sea turtles, which get their name from the olive green hue of their shells, are also listed as vulnerable by the International Union for Conservation of Nature and Natural Resources, Fox News reported.
The recent discovery comes just weeks after more than 100 sea turtles were discovered dead at the Playas de Puerto Arista Sanctuary on the Pacific coast of the state of Chiapas. According to officials, the carcasses of 102 Olive Ridley, six Hawksbill and five Galapagos Green Bill turtles turned up at the wildlife sanctuary between July 24 and August 13.
Authorities said at the time that they would test the water and perform autopsies to determine the causes of death, the Associated Press reported. Asphyxiation, fishing hooks and harmful algae blooms were all being considered as possible causes.