'Dead Voter' Claim Spread Across Social Media by Donald Trump Jr. Rejected by Election Officials
Election officials in Michigan have rejected the claim that a ballot for a 118-year-old man was ever received or counted in the state.
The denial comes after claims went viral on social media on Thursday that an absentee ballot for a resident born in 1902 called William Bradley was counted in the Michigan election, seized on by Trump supporters as being evidence of voter fraud.
Donald Trump Jr. retweeted several accounts that were spreading the unproven claim, including from Students For Trump founder Ryan Fournier and a user with the handle @Fleccas, identified by fact-checking website Snopes as Austin Fletcher.
The claims also spread to Facebook, which labeled Fournier's post as including "false information" after a fact-check by third-party researchers at PolitiFact.
"A man named William Bradley died in 1984.... and sent in an absentee ballot this year in Detroit, Michigan for Joe Biden. They are trying to steal this election," Fournier wrote.
Like a slew of Donald Trump allies this week, his post was labeled by Twitter.
On his Twitter Thursday, Fletcher attracted tens of thousands of retweets after claiming to have evidence of multiple instances of implausibly old residents having cast votes, including a person called June Aiken born in 1900, a person called Donna Brydges born in 1901 and Michigan resident called Terry Mathis who would be 120-years-old.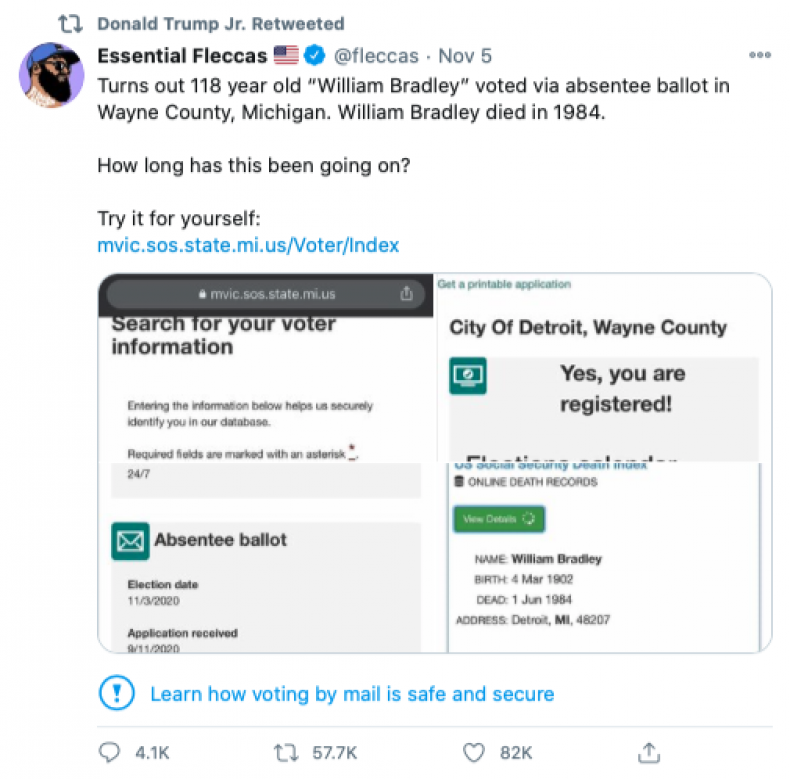 After investigating the claims, PolitiFact said it determined the case of Bradley was likely a case of mistaken identity, and officially declared the story as false.
Researchers located another William Bradley in the same Detroit zip code who said he shared the same name with his father, who passed away in 1984. Bradley said he lives in the same address his father used to and while he received a ballot for his deceased father he had thrown it away. He confirmed voting by mail due to COVID-19.
And a spokesperson for Michigan's secretary of state Jocelyn Benson told local media outlet WDIV this week that any ballots of voters who have died are rejected.
"On rare occasions, a ballot received for a living voter may be recorded in a way that makes it appear as if the voter is dead," the spokesperson said.
"This can be because of voters with similar names, where the ballot is accidentally recorded as voted by John Smith Sr. when it was actually voted by John Smith Jr; or because of inaccurately recorded birth dates in the qualified voter file; for example, someone born in 1990 accidentally recorded as born in 1890.
"In such scenarios, no one ineligible has voted, and there is no impact on the outcome of the election. Local clerks can correct the issue when it is brought to their attention."
In addition, Detroit Department of Election consultant Daniel Baxter told PolitiFact no ballot for the 118-year-old Bradley was "ever requested, received or counted."
He said: "A man with a nearly identical name requested a ballot and voted properly in both the primary and general elections. When his ballot was initially logged... it was incorrectly attributed to William Bradley born 118 years ago through a clerical error."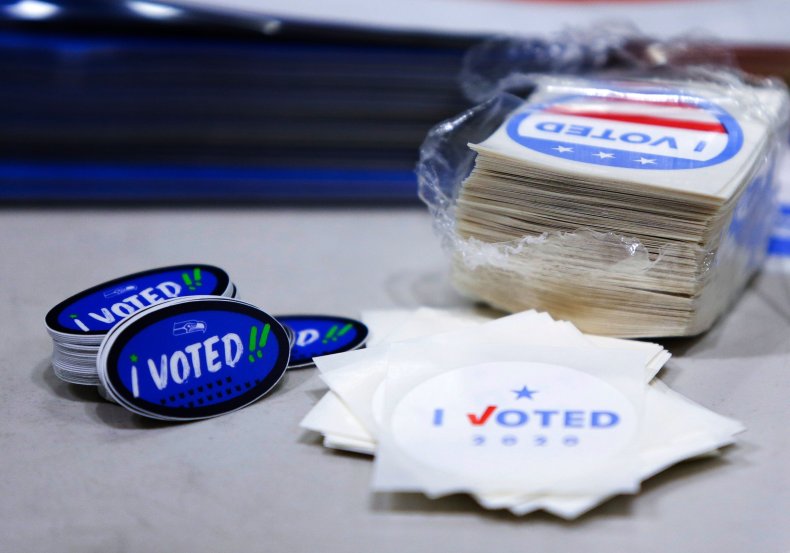 On November 2, The New York Post claimed to have uncovered ballots of dead people linked to mail-in ballots to the New York City Board of Elections.
Staten Island GOP chairman Brendan Lantry claimed at the time people were using the names of dead voters to cast ballots, without releasing evidence. "People should be on the alert for dead people voting," he said, noting he requested a police probe.
The claim has continued to circulate among Republicans this week, with former Trump administration official Richard Grenell tweeting yesterday that "non-residents and dead people" had voted in the election, saying it was an "attack on our democracy."
On Thursday, Trump's election campaign lost court rulings in Georgia and Michigan that tried to stop ballots from being counted. Projections indicate Democratic candidate Joe Biden is leading the state, with 50.5 percent compared to Trump's 47.9 percent.
In its analysis of the so-called dead voters, fact-checking site Snopes said it wasn't able to "definitively determine" if the claims being spread online were accurate but noted they appeared to have "certain traits that are often indicative of misinformation."
Facebook has been contacted for comment by Newsweek.
Michael McDonald, a University of Florida professor specializing in elections, suggested the discrepancies may be due to how the data is stored on voting systems.
"Many election management systems use 1900 as a missing data code for records that had no discernable birthdate when the state transitioned their paper records into an electronic system," McDonald wrote on Twitter.
"Using 1900 as a missing data code for birthdates was discussed by a conservative presenter in a report to Trump's voter integrity commission. These are not dead people voting. These are data artifacts."