Dead Whale Found With 33lbs of Plastic in Stomach Suffered 'A Painful Death'
A whale that washed up dead on a beach in Greece was found to have 33 pounds of plastic in its stomach.
The 16-foot cuvier's beaked whale was found washed up on Kremasti beach in Rhodes on April 30.
Marine mammal rescue teams from charity organization ARION rushed to the scene immediately to assess the dead whale.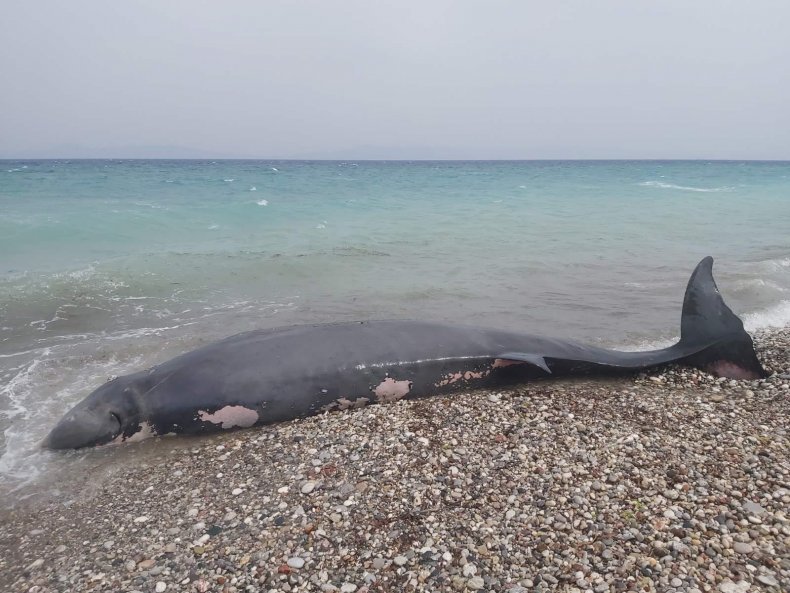 They found no external injuries on the animal other than natural abrasions, a statement from ARION said. However, when they took it in for an autopsy, they found all the damage lied inside the dead animal.
Dr. Aimilia Drougas, CEO and co-founder of ARION, told Newsweek that preliminary findings of the necropsy revealed a "huge amount of plastics" in the whale's stomach.
"This has caused the marine mammal suffering from cachexia and a painful death. Advanced laboratory tests of tissue and other organ samples are on the way and they will be announced as soon as we get the medical report," she said.
Cuvier's beaked whales are found in waters worldwide. It is the most commonly seen out of the beaked whale species.
The whales are not listed as endangered or vulnerable, however not much is known about this deep water species. Like all marine mammals, they are under threat from plastic pollution in the world's oceans.
ARION said in a statement that a large amount of plastic waste falls to the seafloor, where this species seeks food.
"Plastic waste is now a global problem for marine organisms, which are dangerously affected," a statement from ARION said. "A large number of marine vertebrae die from their ingestion. The problem is deeply felt in the Mediterranean, which is considered one of the most polluted areas in the world of them."
It is not uncommon for species to die from ingesting plastic found in the ocean. ARION said ingesting plastic can have acute, deadly, and long-term "harmful effects" on an animals' health.
It is also not uncommon for marine mammals to strand. Every year, thousands of marine mammals wash up on the world's beaches, and sometimes, the cause of death remains a mystery. However, stranded marine mammals are often found to be injured or unwell in some way.
"Marine mammals are the most important shell in the marine ecosystem, where through various mechanisms they preserve the biodiversity of the species in their spread areas, where they have been recorded as a 'national marine wealth'...and we will continue to fight to protect them," ARION said in a statement.