Dozens of people are reported injured, some critically, after an explosion rocked a political rally in Ethiopia's capital of Addis Ababa.
The rally assembled by the country's new Prime Minister Abiy Ahmed ended abruptly when a suspected explosive device went off in the Ethiopian capital's Meskel Square and security officials whisked the leader away to safety.
After making an unconfirmed claim that the explosion killed several people, Abiy said the attack was an "unsuccessful attempt by forces who do not want to see Ethiopia united," BBC reported.
"The people who did this are anti-peace forces," the prime minister said in a televised address after the attack, Al Jazeera reported. "You need to stop doing this. You weren't successful in the past and you won't be successful in the future."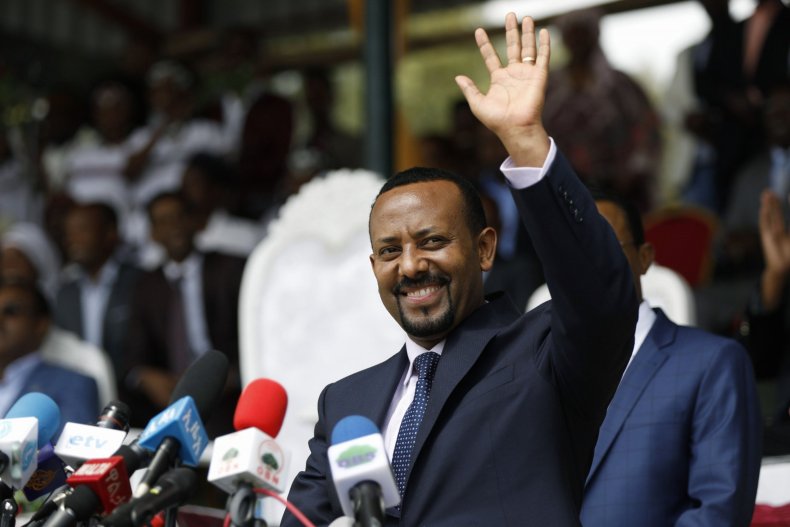 At least 83 people are injured as a result of the blast, six of them are in a critical condition, according to Abiy's Chief-of-Staff Fitsum Arega. Despite Abiy's remarks suggesting multiple deaths at the rally, the Ministry of Health has subsequently walked back the claim, confirming one fatality only.
The cause of the explosion was likely a grenade and the 41-year-old leader's podium was probably the intended target, Seyoum Teshome, a member of the rally's organising committee, told Reuters. "Someone tried to hurl it to the stage where the prime minister was," Teshome told Reuters.
The African nation's new prime minister came to power after his predecessor's unexpected resignation in February and is Ethiopia's first ever leader from the ethnic Oromo group. The community has been linked to anti-government protests over the past three years.
The flow of tens of thousands of people to Addis Ababa's main square was testament to Abiy's broad popularity as the youngest national leader in Africa. His rise has become symbolic of an impending paradigm shift in Ethiopian and regional politics, as he has pledged liberal reforms, announced the release of tens of thousands of prisoners, unblocking websites, TV channels, opening state-owned companies to private investment and crucially staking his commitment to making peace with rival Eritrea.
Eritrea has welcomed Abiy's intention to enact a peace deal signed between the countries in 2000. Following Saturday's attack, Eritrea's envoy in Japan Estifanos Afeworki was first to voice his country's condemnation of the attack in Ethiopia, tweeting in apparent solidarity with the rally that he called "1st of its kind in history of Ethiopia."