'Deadly Class' Spoilers: What Will Happen to Marcus and Everything Else to Know About Episode 2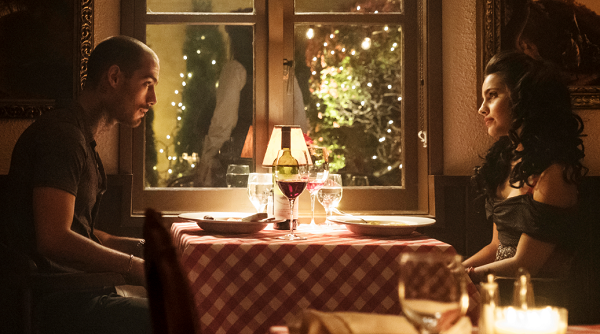 When you're a teen assassin in training, it's totally normal to be plagued by the horrors of your homework, right? That will at least be the case for young Marcus, the newest student at Kings Dominion, on SYFY's newest series Deadly Class.
The pilot episode, which premiered last week, introduced fans to the characters of Rick Remender and Wes Craig's beloved comic book series of the same name. In the upcoming episode 2, titled, "Noise, Noise, Noise," viewers will get an even bigger taste of just how deadly the students can be all the while dealing with their day-to-day adolescent dramas.
Now with his first assignment out of the way, Marcus, played by Benjamin Wadsworth, will have to suffer the aftermath of feelings that come with taking a life. According to the episode's synopsis, Marcus is riddled with regret over the killing of Rory (Ryan Robbins), while his quasi-friendship with Willie (Luke Tennie) still hangs in lieu. A party could ease his mind, and luckily Shabnam (Isaiah Lehtinen) is throwing a party for the entire school. A bash full of assassin-hopefuls, though, doesn't seem likely to happen without some sort of danger.
Meanwhile, Maria (María Gabriela de Faría) will face some traumas on her own, first when she realizes her best friend Saya (Lana Condor) may be crushing on Marcus too. Then there's the subject of her possessive boyfriend Chico (Michel Duval).
Not too keen for Maria's flirtatious behavior towards Marcus, Chico interrupts her plans to attend Shabnam's party and instead takes her out for a romantic evening. Their loving moment intensifies when he uses their date night to teach her lesson she likely won't forget.
Episode 2 is scheduled to air on SYFY on Wednesday at 10 p.m. ET. Although the episode won't be available for live stream viewing, fans will be able to catch the show online after it airs. A cable provider login will be needed to access the stream on-demand on SYFY's website.
'Deadly Class' Spoilers: What Will Happen to Marcus and Everything Else to Know About Episode 2 | Culture