Deadly Military Plane Crash Kills Hundreds In Algeria
Updated | At least 100 people have been killed in a military plane crash near the Algerian capital of Algiers.
There are believed to be no survivors from the crash, which occurred on Wednesday morning close to the Boufarik military airport. The BBC reported that at least 247 people have been killed, while local media sources said as many as 257 have died. This would make it the most deadly crash in Algerian history and one of the worst 10 aviation accidents of all time.
Local television stations said that at least 14 ambulances had been dispatched to the scene, which is some 20 miles from the Algerian capital. The plane reportedly crashed into a field in an agricultural area.
Mohammed Achour, chief spokesman for the civil protection agency, told the Associated Press, "There are more than 100 deaths. We can't say exact how many at this point." News website TSA-Algerie reported a provisional death toll of 105 from the civil protection agency.
Video footage posted to social media showed thick black smoke rising from mangled wreckage in a field. Other images showed that much of the plane's fuselage remained intact, as rescuers moved around the tail fin which could still be seen above olive trees.
Local news website Algerie24 reported that the Ilyushin Il-76 aircraft was carrying military equipment and dozens of soldiers. Algerie24 said the aircraft had been heading to the western Algerian city of Bechar via a stop-off in the town of Tindouf. The BBC reported that those killed include 26 members of the Polisario Front, a rebel group supported by Algeria fighting for the independence of the Western Sahara from Morocco.
An Algerian defense ministry statement said the head of the Algerian army has ordered an investigation into the crash and will visit the scene.
If the reported death toll is accurate, the crash would be the worst since 77 people died when a Hercules C-130 military passenger plane went down in the north east of the country in 2014. There was one survivor from the accident, in which the C-130 crashed into a mountain amid bad weather conditions.
In July 2014, the country's deadliest ever air accident killed 116 people when an Air Algérie jet went down in the Malian desert. Pilot error was blamed for the crash, in which 53 French citizens also died.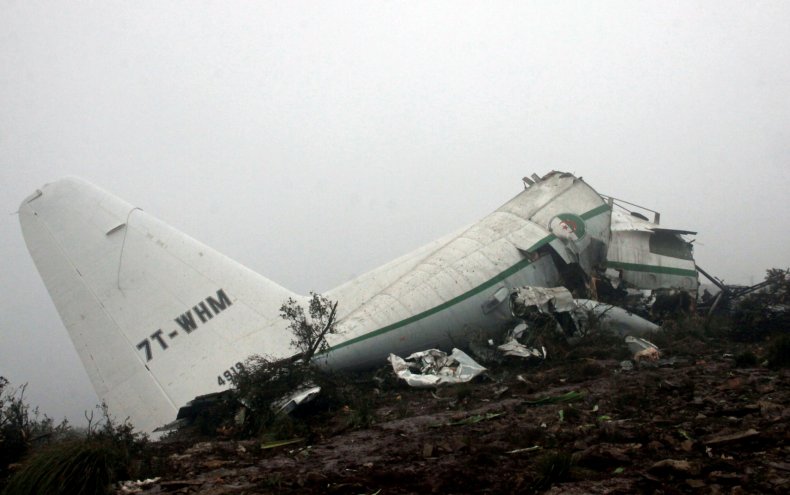 This article has been updated to reflect revised casualty figures.