The Deadly Saga of Christopher 'Dudus' Coke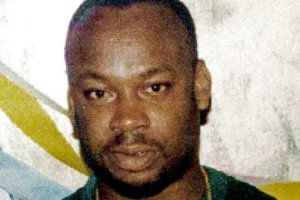 Jamaican authorities finally captured suspected drug lord Christopher "Dudus" Coke yesterday. It marked the end of a violent years-long battle that revealed a cozy relationship between gangsters and politicians in that country.
Coke appears on the U.S. Justice Department's most-dangerous list. He is suspected of heading a brutal drugs- and arms-smuggling gang called the Shower Posse, so named for showering people with bullets. According to the BBC, his life has been a violent one. His sister and two of his brothers died in shootings. His father, who ran the posse, burned to death in a jail-cell fire while awaiting extradition to the U.S.
Last August he was charged by U.S. authorities with organizing marijuana and crack deals, and sending weapons and money back to Jamaica.
The U.S. wanted him to stand trial in New York. But there was a problem. Jamaica's former national security minister, Peter Philips, recently said Coke may be the most powerful man in the country because, as the order revealed, gang leaders and politicians often share power in Jamaica—the gangsters use their power over local communities to get voters out. In exchange, according to The New York Times, politicians award them lucrative government contracts and give them a measure of protection from the law.
Jamaican Prime Minister Bruce Golding argued that the extradition was based on flawed evidence. He even hired law firm Manatt, Phelps & Phillips to lobby the U.S. government on the issue. The State Department, according to the Times, responded angrily. "Jamaica's delay in processing the U.S. extradition request for a major suspected drug and firearms trafficker with reported ties to the ruling party highlights the potential depth of corruption in the government," said a report released in March.
After nine months of U.S. pressure, Golding relentedon May 17. It was just the beginning of his problems. Coke's supporters are centered in a housing project called Tivoli Gardens. On May 19 they began barricading streets to stop the arrest warrant on Coke from being served. On May 20 they marched to support him—some, according to the Jamaica Observer, even saying they would die for him.
On May 23 they set fire to and shot up police stations. Two officers were killed. The prime minister declared a state of emergency, and the next day security forces stormed Tivoli Gardens, losing one soldier in battles. Dozens of Coke's civilian supporters died in clashes. Many of those deaths have not yet been explained, according to theTimes.
Coke escaped. Yesterday police tailed a convoy of cars, some carrying gunmen. They stopped the convoy at a checkpoint and arrested Coke while the armed cars sped away. He was on his way, he said, to turn himself in at the U.S. Embassy. He waived his right to an extradition hearing.
The government appealed for calm on the back of the news.