Deadly Sea Snake Found by Woman Walking on the Beach
Over the weekend, a woman walking along Tokerau Beach in New Zealand spotted a yellow-bellied sea snake, a creature that can be highly dangerous, even deadly, if handled.
According to 1 News, Samantha Cooper shared the images she took of the snake to a private Facebook group called Kaitaia Noticeboard. In the post, she said:
"To all the Karen's [sic]. Yes, we tried to put it back in the ocean but it kept swimming back onto the sand, the tide is on it's [sic] way out and I was worried about kids [sic] and dogs [sic] safety... Also, cars drive on Tokerau so it [would] most probably get squished. I gave the snake to doc. I didn't know Aotearoa had snakes."
Yellow-bellied snakes, while beautiful, are highly dangerous to humans, says the Australian Museum. These snakes are pelagic, meaning their natural habitat is the open ocean. As such, it is rare to find one washed ashore. However, if a yellow-bellied sea snake is found on land, there is a good chance it is sick or injured and will not survive.
But even though the snake might be close to death, the Australian Museum warns against handling a yellow-bellied sea snake. If roughly handled, the snake will bite, and its venom can be lethal.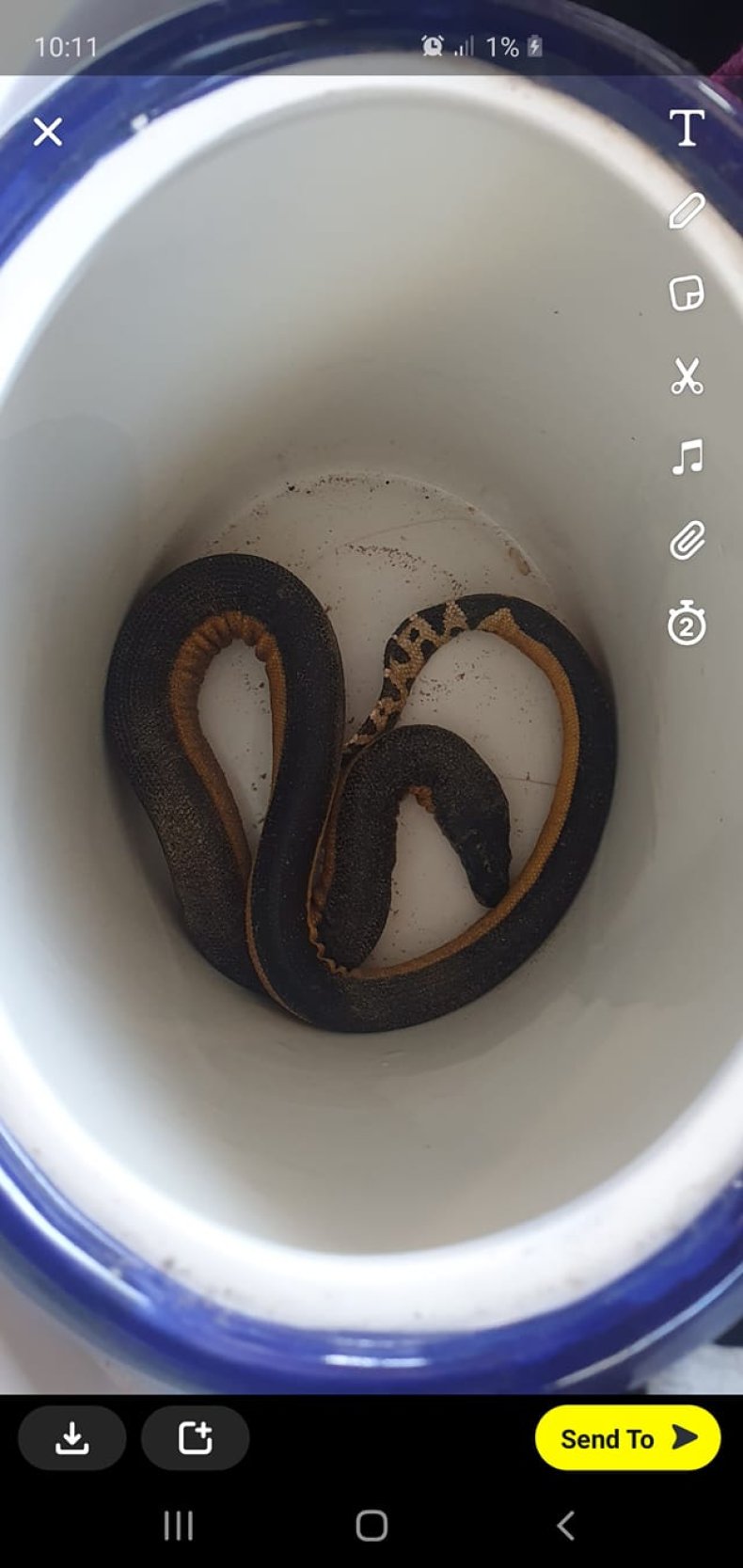 "The fangs are quite short and only a small dose of venom is usually injected, however this venom is highly toxic ..." says the Museum's website. "Symptoms of envenomation include muscle pain and stiffness, drooping eyelids, drowsiness and vomiting, and a serious bite can lead to total paralysis and death. Anyone suspected of being bitten by a Yellow-bellied Sea Snake should seek medical attention immediately ..."
Though rarely spotted, Otago Daily Times reports that the yellow-bellied sea snake is deemed native to New Zealand and is believed to breed somewhere in the Northern Tasman Sea.
Clinton Duffy, Department of Conservation Technical Advisor for Marine Species, told NewsHub that yellow-bellied sea snakes "do not represent a biosecurity risk ... As native species, they fall under the jurisdiction of the Department of Conservation."
Sadly, though, Duffy also told Otago Daily Times that there isn't much the Department of Conservation can do other than cordon off the area where a snake is found. Because mishandling a sea snake could lead to its death, only certified snake handlers are allowed to interact with the snake.
Yellow-bellied sea snakes live most of their lives in the open ocean, far from shore, and shouldn't be feared; however, it is always important to call any wildlife rescue expert when happening upon any unknown species.