Deadly Shooting of Black Woman in Home Marks Seventh Time a Fort Worth, Texas Officer Shot a Civilian Since June
A black woman in Fort Worth, Texas was shot and killed by a police officer in her own home early on Saturday morning, becoming the seventh civilian shot by police officers in the city since June. Six of those victims of police shootings died.
The most recent victim, Atatiana Jefferson, 28, was shot in her East Allen Avenue home after a neighbor called the police because he had noticed her doors were open and the lights were on in the early hours of the morning, the Fort Worth Star-Telegram reported. The police officer arrived and reportedly shot into the woman's home without having clearly identified himself or having a good view on who he was shooting. Jefferson reportedly shared the home with her 8-year-old nephew.
In a statement, the Fort Worth police said: "Perceiving a threat the officer drew his duty weapon and fired one shot striking the person inside the residence."
The neighbor who called the police, James Smith, has said he had simply been concerned about Jefferson's welfare and now regrets making the phone call. The officer involved in the shooting was white.
"The Fort Worth police murdered this woman. They murdered this woman in her own house," Reverend Michael Bell, of Greater Saint Stephen church, said at a Saturday gathering of community leaders, according to the Star-Telegram. "And now, African Americans, we have no recourse. If we call the police, they will come and kill us. And we know that."
Many drew immediate comparisons to the 2018 killing of 26-year-old Botham Jean in Dallas. Jean, who was also black, was killed by white off-duty police officer Amber Guyger, who claimed she had entered his apartment thinking it was her own. Guyger was convicted of Jean's murder and given a 10-year prison sentence earlier this month.
"The officer gave Atatiana Jefferson four seconds to respond before shooting and killing her," Democratic presidential candidate Senator Kamala Harris of California tweeted on Sunday, sharing an article about the killing. "Being Black in your own home shouldn't be a death sentence," she added.
Democratic presidential candidate Senator Bernie Sanders of Vermont, who was an activist during the Civil Rights Movement and marched with Dr. Martin Luther King Jr., also tweeted about the killing.
"The killings of unarmed Black Americans have got to end. Atatiana Jefferson should be alive. The Department of Justice must investigate this," Sanders wrote.
On Saturday evening, Fort Worth Mayor Betsy Price released a statement in regards to the shooting.
"Writing a statement like this is tragic and something that should never be necessary. A young woman has lost her life, leaving her family in unbelievable grief. All of Fort Worth must surround Atatiana Jefferson's family with prayers, love and support," she said. "Chief Kraus and his command staff are acting with immediacy and transparency to conduct a complete and thorough investigation."
Body camera footage from the incident shows that the officer did not clearly identify himself as police before shooting, according to the Star-Telegram. Jefferson was reportedly just playing video games with her nephew and thought there was a potential trespasser outside. She went to investigate and then was killed by the officer.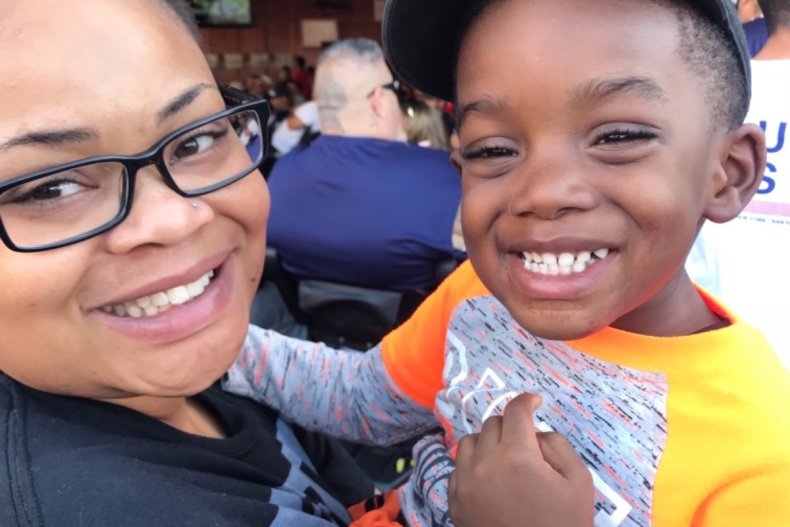 S. Lee Merritt, an attorney whose office is handling Jefferson's case, has said she was pre-med graduate who cared deeply for her family.
"Before law enforcement goes about their pattern of villainizing this beautiful peaceful woman, turning her into a suspect, a silhouette, or threat, let me tell you about [her,]" Merritt wrote in a Facebook post. "She was a premed graduate of Xavier University. She was very close to her family. She was the auntie that stayed up on Friday night playing video games with her 8 year old nephew."
"Her mom had recently gotten very sick, so she was home taking care of the house and loving her life. There was no reason for her to be murdered. None. We must have justice," the attorney added.
Merritt later shared the link of a Go Fund Me campaign to support the Jefferson family and cover funeral costs.
Prominent Black Lives Matter activist and columnist Shaun King said his "blood is boiling" in a Saturday Twitter post.
"They shot her through her bedroom window. She broke no laws and did nothing wrong! Police were called to investigate an open door," King wrote. "We are demanding justice RIGHT NOW."
As reported by the Star-Telegram, prior to Jefferson's death, there had been six incidents of a civilian shot by a Fort Worth officer since June, including a man who was killed when he pointed a flashlight at police that an officer assumed was a rifle.