Deadly Snake Bite Tragically Ends Life of Beloved Police Dog
A beloved police dog has died after being bitten by a venomous snake in Texas during on-duty training on Wednesday, sending the Baytown Police Department into mourning over the special K-9.
Lenin, who couldn't be saved from the bite, served as the department's first bomb and gun detection dog, and was one of eight K-9 units, local news station ABC 13 reported. No details were revealed about how the incident unfolded or the species of snake that bit Lenin.
Snakes tend to come out of hibernation during warmer months to seek prey and therefore could often encounter animals or pets along the way. Around 150,000 dogs and cats are bitten by venomous snakes in the United States every year, according to a 2021 report by the Morris Animal Foundation.
Approximately 80 percent of dogs survive venomous snake bites if they receive immediate care. Dogs' chances to survive the bite of a venomous snake depends on the size of the dog, the time between the bite and receiving emergency care, and the location of the bite, according to the foundation.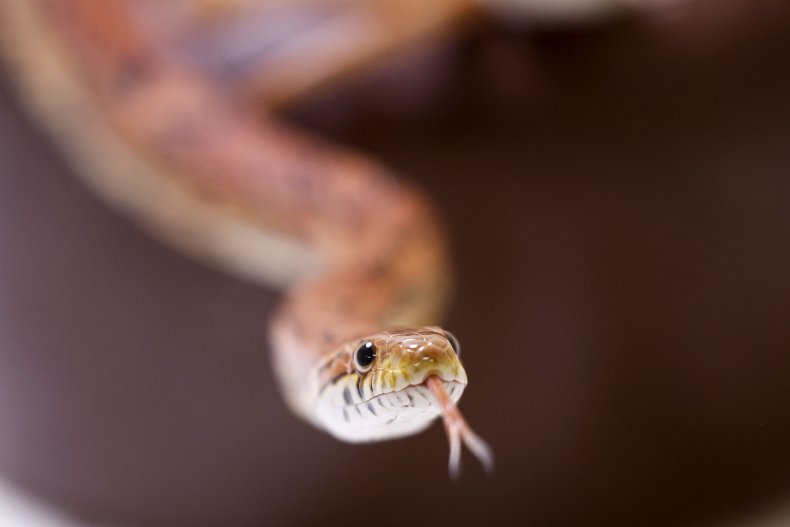 Chief John Stringer of the Baytown Police Department described Lenin as a member who made "significant contributions to the safety of Baytown in his short time with our department, and he will be missed," ABC 13 reported.
Lenin was assigned to K-9 officer Hunter Kinzie who worked with the dog on several large explosive sweeps in and around Baytown. In February, Lenin won the Top Bomb Dog award after competing against 75 K-9 teams during a seminar in Alabama, according to the department.
Though non-venomous snake bites can be survived, it often causes infection, according to the Veterinary Specialists of the Rockies, an animal hospital based in Colorado. A prompt response to pets who have been bitten by snakes involves recognizing initial symptoms, which include sudden weakness, trembling, excessive drooling, paralysis, dilated pupils, and bite wounds. Dogs and other pets are often bitten in the face, neck, or legs when they try to catch a snake.
Pet owners can administer to a snake bite after they call a veterinary clinic first. They can take some steps to minimize the effects of the snake's venom, such as rinsing the wound with water and keeping the pet calm and still.
It is also recommended for individuals to not handle the snakes themselves and instead call in experts to handle any encounters. Meanwhile, snake catcher Tiarnah Kingaby was called to a property in January in Australia to remove a python that swallowed a pet cat and kittens where they slept.
A woman found the python close to where her cats and kittens normally slept—but the cats were nowhere to be seen. The snake appeared to have a bulging stomach, indicating that it had recently fed.
It is very common to see snakes in residential areas in Australia during the summer as they are often drawn to these areas in search of prey or shelter.
Newsweek reached out to the Baytown Police Department on Facebook for comment.