Deadly Swamp Cancer That Eats Away at Animal Flesh Detected in Chincoteague Pony
A Chincoteague pony has been diagnosed with the potentially deadly disease known as "swamp cancer."
The foal is among the famed wild horses living at the Chincoteague National Wildlife Refuge on the Virginia side of Assateague Island. Chincoteague Volunteer Fire Company, which looks after the herd, wrote on its Facebook page on Monday that a foal named Katet had contracted "the dreaded 'swamp cancer.'"
Officially called pythiosis, the disease is caused by the fungus-like germ Pythium insidiosum that infects plants, mammals and birds. In horses, it mostly triggers skin lesions, usually on the parts of the body that come in contact with Pythium insidiosum-contaminated water, like the legs, abdomen, and chest. Images of the lesions show pink, raw-looking patches of skin that look as if they have been eaten away by an infection. A cut as small as a mosquito bite can allow the bug to enter a horse's body. Treatment can include surgery to cut out affected tissue, as well as chemotherapy, and immunotherapy, which harnesses the immune system to fight disease.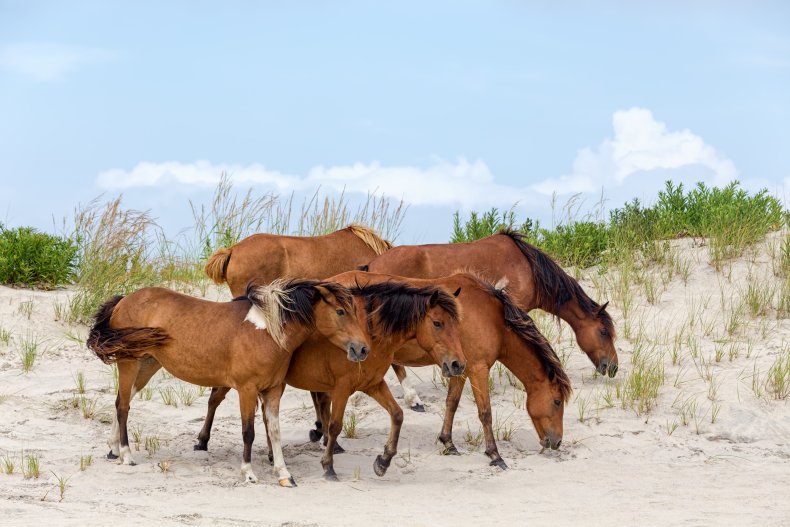 Destiny, 18, gave birth to Katet this year. reported. Katet is a bay tobiano, meaning she has three different coat colors.
The foal cut her leg early last month, according to a Facebook post by Chincoteague Volunteer Fire Company. At the time there were no signs that she had pythiosis, but a tissue sample was sent to a lab in Oklahoma for tests. At that time, she was given immunotherapy injections as a precaution, like every pony to be cut since 2018. The pony's keepers first noticed the strange disease affecting the herd more than three years ago.
Katet is still receiving immunotherapy, and the fire company said it is taking the situation day by day. She is limping but doctors were encouraged by her condition.
Last year, the fire department started giving the ponies an experimental vaccine to protect them from the disease. A spring health check at the time showed the 148 ponies and 12 foals were free of swamp cancer. Richard Hansen, a research veterinarian whose company developed the vaccine, told The Washington Post he was "cautiously optimistic" the vaccine was working.
The fire company said Katet was not vaccinated against the disease due to her age, but has been since. "We are praying for a good outcome," it wrote on Facebook.
The mother and foal are buyback horses, meaning that they are auctioned on the understanding that they will be donated back to the Fire Company to replenish the herd of around 150 adults.