Severe Weather Updates: Deadly Tornadoes Slam South, California Braces for Another Storm
Communities are recovering from deadly tornadoes that tore across the southern U.S. Thursday. At least nine people have died, including seven in Autauga County, Alabama. About 40 homes were destroyed or damaged in the county, including several mobile homes.
The system also hit Georgia, where a tree fell on a car in Jackson and killed a five-year-old boy, according to the county's coroner. A state employee was also killed while responding to storm damage, Governor Brian Kemp said.
According to the National Weather Service, tornadoes were reported in at least 14 Alabama counties and five Georgia counties. Tens of thousands of customers remain without power Friday.
Meanwhile in California, more rain and thunderstorms are forecast this weekend as areas in the central and northern parts of the state recover from severe flooding from a string of storms earlier this week.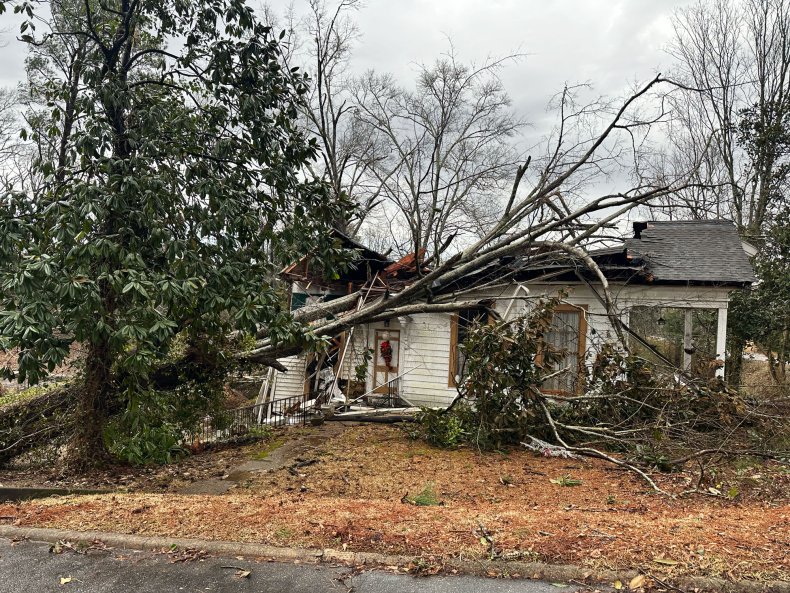 Live updates have ended.
CA National Guard Joins Search for Missing Boy
It is day five in the search for a missing child, who was swept away in flood waters near San Miguel, California on Monday.
Five-year-old Kyle Doan went during one of the severe storms that hit San Luis Obispo County, prompting a multi-agencies search effort.
The California National Guard arrived Wednesday to assist the San Luis Obispo County Sheriff's Office, Cal Fire, California Highway Patrol and other local law enforcement, as well as many volunteers.
There are about 200 personnel total involved in the search, the sheriff's office said in a press release Thursday.
"The search is being conducted in extremely challenging conditions with mud and debris hampering the efforts," the sheriff's office said. "But this is a comprehensive effort to search every brush pile and area of debris."
Doan went missing Monday after he an his mother got stuck in floodwater while driving to his school. Bystanders were able to rescue his mother, but could not get to Kyle in time.
300k Gallons of Sewage Released Into Salinas River
About 300,000 gallons of treated sewage was released into the Salinas River, health officials said.
San Luis Obispo County Public Health officials said heavy rain caused the river to overflow into the Templeton Community Service District (CSD) Wastewater Treatment Plant percolation ponds, ultimately releasing the sewage into the river.
The release occurred Monday at approximately 2,000 feet south of Vineyard Drive-Main Street intersection. The Salinas River flows northward through Templeton, Paso Robles, San Miguel and into Monterey County.
The public should avoid contact with flood water, ocean water, creeks and lakes during and at least three days following rainstorms, public health officials warn.
Contact with storm water can increase certain illnesses, like rashes, fever, ear infections, vomiting and diarrhea.
Oakland Zoo Remains Closed Due to Sinkhole
The Oakland Zoo remains closed Friday due to a massive sinkhole caused by recent storms in California.
Reconstruction efforts have been delayed, the zoo said in a tweet.
On New Year's Day, the zoo announced it would be closed until at least Jan. 17 "due to a major sinkhole caused by a collapsed culvert located under the vehicle entrance to the Zoo at Golf Links Road."
The culvert was "overburdened by the historic and unprecedented amount of rainfall."
The sinkhole is about 10 feet wide and approximately 10 feet deep and is "impassable to vehicles," prohibiting guests from entering, the zoo said.
The zoo was told by engineers that additional rain over the past week may have made the sinkhole worse.
"Zoo officials are working with a local company specializing in engineering, design, and construction to repair the sinkhole ASAP and were advised it may take an estimated 2 weeks or more for materials to arrive and the work to be completed," the zoo said in a statement.
The rain also brought a large volume of water inside the zoo and flooded buildings, leading to soil erosion, fallen eucalyptus trees and an overwhelmed drainage system. Electricity and internet was also out at the zoo for a period of time.
The zoo assured visitors that all animals and staff were safe during the extreme weather.
Staff will continue to take care of animals and provide needed maintenance and clean-ups from damage caused by the excessive rain.
"We sincerely apologize for the inconvenience, and we look forward to seeing you as soon as possible at the Zoo," the zoo said.
30ft Waves Possible in Bay Area, Central Coast
A high surf warning is in effects for parts of the Bay Area and Central Coast, where waves up to 30 feet are possible as the next storm system hits the region this weekend.
The National Weather Service warns "dangerously large breaking waves of 20 to 25 feet, with occasional waves up to 30 feet for steeply sloped beaches" are possible now through Saturday morning.
The alert impacts the coast from San Francisco down to Big Sur, including: San Francisco, Coastal North Bay (including Point Reyes National Seashore), San Francisco Peninsula Coast, Northern Monterey Bay, Southern Monterey Bay and Big Sur Coast.
"Breaking waves can sweep people off jetties and docks, and into dangerous seas," the National Weather Service Bay Area said. "Life-threatening swimming conditions and significant beach erosion can be expected. Everyone should remain out of the water due to life-threatening surf conditions."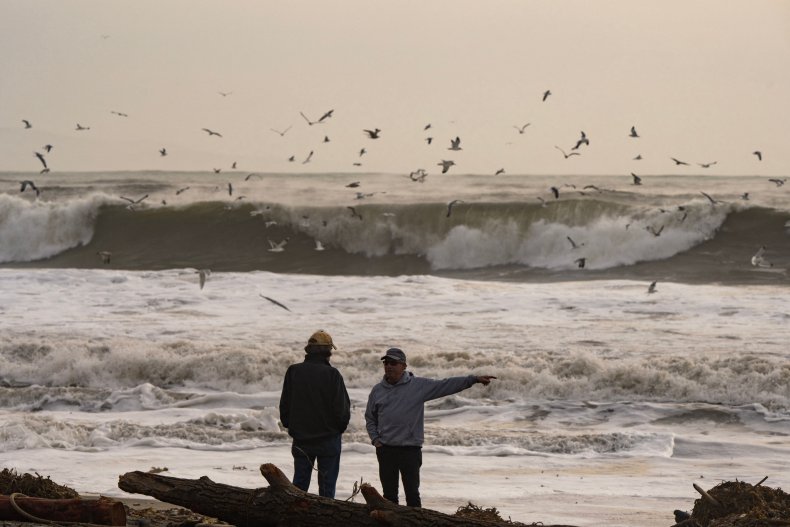 Tornado Damages Over 100 Homes in LaGrange, GA
More than 100 homes were damaged in the city of LaGrange, Georgia, after a tornado ripped through the region Thursday, city offiicials said.
The Red Cross of Georgia opened two shelters Thursday to help LaGrange residents, including at Faith Baptist Church.
Troup County closed all schools Friday due to power outages and storm damage. LaGrange Utility also placed several communities under a boil water advisory Friday after a fallen tree caused a water main break as a result of the storm.
Salinas River Overflowing in Monterey County
A levee in Monterey County, California broke Friday due to overflow flooding of the Salinas River.
The river flooding nearby farmland and roadways, causing road closures, including Hilltown Road near Highway 68.
The river is approaching moderate flood levels, with a crest peak of 26 feet, the National Weather Service reports.
The entire lower Salinas Valley will have "disastrous flooding," including the city of Salinas, and 90,000 acres of farmland, the NWS said. Roads near the Salinas River, including in the roads south and west of Spreckles, are expected to flood.
Widespread flooding across the county have lead to several evacuation orders.
Several school districts have canceled classes Friday due to the current flooding conditions.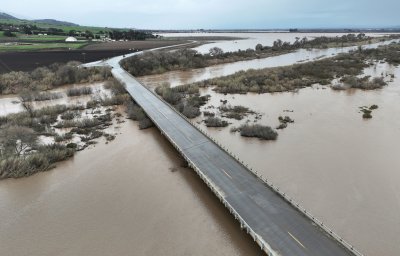 Two Deaths Confirmed in Georgia
At least two deaths have been confirmed in Georgia due to the severe storms, Governor Brian Kemp said Friday.
A state employee responding to storm damage has died along with a 5-year-old boy who was killed when a tree crashed down on a car in Jackson Thursday. Kemp provided the update during a briefing Friday morning, calling it a "tragic night and morning in our state."
The news brings the regional death toll to nine, between Georgia and Alabama.
So far, crews have confirmed four tornadoes which have left what Kemp called "statewide" damage. Kemp and other officials were headed to survey the damage from the air.
"It's dangerous work and there's a lot of it to do," Kemp said.
Kemp declared a state of emergency Thursday and "ordered all relevant agencies to respond with an all-hands-on-deck approach to the affected communities."
Tornados Confirmed in KY, SC, TN
The National Weather Service is working to assess storm damage today and confirm tornadoes that hit the South Thursday
The NWS station in Columbia, South Carolina said it found tornado damage along the boarder of Georgia's Warren and McDuffie Counties. The investigation into the tornado is ongoing.
The NWS was also on the ground in Laurens County, SC Friday, assessing the aftermath of storm damage at a car wash.
WNCN meteorologist Brad Panovich reported that a tornado was confirmed in the county Thursday.
A tornado was also confirmed in Madison County, Kentucky.
The NWS said preliminary information indicates an EF-1 tornado caused damage in the Richmond Thursday. The survey is still ongoing Friday morning, but the estimated winds from the tornado are around 100 mph.
In Tennessee, the NWS station in Morristown confirmed preliminary storm survey information of an EF-0 tornado with maximum estimated winds of 80 mph in Jefferson County.
Photos Show Damage Across Eutaw, Alabama
Crews are assessing damage across Eutaw, Alabama, after a tornado touched down Thursday.
Photos show trees on top of homes, across roads and snapped in half. There are downed powerlines and debris scattered across yards in the city, located in Greene County.
Slideshow: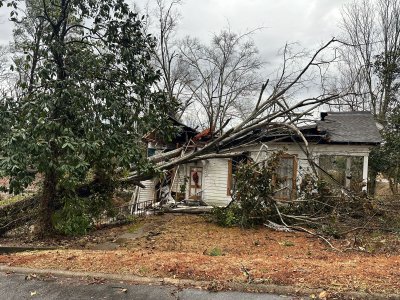 Further east, in central Alabama, there is widespread damage across Autauga County. At least 40 homes were reported as damaged or destroyed, according to county officials.
Thousands Still Without Power
Thousands of customers across Georgia and Alabama are still without power Friday after tornadoes hit the Southeast this week.
In Georgia, 21,000 customers are without power Friday, according to PowerOutage.us.
This includes 4,863 outages in Spalding County, about 3,000 in Butts County and about 3,400 in Newton County.
About 16,650 power outages have been reported in Alabama Friday.
Of the 17,895 outages, 5,360 are in Dallas County, 4,866 are in Tallapoosa County and about 1,230 are in Autauga County.
Selma Man Survives Inside Car
A Selma man survived a tornado while sheltering in his car Thursday.
Bobby Green told WVTM-TV he thought it was "all over for me."
"It happened so fast," he told the station. "By the time I got ready to open my door and try to go inside the store, the door blew back, and within three to four minutes, it was all over."
Green said he had to climb out of the passenger side window to escape, due to the amount of rubble that was on top of the car.
"I'm blessed. I thought I was gone. I can always replace that car," he said.
Death Toll Climbs, 5-Year-Old Boy Killed by Tree
The death toll has now climbed to eight following a deadly storm that hit parts of the South.
Search teams found a body in Autauga County, Alabama this morning near a severely damaged home. Seven people have now been confirmed dead in the county, according to coroner Buster Barber.
Autauga County is about 40 miles northeast of the historic city of Selma, which sustained what the city's mayor called "significant damage."
The system also hit Georgia, where a five-year-old boy died after a tree fell on a vehicle in Jackson. The car was headed down a road Thursday when the tree crashed down in the severe storm.
There were others in the car at the time and one person is in critical condition, Butts County Coroner Lacey Prue told WSB-TV.
Dozens of Staff, Children Escape Selma Daycare
A daycare center was one of the unfortunate buildings along a tornado's path in Selma, Alabama Thursday.
Amanda McCloud, an employee at Crosspoint Christian Daycare, described it as "the worst day of my life." She was inside the building watching after the children when the tornado approached.
"We thought that building was safer, so my co-worker loaded her four infants in a baby bed that had wheels, and I put mine in bouncers, and we took off with the help of a few adults," she told FOX Weather. "So we got to the other building, and all the bathrooms were full, so we rushed in my boss's office."
At one point, the power went out and the roof started to collapse.
"I put myself on a 7-week-old, and I'm screaming at this point. It was pouring rain on us, so I ran to the bathroom that was right beside us, and they had their roof, so I said we have to (go) in here," McCloud said. "So, I ran back and forth with my babies to hand them off, as well as my co-worker."
One child was found under a pile of tiles, with only a small cut on her forehead and cheek, McCloud said.
It wasn't until she smelled a gas leak that McCloud and the rest of the nearly 70 staff and children moved outside.
They were escorted by police and firefighters to a nearby church to seek refuge.
At Least Six Dead, Homes Damaged in Alabama
There is widespread damage across parts of the southeastern U.S. today, after deadly tornadoes swept through the region.
At least seven people are dead in Alabama and Georgia following the severe storm. In Autauga County, Alabama, six died and another dozen were injured as the tornadoes tore through rural communities, according to county officials.
Autauga County Emergency Management Director Ernie Baggett told the Associated Press that about 40 homes were destroyed or severely damaged, including several mobile homes that blew away in the storm.
"They weren't just blown over, they were blown a distance," he said.
Baggett said crews are working to cut through downed trees to search for people who may need help.
Selma Mayor James Perkins said the city had no fatalities, but several injuries. There are also many downed powerlines, damaged buildings and small fires across the city.
"We have a lot of downed power lines," Perkins said. "There is a lot of danger on the streets."
In Georgia, one person died when a tree fell on a vehicle in Jackson, Butts County Coroner Lacey Prue said.
Several people had also been trapped inside an apartment complex after trees fell onto it, officials in Griffin, GA, said.
The National Weather Service issued more than 40 separate tornado reports Thursday. Areas of Mississippi, Alabama, Georgia, Tennessee, Kentucky, South Carolina and North Carolina all had tornado warnings for a time.
Today, crews will begin assessing the damage before the cleanup process begins.