'Deadwood The Movie': 27 Best Quotes From the HBO Show as it Returns to TV
For fans of Deadwood, it's been a long 13 years. But they will finally be able to see the likes of Al Swearengen (Ian McShane), Seth Bullock (Timothy Olyphant) and Calamity Jane (Robin Weigert) on screen again as Deadwood: The Movie airs on Friday.
The original TV western drama, about the growth of mining town Deadwood, South Dakota in the 1870s, ran for three seasons between 2004 and 2006 before being cancelled by HBO. The 36 episodes, most written by showrunner David Milch, received critical acclaim and legions of fans compelled by the show's fantastic ensemble cast and unique, linguistically brilliant dialogue.
Speaking of the dialogue, here are 27 of the best quotes from the show's history to get you in the mood for Deadwood: The Movie. Yes, the majority do come from roguish saloon owner Al Swearengen, and a warning: They are pretty foul mouthed.
Al Swearengen: "Welcome to f***ing Deadwood! It can be combative"
Commissioner Jarry: "You cannot f*** the future, sir. The future f***s you."
Al Swearengen: "God rest the souls of that poor family... and pussy's half price for the next 15 minutes."
Sam Fields: "That ain't gonna raise your popularity with your fellow white people."
Calamity Jane: "Question I wake up to in the morning, and pass out with, at night - what's my popularity with my fellow white people?"
Al Swearengen to Jewell: "Do not put unauthorized cinnamon on the goddamn meeting table! That's all the f*** we need."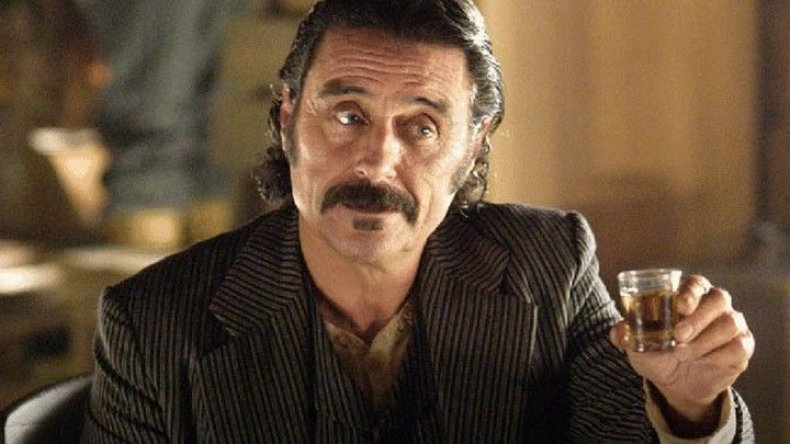 Tom Nuttall: "My bicycle masters boardwalk and quagmire with aplomb. Those that doubt me... suck cock by choice."
Al Swearengen: "I wouldn't trust a man who wouldn't try to steal a little."
Calamity Jane to Shaughnessy: "F*** yourself, with a fist-punch up your ass, today at the present moment!"
Al Swearengen: "In life, you have to do a lot of things you don't f***ing want to do. Many times, that's what the f** life is… one vile f***ing task after another."
George Hearst to Sheriff Seth Bullock: "When I say, 'Go f*** yourself, Sheriff,' will you put that down to drunkenness or a high estimate of your athleticism?"
Reverend Smith: "When I read the Scriptures, I do not feel Christ's love as I used to."
Calamity Jane: "Aw, is that so? That is too bad! Join the f***ing club of most of us!"
Al Swearengen to Seth Bullock: "Now, here's my counter offer to your counter offer: Go f*** yourself!"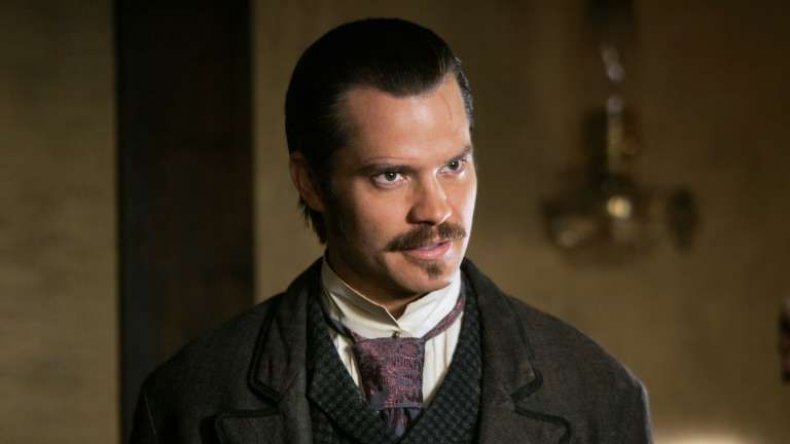 E.B. Farnum to Richardson: "Were you born or egg-hatched?"
Al Swearengen to Silas Adams: "Get a f***ing haircut. Looks like your mother f***ed a monkey."
Wild Bill Hicock to Charlie Utter: "Can't you let me go to hell the way I want to?"
Al Swearengen: "Announcing your plans is a good way to hear God laugh."
Calamity Jane: "Every day takes figuring out all over again how to f***ing live."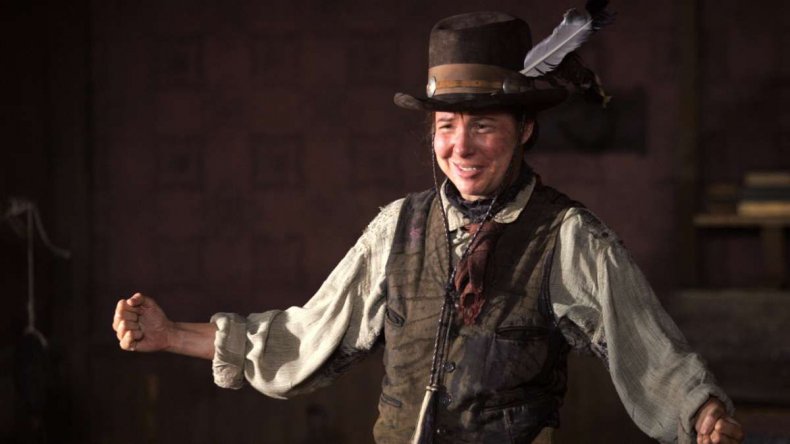 Al Swearengen: "Every f***ing beating I'm grateful for. Every f***ing one of them. Get all the trust beat out of you. And you know what the f***ing world is."
Trixie: "Tread lightly who lives in hope of pussy."
Al Swearengen to Richardson: "Tell your God to ready for blood."
Seth Bullock to Steve Fields: "I'll motherf*** you and blow your head off."
Al Swearengen: "If I bleat when I speak it's because I just got f***ing fleeced."
Doc Cochran to Calamity Jane: "You are an entangled inebriate are you not."
Al Swearengen: "You want a blowjob while I talk to you?"
Magistrate Clagett: "No"
Al Swearengen: "I wasn't offering it personally."
Al Swearengen: "Kid yourself about your behavior and you'll never learn a f***ing thing."
E.B. Farnum to George Hearst: "Allow me a moment's silence, Mr. Hearst, sir. I am having a digestive crisis and must focus on its suppression."
Al Swearengen: "Pain or damage don't end the world. Or despair or f***ing beatings. The world ends when you're dead. Until then, you got more punishment in store. Stand it like a man, and give some back."