Deaf Cat Named 'Animal Psychic' for Russia World Cup 2018
Achilles, a white-furred deaf cat who lives at the Hermitage Museum in St. Petersburg, Russia, has been selected to predict the 2018 FIFA World Cup winners.
The male clairvoyant cat was also picked as the official oracle to forecast the traditional pre-match predictions for last year's Confederations Cup, where he correctly predicted three of the four-match outcomes, reported Russian News Agency Tass.
Hermitage cats press secretary, Maria Khaltunen, claims the feline was chosen for the role because he demonstrated "capabilities for choice, analysis and unusual behavior." In addition, Achilles is deaf, which means he will not be easily distracted by surrounding noises.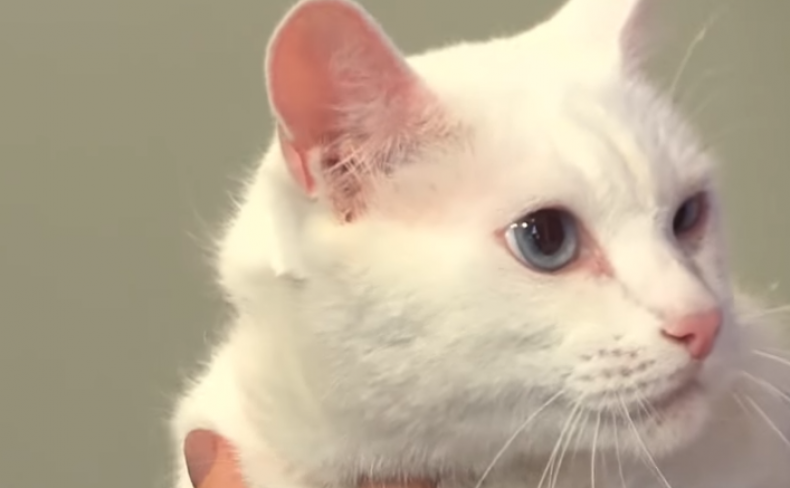 For the 2017 Confederations Cup, the white cat was made to choose between two bowls of food, each with a different country's flag.
"This decision has been made, the papers have been signed," Khaltunen told the state-run RIA Novosti news agency on Monday.
According to Khaltunen, Achilles will receive a fan identification card (otherwise known as a fan passport). He will also go down in history as the only animal to have attained the prestigious documentation. "Animals are not given [Fan IDs,] as there are questions concerning photos," Khaltunen said.
Achilles has reportedly been spending time with his family since making his predictions at the Confederations Cup last July. During his time off, the feline has put on 2.2 pounds and gained a pot belly.
In the 18th century, Empress Elizabeth of Russia ordered mice-catching felines be brought into the Hermitage to rid the place, which was originally a tsar's palace, of rodents. Since then, cats have inhabited the museum but their population size has been closely regulated by the press secretary and three dedicated personnel.
There are currently approximately 50 to 70 fur balls roaming the area, with some even wondering at times to the nearby embankment and square during the summer time.
Achilles is not the first animal who can predict game results. English-born Paul the Octopus selected Spain as the winner of South Africa's 2010 World Cup, and had correctly guessed the outcome of the Euro 2008. He was found dead on October 26, months after the end of the FIFA World Cup in African soil.