Deaf Man's Suit Against Hospital Over Allegedly Unnecessary Leg Amputation to Proceed
A Tennessee hospital lost its bid to dismiss a lawsuit from a deaf man who says he'd still have the lower part of his right leg if the hospital had given him an interpreter when he repeatedly asked for one.
Parkwest Medical Center in Knoxville sought to dismiss Scott Tomei's lawsuit, arguing that he waited too long to file the suit because the Rehabilitation Act of 1973 puts a one-year limit on personal injury suits. On Tuesday, a judge ruled against the hospital, saying that Tomei's lawsuit alleges the hospital violated the Affordable Care Act and therefore isn't subject to the Rehabilitation Act's deadlines.
Tomei communicates primarily in American Sign Language and is unable to effectively communicate by reading lips, according to court documents obtained by Newsweek. When he went to the hospital in October 2017 for numbness and pain in his right leg and foot, he requested an ASL interpreter, which the hospital refused, according to the suit.
Staffers showed him an X-ray of his knee and sent him home with an antibiotic and ibuprofen. His pain only increased, according to the court documents, and he was admitted to the emergency room in the city of Lenoir days later. Doctors determined he had blood clots in his legs, and he was sent back to Parkwest Medical Center by ambulance.
The hospital confirmed to a Lenoir emergency nurse that it had an interpreter for Tomei, but he was given only a video remote interpreting device, according to the suit. Tomei's lawsuit alleges the video feed was so choppy he couldn't effectively communicate with hospital staff and had to rely on his daughter as an interpreter during his surgery.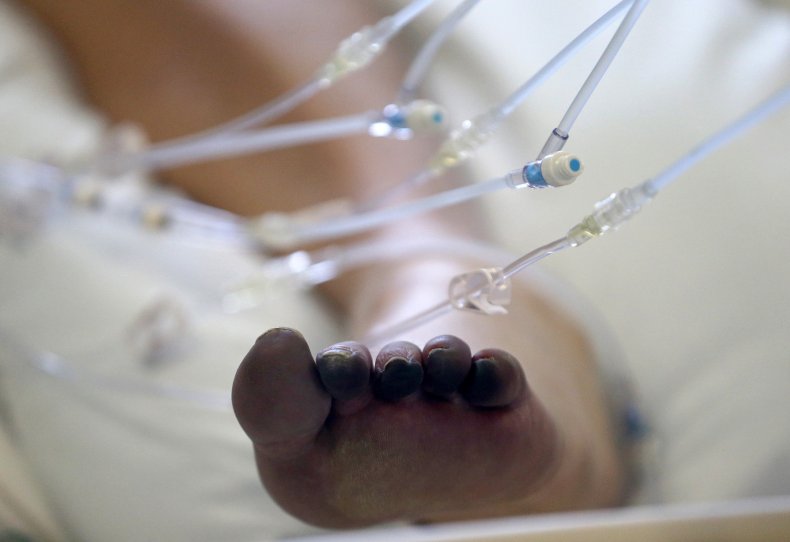 After the surgery, Tomei said, he was in intense pain but couldn't communicate with hospital staff because he didn't have an interpreter. Asked if he wanted to go home, Tomei struggled to convey the level of pain he was feeling to the doctor through gestures, but "effective communication was not possible."
However, the hospital argues in the court documents that Tomei chose to use his daughter as an interpreter and turned down an offer for one. The hospital also denied that the video remote interpreting device prevented effective communication and said an interpreter was used in the post-surgery interaction between Tomei and his doctor.
After being sent home with a blue foot, according to the lawsuit, Tomei struggled to sleep, and days later, his family doctor sent him to the University of Tennessee Medical Center. Unlike his experience at Parkwest Medical Center, Tomei said, he was immediately given an ASL interpreter. He underwent another surgery to remove the blood clots, but his leg didn't improve and his interpreter told him he would have to undergo a partial amputation.
"University of Tennessee Medical Center staff informed Plaintiff (through the use of an interpreter) that they would have been able to save his foot if he had come to their facilities earlier," the lawsuit says.
But Tomei blamed Parkwest Medical Center for his not seeking treatment at the University of Tennessee sooner. He said the lack of effective communication with health care workers meant he couldn't understand why he was admitted, the goal of his treatments, the existence of alternative treatments and any details about what he should do after being discharged.
The lawsuit alleges that because of Parkwest Medical Center's failure to provide an interpreter, he lost his leg "unnecessarily." He lost 30 percent of his leg below the knee during the amputation.
Along with financial compensation to be decided by a jury, Tomei's lawsuit asks a judge to require Parkwest Medical Center to provide an in-person interpreter for patients who need one.
Newsweek reached out to attorneys for Tomei and Parkwest Medical Center but did not receive a response in time for publication.