'A Deal is Gonna Get Done': Republicans Hopeful Trump Will Strike Deal with Mexico, Avoid Tariffs
Amid criticism and fear that his threats may come to fruition, Senate Republicans expressed optimism Wednesday that President Donald Trump would strike a deal with Mexico to avoid imposing tariffs next week.
Trump has vowed to levy a 5 percent tariff on America's largest trade partner starting Monday—unless Mexico drastically reduces the record number of illegal border crossings—and to increase the amount by an additional 5 percent at the start of each month, leaving Republicans to threaten legislative pushback.
Now, with top officials from the U.S. and Mexico meeting in an attempt to avoid the tariffs as Trump remains overseas for a United Kingdom visit, some Republicans in the Senate believe a deal will be reached and economic heartache avoided.
Following the first day of meetings between U.S. and Mexican officials, Trump tweeted that "[p]rogress is being made, but not nearly enough!" He reiterated his tariff threat, adding that if "no agreement is reached" in further talks on Thursday, the tariffs would be implemented as planned.
"I think a deal is gonna get done," GOP Senator Mitt Romney told Newsweek. A frequent critic of the president, the Utah senator and former presidential candidate did "not support the tariffs with Mexico."
A member of leadership as the third-highest ranking Republican in the chamber, Senator John Barrasso of Wyoming remained "hopeful" a deal would be struck with Mexico to evade implementing tariffs.
"The sign [is] that the Mexican government [sent] officials to come and meet with the vice president and the secretary of state—that's a pretty big sign," he told Newsweek. "The hope is that we can do this and to get the assistance that we're looking for from Mexico without doing the tariffs."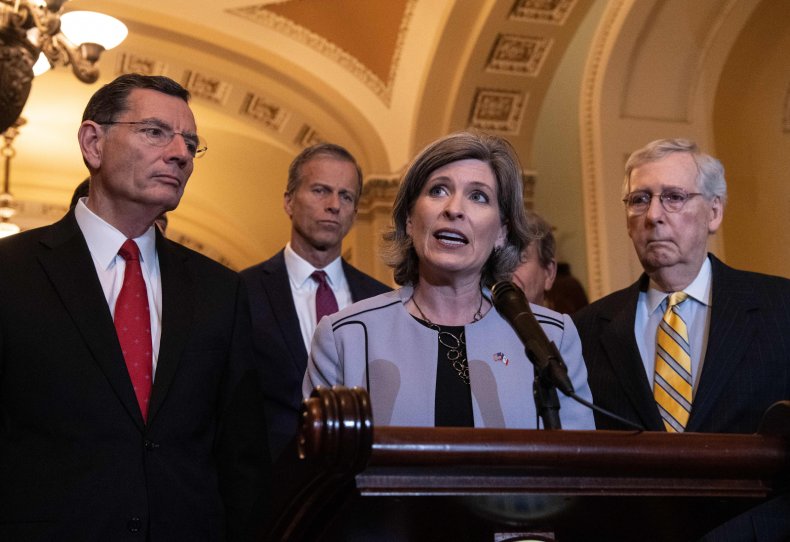 Republican John Kennedy, a conservative Louisiana senator with close ties to the president, told Newsweek that since speaking with Trump on Sunday, he felt "a lot more sanguine about things than I did a couple of days ago."
"We're going to get it worked out," he said. "It's not the end of Western civilization yet. We'll get through this."
However, Kennedy believed there was a high probability the first round of 5 percent tariffs would be implemented before a final deal is struck. Anything higher than that could become a serious economic and political problem for Republicans, he said.
"I'm not recommending it, but it's not going to break the bank," Kennedy said. "Twenty-five percent is a different story. Mexico is our biggest trading partner. In my state, it would hurt a lot."
As the United States' largest trading partner, Mexico this year has accounted for 15 percent of the total goods that America trades, or a little more than $150 billion, according to data from the U.S. Census Bureau compiled by Statista.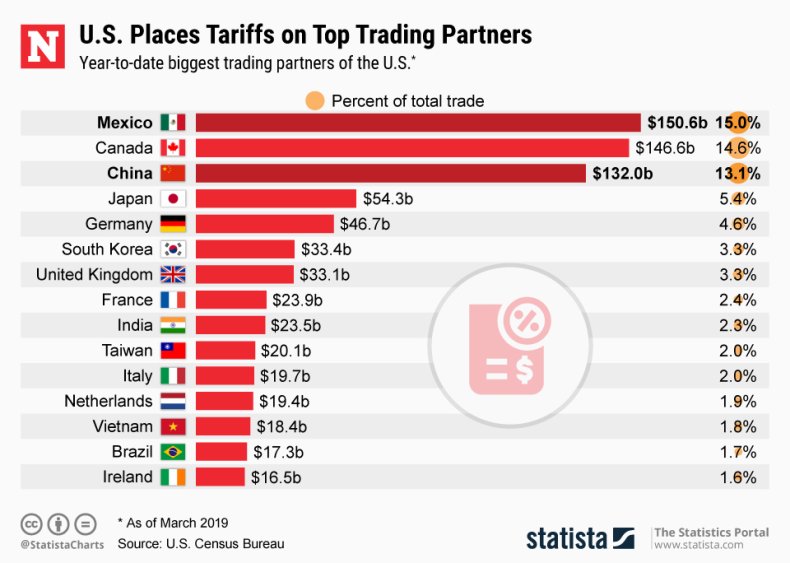 "My worry, and the worry of some of my colleagues—all of whom, including myself, understand there's a crisis at the border and that we need to do something about it—is that the self-destructive impact on our economy would be greater than the deterrence on our Mexican friends," Kennedy added.
All of the Republican senators that Newsweek spoke with for this story declined to say whether they would buck the president and push to block the tariffs legislatively, a notion that some threatened Tuesday after two Trump administration lawyers lunched with the GOP lawmakers to quell concerns.
"There is not much support in my conference for tariffs, that's for sure," Senate Majority Leader Mitch McConnell, a Kentucky Republican, told reporters afterward.
On Wednesday, House Speaker Nancy Pelosi accused Trump of treating Mexico like "an enemy" by threatening tariffs on a country that the U.S. recently struck a trade deal with to replace NAFTA.
Other Senate Republicans remained weary about the tariffs, suggesting they could be inevitable—despite ongoing talks between the U.S. and Mexico to try and circumvent such an outcome.
Republican Senator Joni Ernst, an Iowa conservative, told Newsweek she was "hoping" the Mexican government was "working with us to provide some relief in Mexico and the border crossings." However, she declined to classify her belief that a deal would be reached as "optimistic."
GOP Senator James Lankford of Oklahoma held a similar view to Kennedy, in that he viewed the probability of Trump implementing tariffs come Monday as "very likely."
"I think it is damaging to our relationship with Mexico and definitely to our economy," he told Newsweek. "But I think it's very likely he does it because he's determined to be able to solve something on the immigration issues, and Congress has been unwilling to take up the issues."
This story was updated to include a tweet from President Donald Trump about a meeting between U.S. and Mexican officials.