Dealer Admits to Selling Fentanyl-Laced Drugs That Killed Mac Miller, Faces 20 Years
The man accused of supplying the drugs that killed rapper Mac Miller in 2018 admitted in a plea deal that he sold drugs laced with fentanyl, court documents show.
Stephen Walter pleaded guilty to one count of distribution of fentanyl, according to court documents sent to Newsweek by the U.S. attorney's office for the Central District of California.
Though he could face more than 20 years in prison, prosecutors only recommended a 17-year sentence with five years of supervised release, according to a report by TMZ.
On Tuesday, a change of plea hearing was set for November 8, according to the U.S. attorney's office.
Walter allegedly supplied Miller's accused drug dealer, Cameron James Pettit, with counterfeit oxycodone pills that contained fentanyl, which is a powerful synthetic opioid 50 times more potent than heroin, the U.S. attorney's office said in 2019.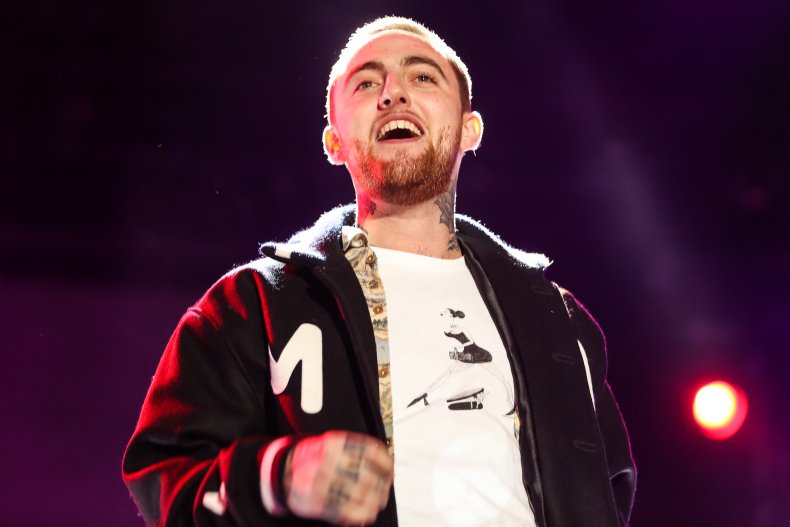 Pettit agreed to sell Miller the oxycodone pills along with cocaine and Xanax, according to the U.S. attorney's office. Walter allegedly had a third man, Ryan Reavis, deliver the narcotics to Pettit.
All three men were arrested and charged in connection to Miller's death. They have all been in custody in Los Angeles, where a trial was scheduled to be held starting November 16, according to Billboard.
They were indicted in October 2019, according to the U.S. attorney's office. Walter was arrested on September 23, 2019.
Prosecutors have alleged that even after the rapper's death, the men continued to sell narcotics "with full knowledge of the risk of their products," U.S. Attorney Nick Hanna said in a statement. Less than one month after his death, Walter allegedly agreed to sell Pettit more of the drugs.
"It has become increasingly common for us to see drug dealers peddling counterfeit pharmaceuticals made with fentanyl. As a consequence, fentanyl is now the number one cause of overdose deaths in the United States," Hanna said.
Miller, whose real name was Malcolm McCormick, was found dead at his home in Los Angeles on September 7, 2018. He died from a mix of fentanyl and cocaine, according to a toxicology report.
He was 26 years old at the time of his death. He had released an album, Swimming, in August and was planning to go on tour.
Miller had been vocal about his drug use and the changes he tried to make in his life.
"Drugs are dangerous, dude," Miller said in a 2013 interview with Noisey. "But they're awesome. Just dangerous. Drugs are not like a new thing. Especially with me, I've been doing drugs since I was 15."
Fentanyl is considered to be a leading driver of the opioid epidemic.
A study from 2016 found that it was among the top causes of overdoses in the country. The drug is approved by the FDA as a pain treatment but is often sold outside of the healthcare system as a white powdery form, on blotting paper or mixed with other opioids.