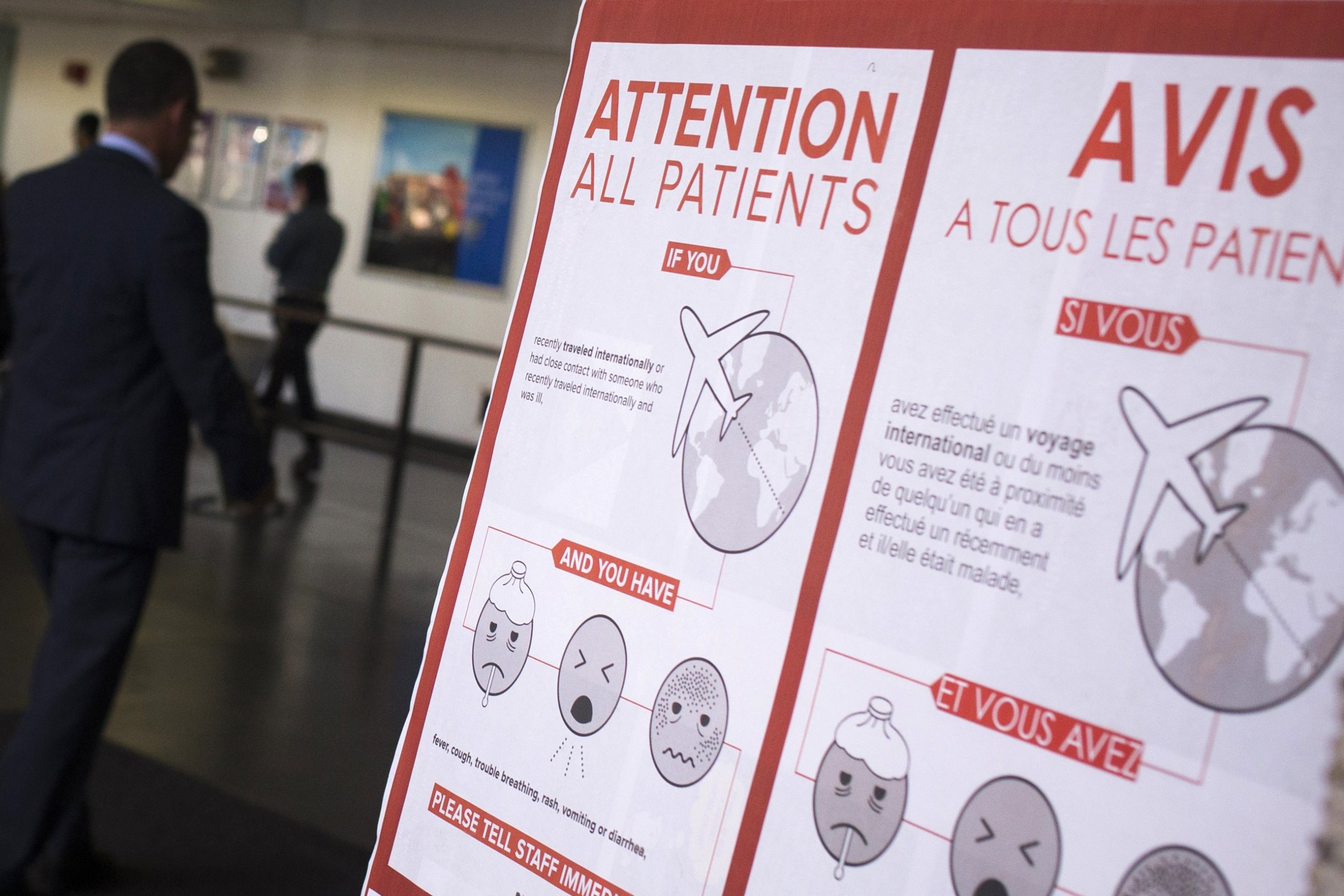 As more and more patients arrive in U.S. hospitals with "Ebola-like" symptoms—never mind the fact that the vast majority of them do not have the virus—politicians have increasingly called on President Barack Obama to ban travel to and from Guinea, Sierra Leone and Liberia, the three countries most affected by the disease.
A number of lawmakers, including Representative Michael McCaul, R-Texas, and Representative Peter King, R-N.Y., wrote a letter to Jeh Johnson, secretary of the Department of Homeland Security, and Secretary of State John Kerry, urging them to suspend some 13,500 visas granted to travelers from the three African countries until the outbreak ends. This, the six House members argue, would "ensure health care workers and supplies are able to be transported to impacted areas of West Africa, while also ensuring the public health and safety of the American public."
All in all, at least 60 members of the House of Representatives and 11 senators—mostly Republicans—have asked Obama for a travel ban, The Hill reports. And today Texas Governor Rick Perry, a frequent critic of Obama, also urged the president to impose a ban on travel from countries afflicted by the virus, Politico reports.
Such a ban would be in addition to two existing travel advisories: a Level 3 advisory against all nonessential travel to Guinea, Sierra Leone and Liberia and a Level 2 advisory for "enhanced precautions" for travel to Nigeria. Dr. Thomas Frieden, director of the U.S. Centers for Disease Control and Prevention (CDC), outlined both advisories during a House subcommittee hearing on combating the Ebola threat in August.
But top epidemiologists and health care professionals at the CDC and elsewhere say not only would travel restrictions fail to protect Americans from Ebola; they would likely make the situation worse.
First, a travel ban would hinder our ability to monitor the 100 to150 people who enter the U.S. from "hot zones" in Africa every day. "Right now, we know who's coming in," Frieden said during a House subcommittee meeting on October 16. "If we try to restrict travel, they might come in overland," making potential disease carriers harder to track.
Recently, the CDC and U.S. Customs and Border Protection implemented new layers of entry screening at five U.S. airports that receive over 94 percent of travelers from the Ebola-affected nations. Being able to trace individuals who may be infected with the virus is one of the most useful tools at the CDC's disposal for stopping the disease's spread.
"Any isolation will be leaky," said Derek Cummings, an assistant professor at the Department of Epidemiology at Johns Hopkins University. "You just can't control borders—and that's been seen all over the place. People will always find a way to move away from a situation that places them at risk."
Furthermore, enacting a travel ban would make it harder for the international community to fight the disease in West Africa. Health care workers need to be able to get into Guinea, Sierra Leone and Liberia if they are to fight the disease. And they need to know they will be able to come home again when they've finished their work; forcing health care workers to sit in quarantine before they can return home is likely to decrease the number of workers who go to help in the first place.
"What you don't want to do is hurt any response or ability to help these countries out of the situation they're in," said Dr. Thomas Ksiazek, a professor at the University of Texas Medical Branch at Galveston. "The longer it continues there, the longer we're going to have to deal with the possibility of cases spilling over, not only to [the United States] but to other countries in the world."
And if Ebola is allowed to grow to pandemic levels in Africa, preventing it from reaching our shores will become that much more difficult. But American voters want travel restrictions: 60 percent of Democrats and 76 percent of Republicans are in favor of placing bans on travelers from Guinea, Sierra Leone, and Liberia, according to an October poll by The Washington Post and ABC News. So—for now, at least—American politicians will continue to ignore expert advice if it means pleasing their constituents.