'Dear White People' Season 2: Logan Browning Explains What Happens To Sam
You'd only need to see one episode of Netflix's Dear White People to know that the show's lead protagonist, Samantha White, has some growing up to do.
She's a dynamic character, as articulate as she is sassy with the brains and beauty to match. She's an activist, a revolutionary in her own right fueled by her passions for equality for black students. But her stubborn, militant and less-than pragmatic approach to cooling racial tensions between the white and black students at the fictionalized Ivy League college, Winchester University, often are the source of heightened confrontation on campus.
Simply put, Sam's an agitator. While she's been able to accelerate her agendas with her polarizing campus radio show, aptly named Dear White People, she's also fueled a lot of the conflict that occurs on campus (and in her personal life) along the way—much of which, she'll be forced to reconcile with when the show returns with Season 2 on Friday.
"She's a complex human," Logan Browning, who plays Sam, told Newsweek. "Not a lot of people follow through with their passions with real intention, and she does without regret or hesitation. It puts her in situations of personal attack and confrontation, and I applaud her for that, but I think she's also got a lot of identity issues."
It's in Season 2 where Sam will have no choice but to confront her identity problems, which, by default, serves as a learning lesson that essentially leads to personal growth. That doesn't mean viewers will see a fully developed Sam—after all, it takes much more than a single semester of college for any person to get a handle on who they are and who they want to be. But her "life-altering experiences" in the new season will at least open her eyes to who she doesn't want to be.
Read Newsweek's full interview with Browning below.
This interview has been condensed for purposes of length.
Will the show pick up right where you guys left off in the first season?
It's two weeks later, still in the same semester. The protest happened, Troy [Brandon Bell] broke the window, he got carried off with the campus cops, Sam and Gabe [John Patrick Amedori] are broken up, Reggie's [Marque Richardson] still dealing with what happened at the party and everyone's still dealing with whether or not Armstrong-Parker House is going to get desegregated or now. That's a huge, key element in Season 2 and it's a great lens to observe these students under. Without giving too much of the fun of Season 2 away, desegregation is very heavily involved in the season.
There were so many events that were so timely to race relations in the country during Season 1, and so much more has happened since then. How has today's news cycle influenced what the students at Winchester will be dealing with in Season 2? Or has it at all?
Everyone who watches the show has to remember that Season 1 was written during the Obama era and released in the Trump era. Some things were leaning toward where the world was going without the writers even knowing it. Season 2 was written [while President Donald Trump was in office], and it was written after the writers dealt with a lot of backlash—and a lot of love—for Season 1. I think those two things together really influenced what they wrote for Season 2. What I think is most prevalent is the effect of the trauma. You'll see with Sam's character specifically that there is a presence on campus that is personally attacking her and it really gets to her. It becomes very dangerous and it's something we see often in the world now. But even greater than that, [Season 2 is] about everybody checking in with things on top of what they're already inundated with. So how are you doing—in my opinion—is a lot of what Season 2 is about. How are you handling everything that's happening in the world around you as well as what's happening in your world?
Your character got a lot of viewers riled up last season. What are your thoughts on Sam?
I think she's a complex human like everyone should hope to be. Not a lot of people follow through with their passions with real intention and she does without regret or hesitation. It puts her in situations of personal attack and confrontation, and I applaud her for that, but I think she's also got a lot of identity issues, friendship and relationship woes. [She doesn't know] how to navigate being there for her fellow friends as a real friend. She hasn't figured out how to be as good as a friend to Joelle [Ashley Blaine Featherson] as Joelle is to her, or how to be as great of a partner to Gabe as Gabe is to her, or to Reggie [Marque Richardson]. She hasn't figured out how to balance that.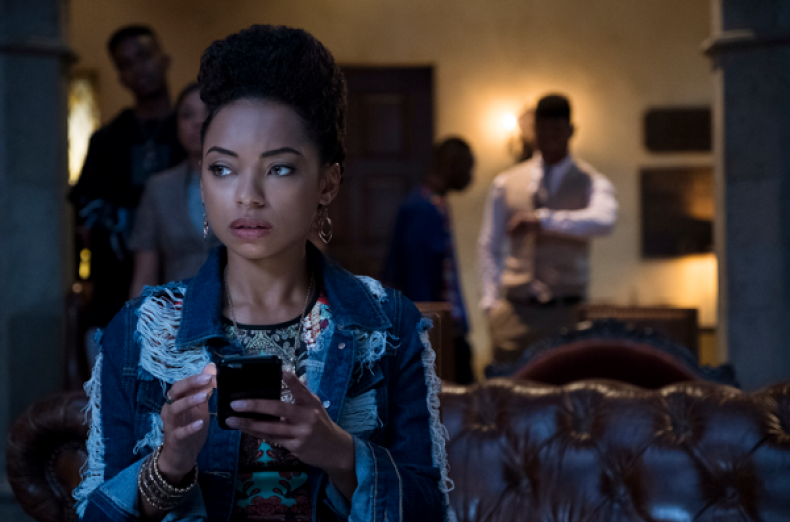 Will she get any better with those challenges during Season 2?
I don't know if in Season 2 she actually gets better at it, but I do think that Season 2 is where she has life-altering experiences that will change who she is and how she is forever. I don't know if she necessarily fixes those flaws all of a sudden, but she's going through the growing pains like everyone does in college. You don't all of a sudden become the person you are as an adult without going through mistakes and figuring that stuff out.
What's up with her love life? Is Gabe is still around?
Reggie, for one. has moved on. Sam was his girl, but she's not checking for him so he's gotta find his sweetheart before he graduates. He's gotta figure out his life. Gabe is also kind of done with Sam. He's moved on, because Sam constantly negates herself and that's not easy to be in a relationship with. I do think at the end of the day, those two challenge each other intellectually. They stimulate each other and really do love each other. When you have that kind of a bond, it's not easily ignored. Gabe is doing something on campus and I think the audience has to decide if he's doing it out of pure reasons or if he's trying to get attention from Sam.
I'm also really curious about Sam and Troy's relationship. It was hinted in Season 1 but there weren't clear-cut details on what exactly happened between them. Now he's kinda got a rap sheet, he got arrested for the culture.
You know those are turn-ons for Sam [laughs].
Exactly! So will viewers finally learn about their history?
Season 2 goes into their past a little bit. Not much, but it does go into their past briefly for Troy's storyline. Troy's got a great story in Season 2 about how he got to where he is and how he's getting past this shadow of his father [Winchester's Dean Fairbanks played by Obba Babatundé] and who he really wants to be. Sam's influence in that is a part of him finding his way, so you'll get a little bit more of the Troy, Sam story.
How collaborative is Dear White People? Do the actors get to chime in on the direction of their character or does everyone just take the script for what it is?
Our writers are super brilliant. They're very diverse in their identities and in their writing styles. In every way, they're very diverse, which is comforting for all of us, because we know that they're really being thorough in what they're writing. At the same time, we're all living with these characters and there are things that you can feel as an actor that you want to explore more of. So all of us have brought up something that has to do with our characters that is really explored. I know that Ashley, for instance, was really interested in exploring the idea that Joelle is in Sam's shadow, which is something that Ashley—when she's being candid—feels in real life. And so that's explored, which is fantastic. It's another great issue that you can dive into deeper when you want to talk about colorism and who is promoted for the black girl representation in this world. As for myself, for Sam, I do read people's comments and it does intrigue me how people receive Sam. Some people loved her wokeness, some people were annoyed by it. Some people didn't relate to her, some people did. So I wanted to really get into Sam's emotional perspective and who she is, her identity. I didn't want to try to make people understand her necessarily, but give them more of her to possibly relate to outside of being an activist. So [the writers] did hear me there and we did get into who Sam is in terms of her identity, which is really interesting. Yes, it's talked about Sam being biracial on campus, but this season you get to see what her dad looks like. She does have biracial parents and she is the face of this movement. How does she reconcile this?
What are you hoping viewers take away from this season?
Some similarity to what I would have said for Season 1, which is just empathy for everybody. I think that's always the underlining goal for Dear White People is for us to understand each other's individual experiences to greater unify us as humans. I think that Season 2 is no exception. We don't get to all say, "We are one, we're the same," without really focusing on and listening to how everyone has had to navigate this world of black, white and other that has been created for us. And also sisterhood. Sisterhood is Season 2.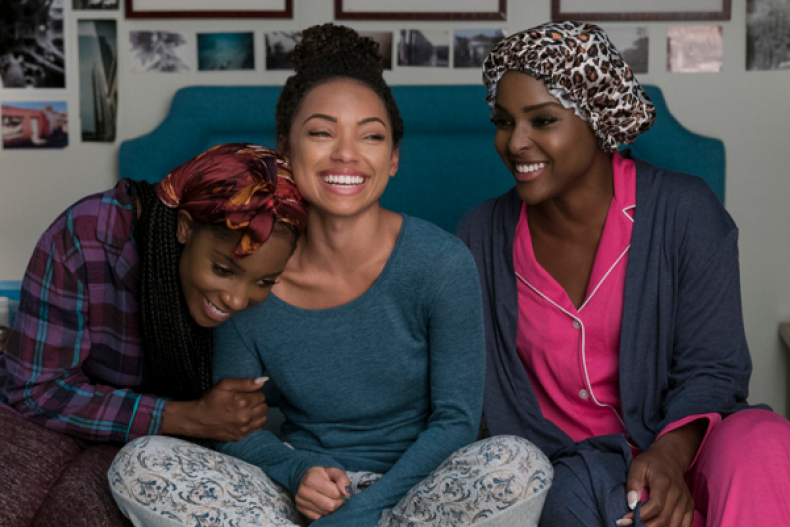 That's good to hear because there wasn't much of it in Season 1.
Right! But obviously we're in a great time for women and that's something the writers were obviously feeling in terms of what they're inspired by. So sisterhood, black sisterhood, is strong in Season 2.
I would love to see Sam and Coco [Antoinette Robertson] reconcile their differences. But they both have really strong, alpha-female personalities and those are usually hard to bring together.
Yeah! That's the thing about Sam and Coco. They have an understanding. They're both very passionate and articulate and they don't always agree intellectually, but what they do is respect each other. At the end of the day, they know it's not a me-against-you situation. They'll always have each other's backs.