The brilliantly witty students of Winchester University are back for the third season of Dear White People.
The Netflix show, which follows a troupe of black students at a predominately white fictional Ivy League college, is set to release on the streaming giant on Friday. U.S. fans of the series can start binge-watching new episodes of the series as of 12 a.m. ET.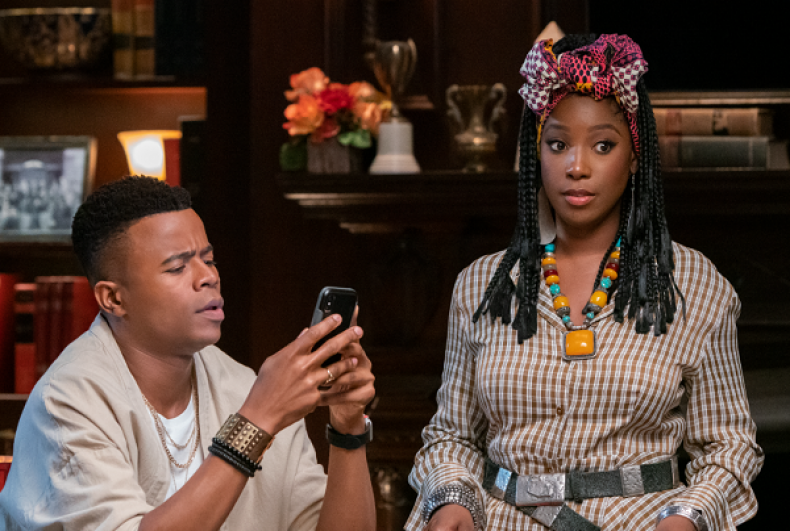 While the show will continue to highlight timely topics like cultural appropriation, racism, white privilege and the typical dramas that encapsulate campus life—like love, relationships, changing friendship dynamics and evolving identities—Season 3 will pick up with many of the beloved characters charting new territory as they continue to grow and progress as young adults.
For instance, the show's protagonist, Sam, played by Logan Browning, won't be spending time behind the mic of her famous radio show, which the series is named after. She's traded in her activism-based radio show to work on something new—a colorful documentary exploring "humanity and beauty and people and places." Her absence from the radio show opens the door of opportunity for her gal pal Joelle (Ashley Blaine Featherson), who is also navigating her new relationship with Reggie (Marque Richardson).
Meanwhile, fan favorites like Lionel (DeRon Horton) and Troy (Brandon P. Bell) will continue to explore their inner curiosities. Lionel is expected to dive deeper into his sexuality as he grows more comfortable with his identity as a gay man while Troy dedicates more time to crafting his comedy. As for the ever-bourgeoisie Coco (Antionette Robertson), she'll have to face her true image when someone from her past life makes a visit to the campus.
In addition to previously minor characters receiving major arcs in Season 3, a slew of new characters are also slated to take center stage. Actor Blaire Underwood joins the cast as an intoxicating charming—and persuasive—professor and the show's longtime narrator Giancarlo Esposito finally makes his debut as he introduces the group to the campus' black secret society, The Order of X.
Season 2 of the series ended with the students discovering the shadowy underground society, but not many details have been released about The Order since. Show creator and director Justin Simien revealed viewers won't have to wait long to find out what the organization is all about, telling The Hollywood Reporter in June Esposito's character will emerge as early as "the first scene" of the season.
Laverne Cox, Flavor Flav and Yvette Nicole Brown are also expected to make appearances during the third season.