Iranian Messaging App Has 'Death to America' Emoji
Update | In a bid to replace apps which operate outside of the government's control, Iran is promoting its own messaging service, which comes complete with a "Death to America" emoji.
The new app, called Soroush, is a state-promoted program, aimed at competing with the popular Telegram messenger, whose strong security features have made it popular in countries where freedom of speech is restricted. As a result, the Iranian, Russian and other governments have argued Telegram is a security risk and try to induce the public to use other services.
"The activities of the presidency's Telegram channel have stopped in support of domestic messaging apps," Iran's official broadcaster announced last week as President Hassan Rouhani and Supreme Leader Ayatollah Seyyed Ali Khamenei quit the app. Khamenei made his announcement on Telegram, and cited "national interests and removing the monopoly of the Telegram messaging app," as reasons for his switch, state broadcaster Press TV reported.
Khamenei and other officials are openly pushing for a move to Soroush, a domestic app that has automated tools, specifically designed to help users migrate data from Telegram.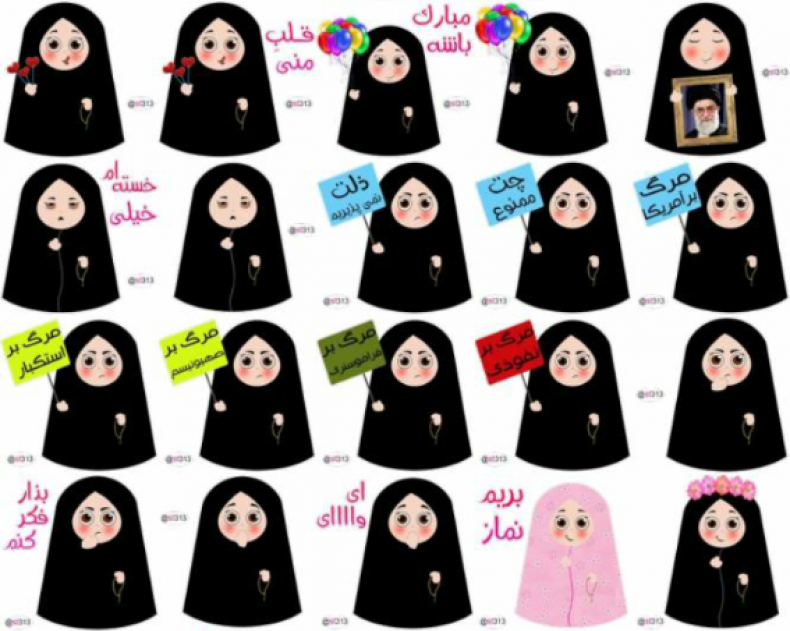 On the face of it, the Iranian app closely resembles Telegram, BBC reported. It allows users to chat, join channels to follow conversations they are interested in, subscribe to text news updates and conduct business.
Among the app's features are collections of stickers, like those offered by Telegram, which can be inserted into conversations. It includes a series of emojis of a frowning woman dressed in an Islamic chador and waving signs that wish "Death to America," with a similar sentiment for Israel and the Freemasons. In other similar images, the woman is adoringly clutching a portrait of Khamenei or smiling beneath a caption that reads "Let's go pray."
It is not immediately clear whether the stickers were produced by a third party or if the developer of the app was involved in their creation. The only contact address listed on the app's website did not respond to Newsweek's request for comment on the stickers' origin or the app's relationship with the Iranian government.
Read More: Edward Snowden jumps to Telegram's defense against "totalitarian" Kremlin ban
Besides Khamenei, other Iranian state bodies have promoted the use of Soroush, as the elite force of the country's Islamic Revolutionary Guard Corps has announced it will enter new users that sign up for Soroush into a raffle in which five of them will win gold coins.
So far, the state-backed service boasts of having five million users, compared with an estimated 50 million who use Telegram. Although Khamenei and other officials have insisted that Soroush protects user privacy, not everyone is convinced.
A running joke among some social media users pokes fun at the Iranian app's decision to mimic Telegram's read receipt graphic, which lets a user know if a message has been sent by displaying one tick and then shows another tick once the message has been received. Soroush has added a third tick to the system, which some joke is appropriate, showing that a message has been successfully read by the sender, recipient and the intelligence agent monitoring the chat.
Both Iran and Russia have demanded that apps such as Telegram must hand some user data to their governments as a safety measure. Telegram's founder, Pavel Durov, has so far refused to do so and argued that this renders moot the very point of having an encrypted and secure messenger app.
Russia has officially banned the secure messaging service, while Iran has done so temporarily. Tehran restricted access to Telegram and Instagram earlier this year, at a time of large anti-government protests.
This article was updated to include an image of the sticker emoji from Soroush.