Trouble at Birthright: Why Young Jews Are Rebelling on Israeli Heritage Trips
Birthright—or "Taglit," meaning "discovery"—has provided free travel to Israel for more than 650,000 young Jews since it was established, in 1999. Its proponents see the 10-day trips as vital in helping young Jews connect with their cultural identity and enjoying what the organization considers its collective heritage.
But the popular activity is facing accusations of bias, dishonesty and ignorance from the very people it is trying to attract. In recent weeks, young Jewish people have publicly railed against the institution. On two separate occasions in the past month, participants abandoned Birthright in the middle of their tours, filming the moment they walked out. The rebels then headed for Palestinian areas to experience what they said was a more authentic and honest portrayal of the political situation in the country.
A Birthright Israel spokesman told Newsweek that the group welcomes diverse viewpoints as long as they are expressed respectfully.
Eight Birthright attendees from two separate groups walked off their tour Sunday. One of the groups live-streamed the moment they left, announcing to the group, "This is a real rare opportunity for us to listen and learn and take a stand against endless occupation, and for freedom and equality."
Two Americans who walked off their tour told Newsweek they quickly realized they were not getting the full story of Israel. "I came in ready to talk about this, have a real conversation and to see the full truth of this place," said Becky Wasserman, a 26-year-old from Boston. She said it was the "lack of nuance and omission of so much" that convinced her to abandon Birthright. "It felt like this was the really only way to share that with the broader world."
Risa Nagel, 24, never expected to leave the tour after just six days. On her first trip to Israel, Nagel reflected, she may have been somewhat naive about what was happening in the country. "I wasn't educated about it…I didn't know the extent of it or Israel's role in the conflict at all," she explained. But the more time she spent on the tour, the more questions the native Long Islander had.
"A lot of people were asking questions about the West Bank, about Gaza, about the occupation and the settlements," Nagel recalled, but felt the Birthright organization was being evasive. In response to some queries, a tour guide told them, "Look, Birthright is not going to send you on a free trip and then tell you the whole story."
But for Wasserman, ignoring the debate damages the organization. "It's just creating so much more resentment towards the institution by not saying anything about it," she told Newsweek. "It's just breeding skepticism."
Both women said their fellow tour participants were understanding of their decision, even if some didn't think it was the right thing to do. Nagel and Wasserman said that leaving their friends behind was the hardest part, though both have remained in contact with the people who stayed. Those who walked off their tours were left to arrange their own transport back to the United States.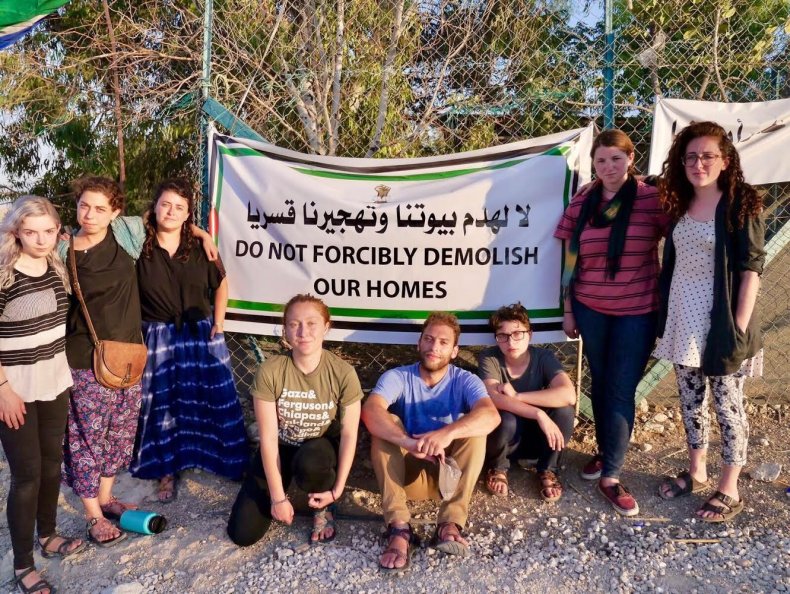 Wasserman's frustration was echoed by Keren Greenblatt, an Israeli from Tel Aviv who accompanied Birthright tours as a 19-year-old soldier. "I don't remember any discussion of the conflict at all," she recalled. "In fact, the only time we were in an Arab-speaking area was to stop on the way to a Bedouin tent where we would spend the night to let everyone buy alcohol. I was feeling frustrated the group wasn't getting any kind of dialogue with different kinds of narratives."
The individuals who left their tours went on to visit Palestinian communities in the West Bank with the assistance of anti-Birthright activist groups who campaign against what they consider to be Israel's "occupation" of Palestinian areas. These alternative tours have been harassed by Israeli settlers, and participants were admonished for their actions.
Regardless, Greenblatt thinks the rebels "did the right thing," and believes the organization should embrace the country's complexities rather than shy away from them. "Israel will be much stronger if it increases its pluralism, and have meaningful dialogue with its critics about what's wrong and how to fix it," she told Newsweek.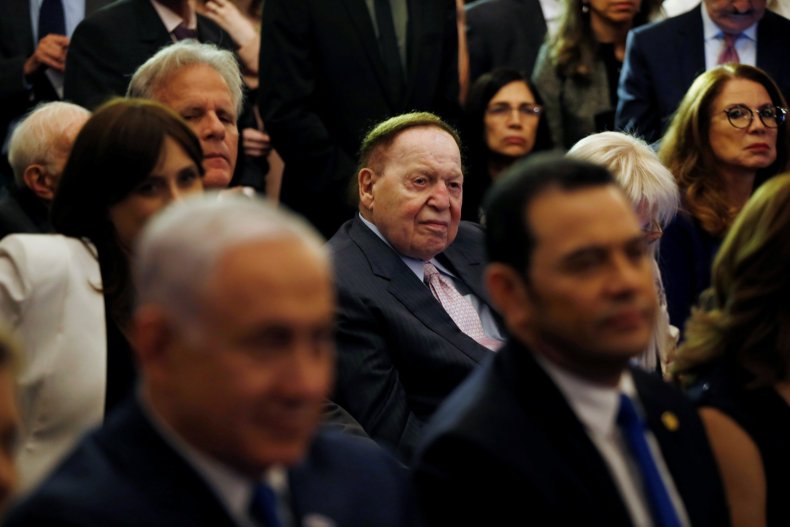 The Birthright program is closely tied to the U.S. It has attracted tens of thousands of young Jewish Americans, and a significant portion of its funding comes from the country's Jewish diaspora. Its largest and best-known benefactor is business magnate and Republican mega-donor Sheldon Adelson, who has contributed more than $250 million since 1999. Wasserman said questions were asked about the influence of American money on the tour itinerary, but it was a struggle to get a clear answer.
One of the catalysts for Wasserman and Nagel was the planned visit to the Davidson Centre in Jerusalem, which is now being run by the right-wing Elad settler organization. The archaeological park runs adjacent to the Western Wall, a key location on the Birthright tour. This perceived encroachment of right-wing politics is enough to switch some young Jews off entirely. As Prime Minister Benjamin Netanyahu's government hardens its stance toward Palestinians—for example, with the passing of the controversial "nation-state" law this week—the conflict between Israeli and Palestinian communities becomes even harder to ignore.
Nagel noted that Adelson's support for U.S. President Donald Trump was an issue for many of those in group. "How do we reckon with the fact that this man, who obviously believes in a lot of really crazy right-wing things in America, is funding this trip that we're participating in?" she asked.
The Adelson Family Foundation did not respond to Newsweek's request for comment. Newsweek also attempted to contact Birthright co-founder and billionaire businessman Charles Bronfman, but was told he was traveling and unavailable for comment.
The IfNotNow movement, one of the loudest voices rallying against the Birthright trips, helped coordinate the recent walk-offs. Some of those involved were reportedly members of the group. IfNotNow has held protests aimed at Birthright participants as they left the U.S. for Israel.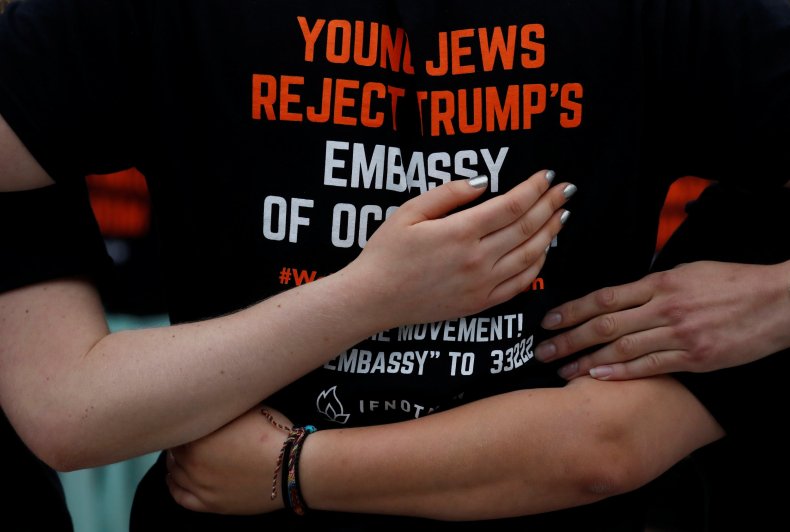 One of the group's members, Alyssa Rubin, said it was a lack of a Palestinian narrative on her 2013 Birthright trip that awakened her activism. Rubin told Newsweek that many young Jews were beginning to question Birthright and challenge what she considered to be manipulation. "What young American Jews want is an authentic experience," said Rubin. "People want an authentic connection to Judaism, to Israel and to the Jewish community."
In Rubin's view, Birthright is not providing that connection. "We really believe that to visit Israel in 2018 and to not talk about the occupation is like visiting the South in 1954 and not talking about Jim Crow and about segregation," she said.
Given the organization's size and influence, Rubin said, Birthright had a responsibility to ensure a rounded view of the political situation in Israel. "Some people might say, 'Why not just go on another trip?' But the reality is, this is the biggest institution and one of the only ones that is free," she continued.
Others are also taking up the challenge. Jewdas, a British activist group, has established what it calls "Birthwrong," organizing trips to non-Israeli locations with Jewish heritage. Comments issued to Newsweek on behalf of Geoffrey Cohen, the group's pseudonym when speaking to the press, said the idea was spawned by a conversation in a local pub but has turned into something much more.
"We were tired of the idea that there are only two kinds of Jewish heritage travel: Israel and Holocaust museums. The idea of Birthwrong is to celebrate the diaspora, especially the parts of the diaspora with good wine," Cohen said. On its first two trips—both of which included around 30 participants—in the past two years, Jewdas took Birthwrongers to Seville and Córdoba, Spain, and Marseille, France, all cities with a rich Jewish history.
Though clearly formed in opposition to Birthright, Cohen stressed that the movement was not anti-Israeli. "It isn't about Israel," he said, "it's about the glorious Jewish diaspora and its creativity, energy and growth." As for the walk-offs in Jerusalem, Cohen simply said, "Young people aren't stupid. It's good to see the occupation getting more attention."
In a statement issued to Newsweek, a Birthright Israel spokesperson denied undue political influence on the organization. The spokesperson said the trips are "designed to introduce participants to their heritage, Jewish values and traditions, and contemporary Israel. Birthright Israel has and always will embrace a diversity of viewpoints, especially those from its participants so long as they are expressed in the context of respectful dialogue. We are an apolitical organization that does not tolerate those with a political agenda and an intent to disrupt the experience of other participants."
Story and headline updated 7/23