I've been interested in death my entire life. I was going to be a mortician, and then I took a grief and loss class in college and switched degrees. I'm now a social worker. But I had always wanted to do something on a macro level to help my community around issues of death and dying.
In 2012, I was completing my social work practicum at a hospice and the team leader there wanted me to do some community involvement work. She told me she'd read an article about a "death cookie" group. I talked to my boss and she explained the correct name for the organization was Death Cafe and told me to get in touch with Lizzy Miles, who had started the cafes in the U.S. that year, after reading about them in the U.K.
It happened to be around the same time my uncle had died of cancer; he'd had a horrible death. So I really wanted to create a group where people could come and talk about death and educate each other. After I emailed Lizzy, she called me and we talked for hours.
She helped me get my first death cafe started in February 2013 at a coffee shop in town. The cafes were starting in LA, Atlanta and New York, but I'm in a small town called St. Joseph in Midwest Missouri, so there were none around my area at the time. At my first death cafe and for the five after, I had two women who would drive 7 hours each way to attend. That showed me how much people needed this safe place to talk about death and dying.
We have coffee and cake at each session and my first cake said "Missouri's First Death Cafe" on it. I laugh about it now because I got so much cr*p for that cake. I went to a big grocery store and told the lady there that I wanted little headstones on the cake. She got mad and told me it was a family business. I had to explain to her what I actually needed the cake for.
But people still thought we were going there to "drink the Kool-Aid" and die. Before my first death cafe a local hairdresser said that an older woman had read a news article about it and was talking about how it was a morbid group getting together to do God knows what. A lot of people still think it's a morbid group.
Every death cafe is different in terms of who attends and what the attendees talk about, but we all follow the same rules: It's not a grief or counselling service, we are non-profit, the cafes are held in an accessible, respectful and confidential space and they have no intention of leading people to any conclusion, product or course of action. We also always offer drinks and nourishing cakes! Having food is very important. It is life sustaining and we believe it helps people to feel more open to talking about death.
There were about 20 people at my first death cafe and their ages ranged from 25 to 70. It's for adults, so 18 and older but I'll have people of all ages; the oldest attendee I've had was 85. But I've only ever had one person come who was terminally ill.
When I host, I have four or five people at each table and at the beginning I ask everyone to start with what brought them here to talk about death and dying. That seems to be the only thing I need to ask.
My dad and aunt came to my first death cafe. My father never talked about death and my aunt hadn't been able to talk about my uncle's recent death without crying, so I didn't know how it would be. But as I was looking around, my dad was laughing with his group and my aunt was laughing with hers. I sat down and heard my aunt talking about my uncle's death without crying for the first time.
The following week my dad called me and was talking about how you're not supposed to make any big decisions within the first year of a loss. He then told me he'd learned that from the ladies at his table at the death cafe.
My dad came to every single death cafe I held after that, except one, and he planned his funeral and all his funeral songs. He died three years ago, but his death was easier for me because we'd had all these conversations about it. He talked all the time about how much the death cafe helped him face his own death.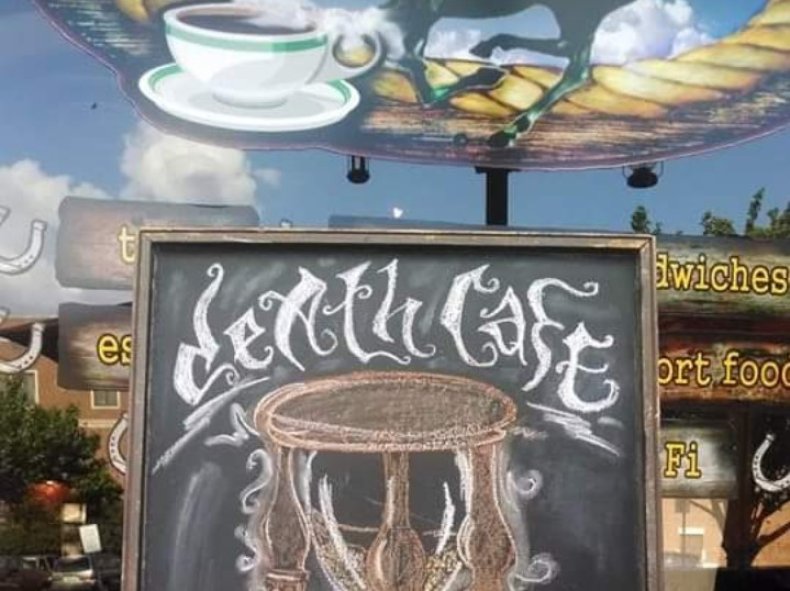 A theme that often comes up is relationships and death. People will talk about losses they have had and how it impacted them. Everybody has experienced a death in their life and most of them have never really talked about it. I had a lady who came in, she was probably in her late 50s and she was really shaky at the beginning. At the end she came and thanked me and said that she had never been able to talk about death with anybody before because in her family it was a "taboo".
People also talk about what they want at the end of their life. There can be a superstition that talking about death brings it closer, so people avoid talking about it at all costs. But when you don't plan for the end of your life it can be harmful to your loved ones, or add to their grief. My dad making plans helped me tremendously and it was cathartic for him too.
While there are sometimes tears, most death cafes are full of people laughing and having a good time. I believe that thinking and talking about death helps us to be our authentic selves. It helps us to take our mask off and not take things for granted. We're often in such denial about death that we hurry through life and don't appreciate the people in it. At these cafes, you get together with strangers and you're talking about an intimate topic that most people can't even talk about with their family. It brings you closer and helps improve your relationships with people.
At the end of each death cafe I ask attendees what their "Aha!" moment has been and I hand out surveys. One of the questions is: "Did your views on death change as a result of the death cafe?" It's crazy because almost every time people answer something like: "My views on death didn't change but my views on life have changed."
When COVID first hit we decided the death cafes had to be online. But it ended up being a blessing in some ways because it meant we could meet with people in different countries all over the world at the same time. Now we're back meeting in person, but we do have cafes online too.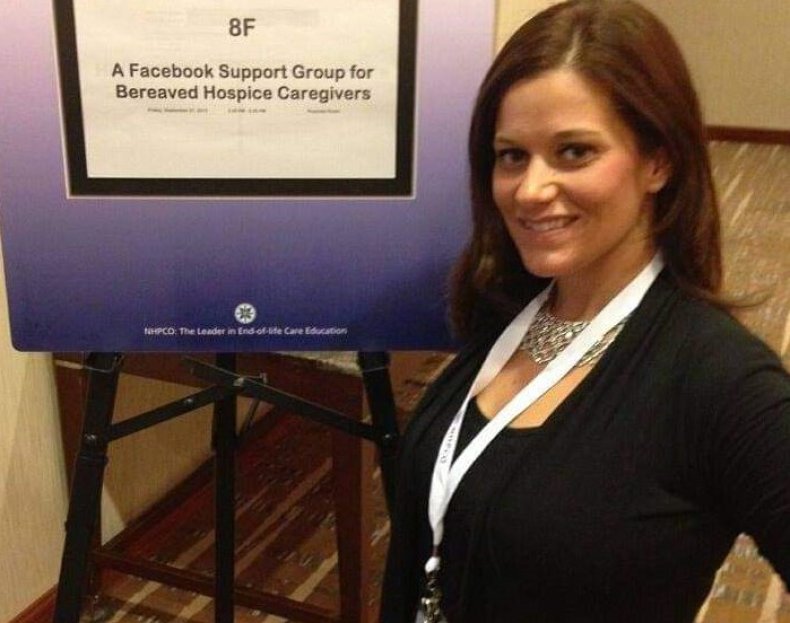 I've run about 45 death cafes since 2013 and the smallest group I've ever had was still 10 people. I've also had companies ask me to host death cafes for their staff. I had one life insurance company with 1,500 staff and there was a woman there whose son had died by suicide. When I asked if anyone had any "aha!" moments, she stood up and shared how she felt about her colleagues' reaction to her since she had returned to work.
Being involved with Death Café has taught me to love with my whole heart and that nothing in life is permanent. I've learned how to accept change, which can be hard. And, I've realized that relationships matter the most in life: my relationship with my daughter and spending time with her. That used to include my dad too, he was my best friend.
As a leader for Death Café, I have learned tremendous lessons from attendees and our followers on social media. I've learned that so many things in life are trivial. I don't really get upset any more. Our views on death usually inform the way we live. When you start to come to terms with your own mortality, it can push you to really live your life and to be the best version of yourself. If you look at life from the vantage point of death you can see how beautiful it is.
Megan Mooney is the Death Café lead USA, runs a Death Cafe in St. Joseph, Missouri and runs the international Death Cafe Facebook page. You can find out more at deathcafe.com.
All views expressed in this article are the author's own.
As told to Jenny Haward.