Death of a Facebook Activist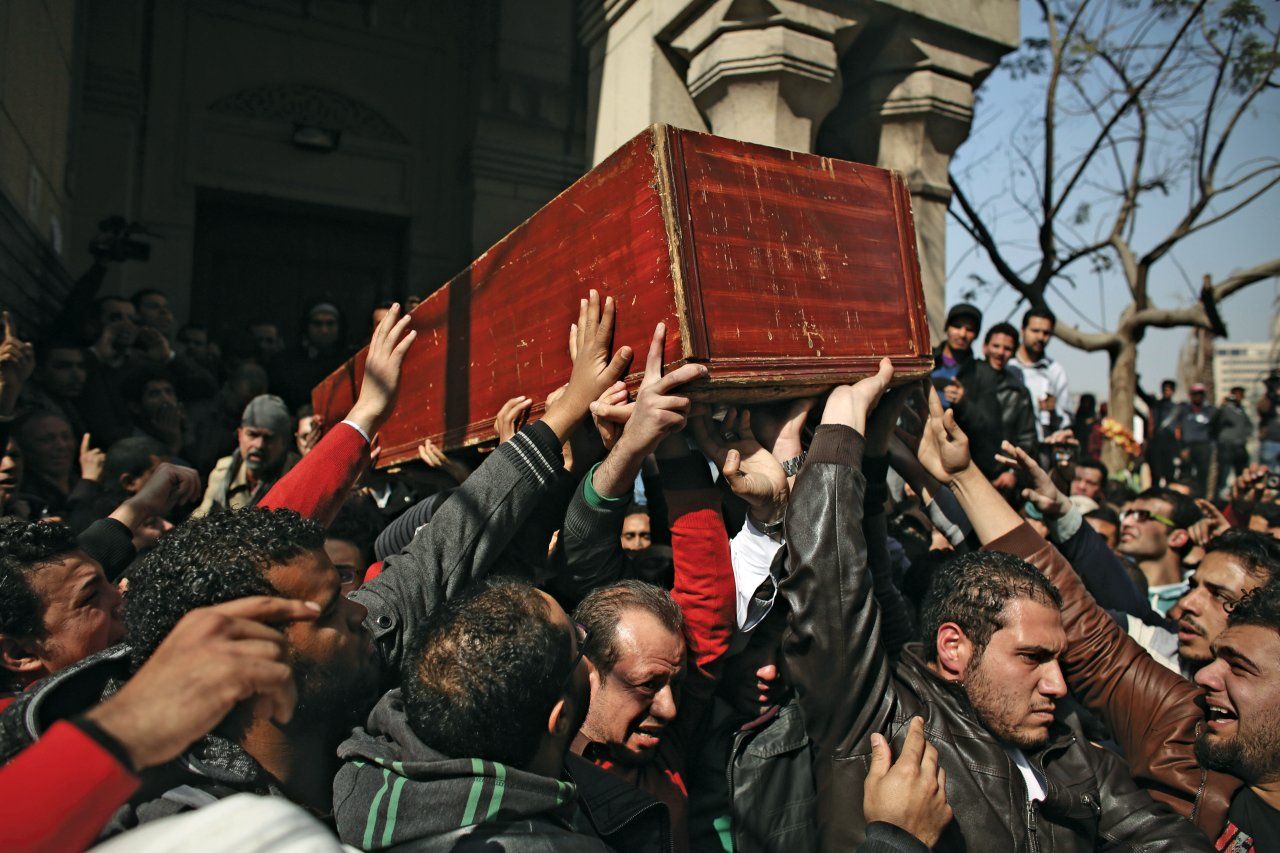 Mohamed al-Gendy, a popular activist, was last seen alive at around 2:30 a.m. January 28, when he said good night to a journalist friend near Cairo's Tahrir Square and headed home. When Gendy didn't show up at a planned march the next day, his cellphone switched off, his friends grew alarmed—especially because he had recently received threatening texts, telling him to stop his activism.
Gendy, 30, was an organizer with the opposition movement the Popular Current and a multilingual tourism guide whose Facebook page was filled with photos of him grinning on trips to Paris and New York. Gendy, who liked arranging for food at sit-ins, was beloved by friends, who remember him as a kind, generous man. When Ihab Ghobashy, a close friend, lost his job, Gendy discreetly paid his rent.
Ghobashy looked all over Cairo for his friend, searching police stations and hospitals without luck. The only trace of Gendy he found was at the Red Mountain police camp on the city's outskirts. A training facility for the riot police, in the past it had been used to house detainees during the reign of dictator Hosni Mubarak. Though it wasn't an official prison, during the days of unrest surrounding Gendy's disappearance, it suddenly swelled with political prisoners again.
Demonstrators, to honor the two-year anniversary of their revolution against Mubarak, were now massing in protest of President Mohamed Morsi and the Muslim Brotherhood (the Islamist group that backs him), accusing the government of overreach. At the same time, three cities in the Suez burst into unrest, leading Morsi to declare a state of emergency in the region. Speaking darkly of "counterrevolution," Morsi warned in a seething speech January 27: "If I see that the homeland and its children are in danger, I will be forced to do more than that."
Three days later, Ghobashy and a few friends approached the Red Mountain camp with a photo of Gendy, which they showed to a handful of teenage boys who had just been released. The boys, Ghobashy and his friends say, recognized the photo and said Gendy was still inside the camp, badly beaten. The next day, Gendy's friends staged a protest demanding his release.
Ghobashy was at the Popular Current offices in Cairo when he received a call from a friend who said Gendy had been found at Helal Hospital in central Cairo. Rushing there, he found Gendy in a coma in the intensive care unit. He had a brain hemorrhage, fractured ribs, and a badly battered face. Within the week, Gendy was dead.
Ghobashy and his friends say they had already searched for Gendy at Helal in the first few days after he disappeared. But according to the hospital, Gendy was there all along—admitted in the early hours of January 28, the victim of a hit-and-run. As proof, the hospital provided a patient entry log, which was obtained by Newsweek. On it, Gendy's national ID number is listed alongside the entry for a 16-year-old boy, also named Mohamed, but with a different family name.
Certain that hospital officials were covering up police abuse, opposition activists began to draw parallels between Gendy and Khaled Said, the Alexandria man whom police beat to death in 2010, sparking the revolution. Soon, Gendy's bespectacled likeness appeared in graffiti portraits on walls around Cairo.
Police abuse defined the Mubarak era. Defending itself against charges of excessive force, Morsi's government claims that such methods are a holdover from the past—and that the Interior Ministry is resistant to change.
Gendy's death, however, has been hard to explain away amid mounting public pressure. Before the release of the autopsy report, Morsi's Justice minister assured the public that Gendy had indeed been killed in a hit-and-run, leading activists to suspect a cover-up reaching into Morsi's government. When the autopsy report was released days later, sticking to the hit-and-run verdict, they saw it as part of the lie—in 2010 authorities had likewise issued a contested medical report claiming that Said had choked to death on a bag of marijuana.
In the ensuing uproar, Egypt's general prosecutor ordered another medical review, which a panel of three doctors completed earlier this month. "We rule out the possibility" of a hit-and-run, said the review, a copy of which was obtained by Newsweek. Gendy likely died "by being beaten violently," the report says. The doctors leave the door open for investigators to determine "if the death was a result of torture or not."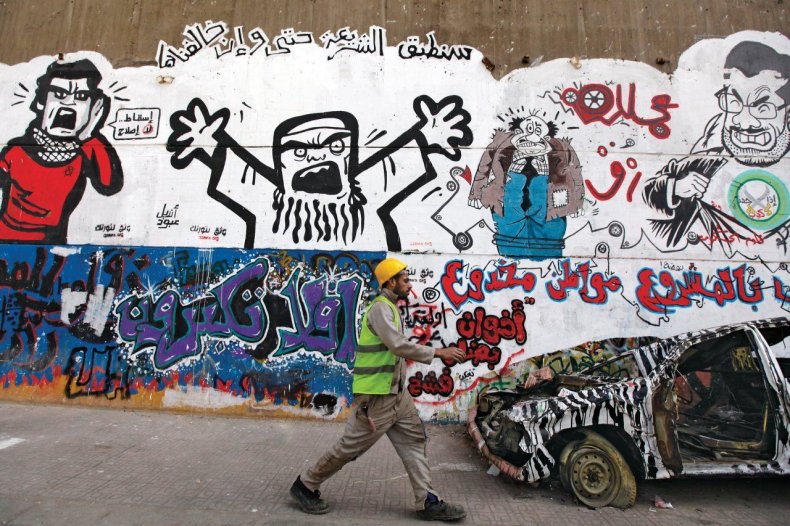 At the time of Gendy's disappearance, Amn al-Markazy camps around Cairo were rife with prisoner abuse, according to Maha Youssef, the legal director at El Nadeem Center, an Egyptian NGO that works with victims of torture and violence. Red Mountain held about 200 prisoners, most of them younger than 18. Citing accounts from released detainees, Youssef says that uniformed police and men in civilian clothes regularly beat prisoners using fists, boots, sticks, the butts of guns, and occasionally electric prods. They also interrogated prisoners with questions about their opposition to Morsi: " 'Who is paying you? Are you a follower of [opposition leaders] Mohamed ElBaradei or Hamdeen Sabahi? Answer! Answer!' "
Most of the prisoners were rounded up in the scrum of protests, but Gendy's friends believe he was targeted for his anti-Morsi activism, citing the recent threats against him. One of his last tweets called Morsi a "dog," railing against his "full allegiance" with the Interior Ministry.
"Mr. Morsi and his people the Brotherhood have canceled justice in Egypt," says Salah Gaber, whose 18-year-old son, an honor student known as Gika, was killed by police. In November Gika was facing down riot police when, according to two witnesses cited in a police report, one officer put on a black mask before firing directly at Gika with a long-barreled black gun. "I suddenly found blood spurting in large volumes from his chest, neck, and right arm," one witness said in the report, which was obtained by Newsweek. Gika had administered a Facebook page called Together Against the Brotherhood. Days earlier, the young administrator of a popular Facebook page called Brotherhood Liars was killed in similar circumstances.
Unconfirmed kidnapping accounts have also surfaced with increasing regularity—part of what Mohamed Zidan, an investigative journalist with the newspaper Al Watan, sees as a campaign against "secondary level" activists who are more vulnerable than their better-known counterparts. Eslam Mahmoud, 17, says he was kidnapped and threatened by "the police in cooperation with the Brotherhood, because they have a common interest."
Gehad el-Haddad, a senior official and spokesman with the Muslim Brotherhood, says the government is alarmed at such reports of police abuse, but that reform of the security forces will take time. "You have a police force that is ... 100 percent trained to be a bashing machine," he says. "To shift the balance is something that's going to take years."
Haddad says many in the Interior Ministry remain suspicious of the Brotherhood, a group suppressed by the Egyptian government until the revolution. Indeed, he says, the security forces' abuse may be a way for them to undermine Morsi: if such "rogue actors" continue their "bashing," anger will eventually be directed at the government.
But the opposition claims that the Brotherhood has been cooperating with police in some cases of abuse, citing as their best example the December clashes outside the presidential palace in which, according to news reports and human-rights groups, Morsi supporters detained, beat, and interrogated protesters while police officers stood idly by. Ola Shahba, a prominent activist who was detained, says she saw Morsi supporters assault male prisoners as the police looked on. The attackers asked questions similar to those heard at Red Mountain—demanding to know who had paid the activists and their connections to leaders of the opposition.
Haddad counters that there's no evidence that detainees were beaten or that the Brotherhood was involved.
But Gendy's legal team is trying to tie the Brotherhood to a similar allegation. Sherif al-Behairy, a former supporter of the Brotherhood's political party, claims that members of the group brought him to the Red Mountain camp in late January to find "bad guys [who] took money to destroy the ruling system." Once there, they beat and interrogated prisoners. One of the prisoners he saw at the camp, he says, was Gendy—though police had already battered him so badly, he was left alone. In an interview with Newsweek, Behairy said that when he realized the detainees weren't thugs but young activists, "I woke up."
The Brotherhood has dismissed Behairy as a liar, and one anonymous text on his phone has threatened him—not with violence but with a jail sentence for giving false testimony. And aside from Behairy, no one has come forward to say they saw Gendy at Red Mountain.
Officials, meanwhile, are standing their ground, though the Justice minister—in an embarrassing turn—recently claimed that he only stood by the contested hit-and-run report initially because the Interior minister asked him to.
Alaa al-Asas, the doctor who conducted Gendy's autopsy and wrote the initial report, says he remains convinced Gendy was killed in a traffic accident and expects a recently commissioned third report to prove him correct. He says activists are projecting their revolutionary hopes onto Gendy—"They want a symbol, and when Khaled Said was a symbol, they succeeded," he says—but have picked the wrong case. "I see many cases of [police] torture. This is not a strange thing," Asas says. "We proved this many times."
Additional reporting by Maged Atef