Iran Protests Timeline: How Death of Mahsa Amini Rocked the Middle East
Iran has been rocked by mass protests across several cities since Mahsa Amini died in police custody on September 16, three days after she was arrested for allegedly wearing "unsuitable attire."
Police accused Amini, a 22-year-old Kurdish woman, of breaking a law requiring women to cover their hair with a hijab, or headscarf, and their arms and legs with loose clothing. Since she died, protests have erupted all around Iran and elsewhere in the region, including Istanbul, the Turkish capital, where there is a large population of Kurds.
The protests are the largest in Iran since 2019, when security forces violently cracked down on demonstrators that were marching against high gas prices and the regime of Ayatollah Ali Khamenei. During those protests, 1,500 people were killed, according to Reuters.
Here is a timeline of how the recent protests unfolded earlier this month.
September 13: Amini Is Arrested
Amini, who was from the northwestern city of Saqez, was arrested in Tehran by Iran's infamous "morality police," who accused her of breaking the country's strict law requiring women to fully cover their hair with a headscarf. The morality police are part of Iran's Law Enforcement Forces (LEF), which have been accused of human rights abuses.
Amini was reportedly beaten after her arrest and transferred to the Vozara Detention Center in Tehran.
September 16: Amini Dies
Amini died in hospital after spending three days in a coma.
Iranian authorities said she had a heart attack, but her family rejects this. United Nations experts cite some reports that say she died as a result of torture and ill-treatment by the authorities.
September 16: Protests Begin
Thousands of demonstrators take to the streets of many cities, including Tehran, Ilam, Isfahan, Mahabad, Saqez, Sari and Tabriz, to demand accountability for Amini's death and an end to violence and discrimination against women and girls in Iran.
U.N. experts described the protests as "peaceful" but said Iranian security personnel used "excessive use of force" to detain activists, including firing bird shot and other metal pellets.
Meanwhile, Iranian women burnt hijabs and cut hair to protest the lack of women's rights in their country.
There has also been anger over the ailing economy in Iran, which has been hit by crippling sanctions imposed by the West, as well as fury at the lack of freedoms in the nation, especially for women.
Iran Human Rights (IHR), a nongovernmental organization based in Oslo, Norway, said Thursday that the protests had spread to more than 30 Iranian cities.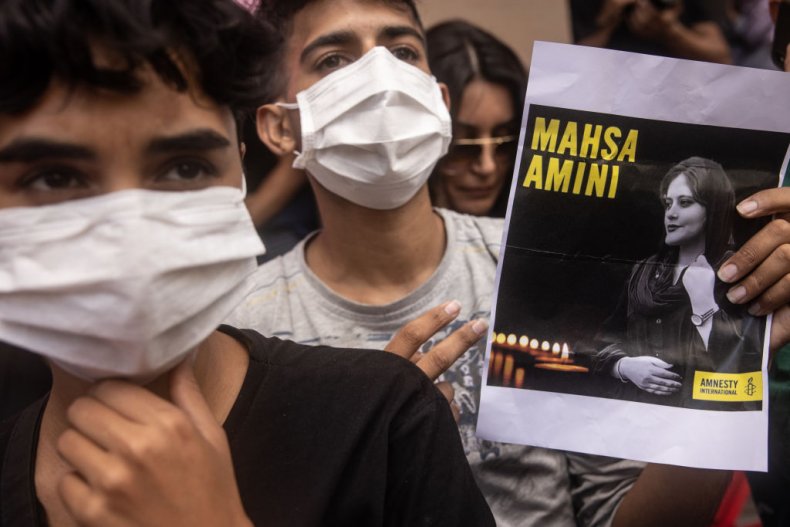 September 19: Internet Shut Down Amid Protests
Iran began curbing online access and shutting down the internet starting Monday, so information about the protests has been limited. However, videos of the violence have spread on social media networks.
On Wednesday, Iran blocked access to Instagram and WhatsApp, two of the remaining active social media networks in the country, amid the protests, according to internet watchdog NetBlocks.
Protests continued that day, with one video shared on social media by 1500tasvir showing hundreds of people at Tehran University shouting "Death to the dictator." Newsweek could not verify the video's authenticity.
September 22: U.S. Sanctions Morality Police, U.N. Responds
On Thursday, the U.S. State Department sanctioned Iran's mortality police and seven officials for alleged human rights abuses in Iran.
The seven individuals include Haj Ahmad Mirzaei and Mohammad Rostami Cheshmeh Gachi, senior officials in the morality police.
The others are Ismail Khatib, Iran's minister of intelligence; Manouchehr Amanollahi, the LEF commander of the Chaharmahal and Bakhtiari province; Qasem Rezaei, deputy commander of the LEF; Kiyumars Heidari, commander of the Iran army's ground forces; and Salar Abnoush, deputy commander of the Basij, a paramilitary militia and a subsidiary force of the Islamic Revolutionary Guard Corps.
"These individuals have been all involved in the suppression and killing of non-violent protestors," U.S. Secretary of State Antony Blinken said in a statement announcing the sanctions.
U.N. experts said in a statement: "We strongly condemn the use of physical violence against women and the denial of fundamental human dignity when enforcing compulsory hijab policies ordained by State authorities.
"We call on the Iranian authorities to hold an independent, impartial, and prompt investigation into Ms Amini's death, make the findings of the investigation public and hold all perpetrators accountable," the U.N. statement said.
The IHR said on Thursday that at least 31 civilians have been killed in a crackdown by Iranian security forces in response to the protests.
Newsweek has reached out to Iranian police authorities for comment.