New 'Death Note' One-Shot Manga: How to Read Tanaka Minoru's Plan Free Online
A new, 87-page one-shot Death Note manga story came out in an English-language translation Monday, and you can read it free online. Written by Ohba Tsugumi and illustrated by Obata Takeshi—Death Note's creators—the one-shot opens with the death god Ryuk rising from the Shinigami Realm to once again sow chaos among the mortals by offering one of them the ability to kill without effort or direct consequence. In this latest one-shot, Ryuk gives the Death Note to Tanaka Minoru, a brilliant middle school student who comes up with a new way to exploit the power granted him.
How to Read Death Note One-Shot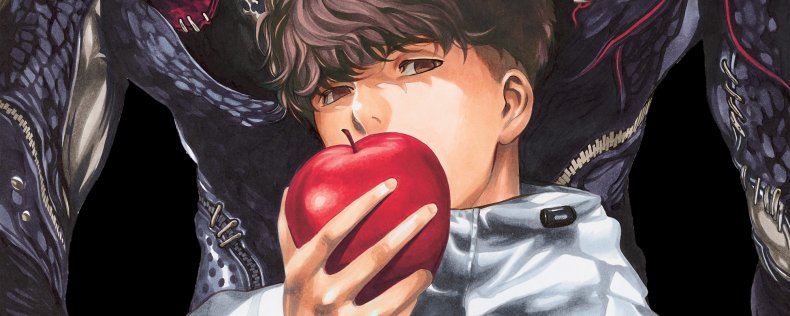 Tanaka's Death Note story appears in the pages of Shonen Jump, a weekly manga anthology. Released in the United States by Viz Media, the Death Note one-shot is currently available to read for free online, no registration required.
The new one-shot is the first new Death Note story in more than a decade, though the franchise has hardly fallen dormant in the interim, with TV shows, movies (including a Netflix Original by the director of the upcoming Godzilla vs. Kong) and even a stage musical. The last Death Note one-shot was released in 2008 (2017 in English)—two years after the end of the 108 issue manga series—and follows the third investigator to bear the alias "L," as he hunts down a new "Kira," using the Death Note to kill Japan's elderly.
This latest one-shot takes place years after the high school student Light Yagami's murder spree, which had the effect of reducing crime and ending war. But Tanaka is less interested in changing the world and has other plans for the Death Note. As usual, Ryuk is motivated mostly by hunger for apples and a desire to alleviate his boredom. You'll have to read for yourself to learn just how far Tanaka's plan goes, and the ambitious student's ultimate fate.
Reactions to the one-shot, which can be devoured in just a few minutes reading time, have been pouring in since its release, with many discussing a major spoiler: a U.S. president who looks a lot like Donald Trump is offered the Death Note and must make a choice.
You can discover for yourself just how the United States got involved with the Death Note—and whether or not the president chooses to wield it—on Viz Media. Or start from the beginning, with the Death Note anime and/or manga.