Death Row Records wasn't just a symbol of gangsta rap in the 1990's, it was the embodiment of it. And the label's no-nonsense leader, Marion "Suge" Knight—with a background steeped in violence and murder—was its Don Corleone.
Founded by Knight in 1991, Death Row's reputation was as menacing as the music pumped out by the label's top artists: Tupac Shakur, Dr. Dre and Snoop Dogg. They didn't just promote the "thug life," it was their chosen lifestyle.
"These guys were living large in this loud, in your face kind of way. It was a really exciting time. They basically changed the game," Mario Diaz, executive producer behind BET's docu-series, Death Row Chronicles, told Newsweek.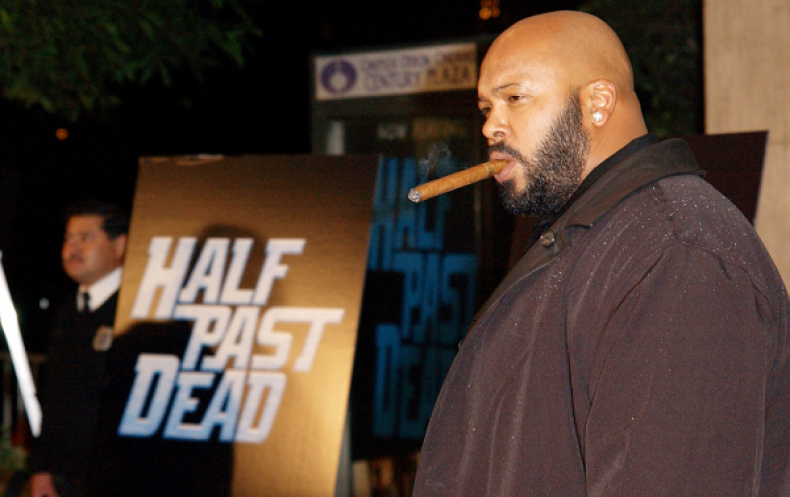 "They had a massive impact. With Death Row [we saw] Dre's music videos on MTV on regular rotation. White people from Minnesota were buying records," he continued. "But it's also a cautionary tale. It's [a story of] what can happen when the execs are not kept under control; when you're not keeping people in check and the people at the helm of a record label go off the rails because they get drunk with money and power."
The six-part, three-night series, premiering Tuesday at 10 p.m. ET, offers an intimate look at the rise and fall of Death Row through never-seen archival footage and documents straight from the Death Row vault. Interviews with more than 60 people affiliated with the label, including former members Kurupt, Danny Boy and Knight's ex-wife and former singer Michel'le Toussaint, give first-hand accounts of exactly what it meant to work for one of rap's most feared men.
Knight is currently behind bars awaiting a murder trial in California. Diaz managed to secure new interviews with him, too, though the jailhouse phone interviews cost Knight's fiancée, Toi-Lin Kelly, her freedom (she was recently sentenced to three years in jail for helping Knight violate a court order limiting his phone communications.)
"We traced [Knight's] evolution from a guy from Compton, who was not necessarily associated with gangs, who had a promising football career, then his left turn to music," said Diaz. "He learns how to influence people, sometimes through intimidating tactics, sometimes because he's just so business savvy. And then [we look at] how he steered Death Row, what things helped to make it great and what things he did to bring it down."
The series will also highlight Shakur's role in Death Row, nearly 22 years after he was shot and killed in Las Vegas in September 1996. Some conspiracy theorists believe Knight played a role in the rap superstar's murder. He's long denied the rumors, but Shakur's death sparked the demise of Death Row. "How does Tupac Shakur fit into Death Row? How does this guy, who writes songs like "Brenda's Gotta Baby" and "Dear Mama," get all thugged out and work with Death Row?" Diaz asked.
Despite the many controversies that plagued the former label—Death Row filed for bankruptcy in 2006—Diaz hopes the project will clarify, even debunk, some of the hyper-violent and aggressive mythology now associated with the label. "I'm not saying that the gang element wasn't present in Death Row. That's very much a fact," Diaz said. "But these guys were making music—their focus was making music. I think more than anything we're trying to demystify and tell a true story from the people who lived it," he added. "Was it really that crazy? Was this just a media hype, or is it something [Death Row] wanted us to perceive? It turns out, it's all of the above."