'Changed' Tennessee Death Row Inmate Facing the Electric Chair Has Prison Staff, Victims' Relatives Appealing for Clemency
Nicholas Todd Sutton is the maintenance man at the Riverbend Maximum Security Prison in Nashville, Tennessee.
It's a job he's had for more than 20 years, trusted to walk around with hammers and screwdrivers as he carries out his work. But the death row inmate's last day will be Thursday, February 20—the date of his execution by electric chair.
Sutton, 58, was sentenced to death for the killing of a fellow inmate, the child rapist Carl Estep, in 1985.
At the time Sutton was already serving a life sentence for killing his own grandmother when he was 18—he had thrown her into a river to drown—and the murders of two men, Charles Almon and John Large in North Carolina.
Yet some of his former prison guards and relatives of his victims are appealing for the state to show Sutton last-minute mercy because he is a changed man who has overcome his criminal past and even saved lives during his incarceration.
"For our family, the grief for that missing person in our life, that will never go away," Anna Lee, Almon's great-niece and a Methodist pastor from Knoxville, Tennessee, told Newsweek.
"We look at Nick's life and we think that it still has meaning and value. We know that he has changed as a person and we also know he is going to still have consequences.
"He'll be in prison for his whole life, but we just feel like his death would do nothing to erase an earlier tragedy, but would just add a tragedy on top of the first one."
Lee's father Charles Maynard also supports the clemency petition to Governor Bill Lee and has forgiven Sutton for the murder of his uncle, adding that "taking another life does nothing to right this wrong."
Executing Sutton won't bring Almon back, Lee said, or make Tennessee safer: "It's not going to do any of those things so we feel like it would be another senseless act of violence."
Lee hopes her home state "is a place where people can have another chance and that there's a way to make things right," and even though what happened cannot be erased, "you can spend your life doing good and serving the community in other ways."
"Which Nick certainly has done while he's been in prison," Lee adds.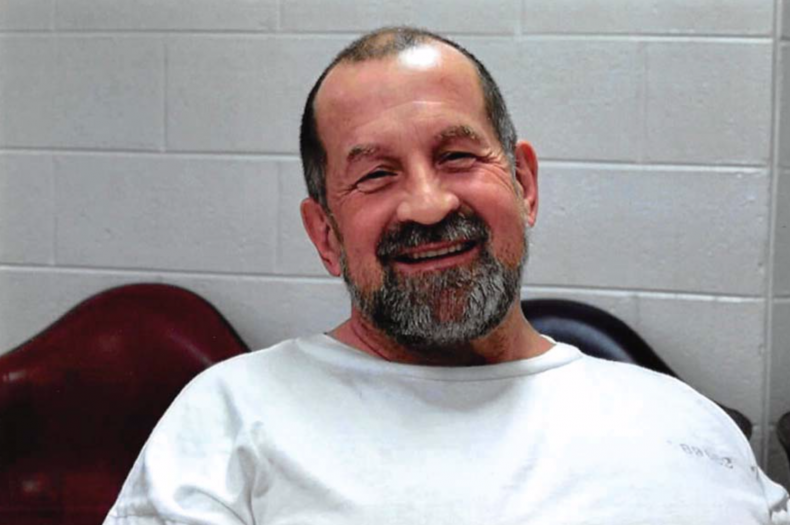 Sutton's role as a maintenance man in the prison is not incidental to his appeal for clemency.
Despite his history, Sutton is allowed to handle tools such as hammers and screwdrivers on a daily basis inside the prison because the guards "completely trust" him, according to Kevin Sharp, a former federal judge who is working pro-bono on Sutton's petition for clemency.
"They have a really tough job and they need inmates who help make the place safer, not more dangerous," he told Newsweek. By giving him the maintenance job "they're really trusting him with their lives," Sharp said.
"You've got to have those folks on the inside or staff members don't go home or at least they don't go home alive. That's why they like Nick, that's why they want Nick alive...because he's worth more to them alive than he is dead."
Sutton is different from other inmates who claim to have transformed themselves behind bars, Sharp adds, because he has proved it.
In a petition sent to Tennessee's Governor Bill Lee requesting Sutton's death sentence be commuted to life without parole, his attorneys wrote that three former prison staff members owe their lives to him.
Former Correction Lt. Tony Eden said in an affidavit that Sutton saved his life during a 1985 prison riot when Eden was surrounded by a group of five armed inmates who tried to take him hostage.
"Nick risked his safety and well-being in order to save me from possible death. I owe my life to Nick Sutton," Eden said.
"If Nick Sutton was released tomorrow, I would welcome him into my home and invite him to be my neighbor," he continued. "It is my opinion that Nick Sutton, more than anyone else on Tennessee's death row, deserves to live."
Cheryl Donaldson, a former manager of Tennessee's death row unit at Riverbend, recounted how she slipped and hit her head hard on the floor in 1994.
She believes other inmates would have taken advantage of a situation like that, assaulting her or causing a security breach.
But Sutton "sprang into action, helped me to my feet, retrieved my keys and radio, and alerted staff to come to my assistance," she said. "This was typical of Nick, who always puts others before himself and is willing to help anyone in need."
"Nick is living proof of the possibility of rehabilitation and the power of redemption," she added in the affidavit.
The petition also includes a statement from former Hamblen County Sheriff's Deputy Howard Ferrell, who has since died.
Ferrell said that in 1979 Sutton stopped an inmate attacking him from behind as he was trying to break up a brawl: "He probably could have saved my life."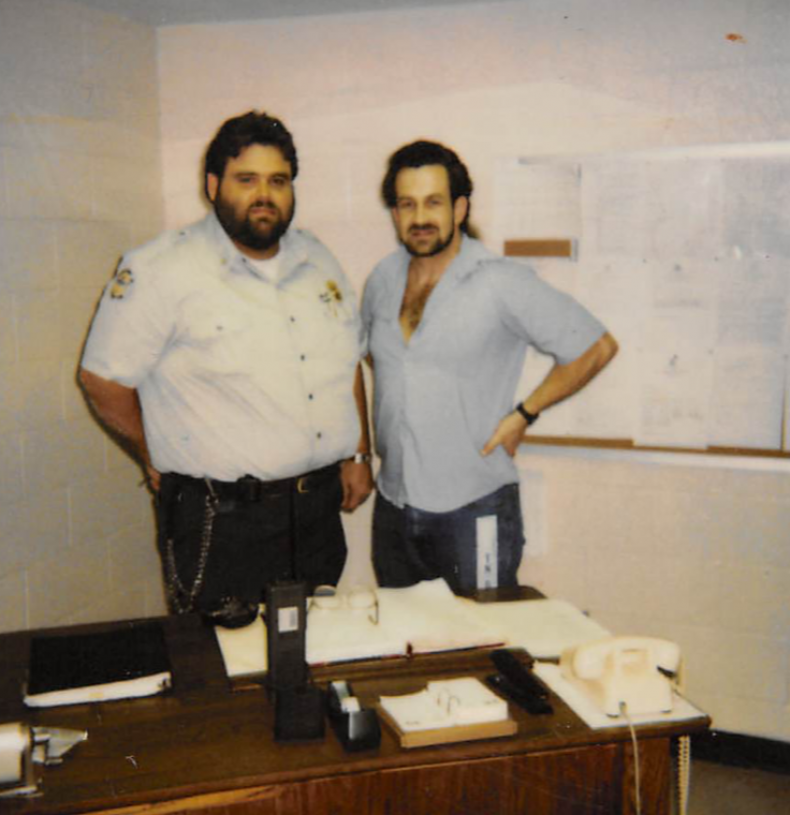 James Aiken, a former correction commissioner and prison adaptation expert who met with Sutton last year and reviewed his incarceration history, explained how "extraordinary" it is that seven current and former prison staff have spoken out in support of the petition for clemency.
"We have an old adage in prison culture, which is 'if you can't say anything bad about an inmate, you don't say anything at all,'" Aiken told Newsweek.
"And here are people that are standing forward and stepping forward to let the world know their assessment of Mr. Sutton, which is extremely positive."
Sutton "put his life on the line" in order to save three prison staff members, Aiken added, and furthermore, he did it "without any inclination that he will be rewarded for it."
"He put his life in danger...and no one would have said anything if he just stood by and let these critical events go forward which, in my estimation, would have caused at least very serious injury or death to those staff members," Aiken said.
"He did it because it was right and that's why these staff members are stepping forward."
Aiken said Sutton's "compliant behavior" over decades, coupled with the fact that he has held onto his job as a maintenance man for 20 years, is further proof of his rehabilitation.
"This is an inmate that is on death row and he's a maintenance man," Aiken said, and he could not recall another inmate ever holding onto such a job for that long.
"What that means is that every morning, he receives a pouch with screwdrivers, knives, hammers, things of that nature.
"There is a high level of professional trust with staff to allow him to have that equipment and, on top of that, having the ability to make movements throughout the institution which gives him the opportunity to involve himself in misbehavior or using the tools as a weapon.
"He's not done any of that. And now you multiply that by 20 years; 20 years of having the opportunity to inflict random or systematic violence against other inmates or staff, it did not occur."
Aiken, who says he has interviewed thousands of inmates during his 40-plus years in corrections, said he could tell Sutton has reformed during their meeting.
"My interview with Nick Sutton was one of an old penitentiary warden talking to an old inmate that's been in the system for decades," he said.
"He's not demonstrating this type of compliant behavior over decades to please anyone for favors or anything, he did it because he knows it's right.
"He's saved people's lives, he's been very compliant in an adverse environment and he did the right thing times three whereas he could have stood over there by the wall or went to his cell and let the chips fall.
"I knew that it was my responsibility to explain that to decision-makers how extraordinary that is, to say the least."
In his clemency petition, Sutton received support from his cousin Lowell Sutton. "Although the loss of my aunt was very hard on my family, I forgive Nick, our family forgives Nick and we do not want him to be executed," he says in the petition.
"Our family supports a life sentence and we have no desire to see Nick put to death. Nick's execution will only cause more pain and hurt for our family; please spare us that."
Sutton's clemency petition also contains a supporting statement from Carl Estep's eldest daughter Rosemary Hall. "It breaks my heart that Mr. Sutton has lost so much of his life on death row for killing my father," she is quoted as saying.
But not every member of the Estep family feels the same. Another of his daughters, Tammy Estep, told Newsweek she hopes the execution means her family's "nightmare shall finally be laid to rest."
The 45-year-old from Cleveland, Tennessee, said she was 10 when she saw her father's mugshot on television after he had been killed. "It's taken 30 years or more to come to peace with it all," she said. "But every few years, it pops up, someone will ask or the news re-airs it. I'd just like it to be done, once and for all."
She added: "Nicholas Sutton... A man I never knew has been a bad word in my life since I was 10."
Tammy Estep concedes that her father was "no saint" and knows about Sutton's apparent change over the years, but still believes he needs to pay for his crimes.
"I've read of his good deeds over the years. That's why in my heart I want to believe somehow God touched him," she said.
"I mean, the man killed his grandmother. No mercy was shown there. And I know my father was no saint and some people will even say worse. Dad was shown no mercy as he begged for his life. Thirty-eight times my father was stabbed."
Despite that, she hopes Sutton's execution is over quickly. "I wish Sutton peace as well. I think of him daily because it must be hard to know you're going to die," she said. "I don't want it to last one minute longer than it has to."
Martin Coffey, a former Hamblen County Sheriff's Office detective who worked Sutton's case, told Knox News in January he was still in favor of the execution going ahead.
"If you don't execute Nicky Sutton, then why have the death penalty?" Coffey told Knox News. "If you don't execute him, who do you execute? He brutally murdered four people, and they're not all from the drug industry. His grandmother raised him, and yet he put her in a watery grave."
Sutton takes responsibility and offers no justification for Estep's murder in his clemency petition, which says he is "profoundly remorseful" for the crime.
Sharp noted that Sutton would be the first inmate ever to die in Tennessee for killing another inmate.
Only one other person, Joel Richard Schmeiderer, has been sentenced to death for killing an inmate in the state. But that sentence was commuted to a lesser one in 2014.
The clemency petition states that Sutton was only sentenced to death because he had been offered a plea deal he could not accept.
The prosecution offered him a life sentence in exchange for his guilty plea, but it was also on the condition of his co-defendant Charles Freeman accepting a sentence of 30 to 40 years.
Sutton refused that offer because he says Freeman was "minimally involved" in Estep's killing, according to the petition. Freeman was later acquitted.
The petition also says Estep's death came about because Sutton's substance abuse, which began during a traumatic childhood, had "followed him into prison."
Estep told prison staff that he intended to kill Sutton, so he was in a "kill or be killed" situation with no possibility of help or protection from staff, according to the petition.
"The omnipresent violence and threat of attack overwhelmed Nick's young brain, which had been significantly impaired by trauma and adolescent drug use," the petition said.
This history of childhood trauma and abuse was never presented for the jury deciding Sutton's fate to consider. Now, five of the jurors who sentenced him to death support the sentence being commuted, the petition says.
Sutton had been abandoned by his mother and raised by his "violent, abusive and mentally ill" father Pete who introduced him to drugs when he was a child, according to the clemency petition.
Lowell Sutton recalled that Pete's idea of parenting "generally consisted of yelling at, beating and terrorizing his son."
Sutton's father, who often abused both alcohol and drugs, "actively encouraged" his son to use illegal drugs as well, which the boy did "routinely" from the age of 12.
"Nick was taught to numb his own pain with drugs and alcohol, and his emotionally distant grandmother offered little else to help Nick deal with his trauma and fear," the petition says.
When Sutton was a teenager, his father was found dead from hypothermia in the family's yard.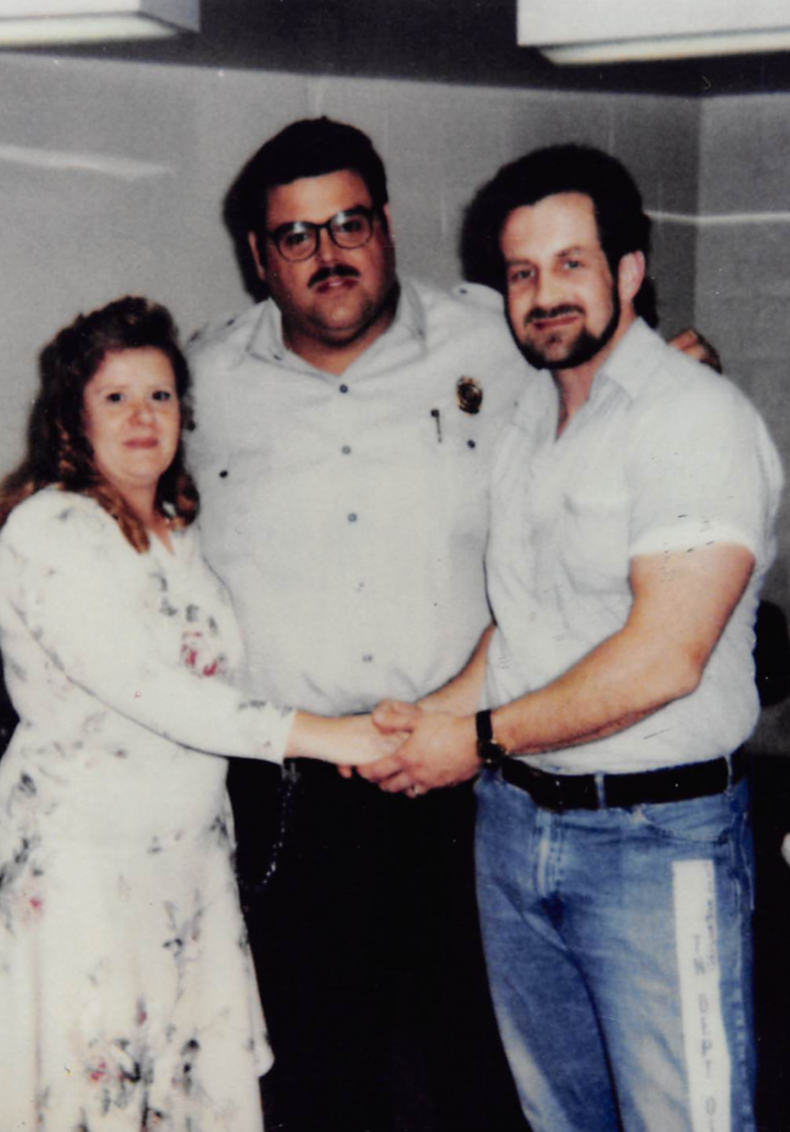 Sharp says Sutton's transformation while incarcerated had a lot to do with his wife Reba, who he met through a prison pen-pal program. Over the years, Sutton has become a "dedicated and loving husband, stepfather, stepgrandfather, friend and mentor," his petition states.
"She's the one who introduced him to religion and helped with his conversion to Christianity and accepting Jesus," Sharp said.
When they married in the prison's visitors center 25 years ago, Sharp says Eden, one of the guards Sutton saved, was his best man: "They both started in the prison as kids, 20-somethings. This guard Tony and Nick the inmate, really, grew up together in prison."
Sharp says a perfect example of Sutton's redemption is his care for another death row inmate, Paul House.
House's health deteriorated behind bars and he was eventually diagnosed with multiple sclerosis. He was denied access to a wheelchair and was forced to crawl on his hands and knees to get around.
But Nick "did whatever he could to protect Paul and ease his suffering as his body betrayed him," the petition says.
"As his health deteriorated, Paul couldn't really walk at all and there were no wheelchairs in this facility and so Nick would have to carry him on his back so that he could visit his mother and get around or put him in an office chair and just kind of wheel him around," Sharp told Newsweek.
Sharp said that when House stopped being able to get out of his bunk in his cell, prison staff didn't realize and he went days without eating. Eventually, the warden allowed Sutton to go into House's cell to help him eat.
"That Nick would go in and feed this man says something about Nick's character and his change," Sharp said. That the prison gave a death row inmate that kind of responsibility is also remarkable, he added.
"You just don't do that. He's too vulnerable," Sharp said. "Unless you thoroughly trust Nick, the same way you do by letting him be the maintenance guy and giving him tools."
Sharp continued: "Nick did everything for him, the stuff that Paul's mother would have done had he been at home and in this condition. But for Nick, Paul dies. He would not have survived in that place."
House was exonerated of rape and murder after 22 years on death row in 2009.
"He didn't do it. He was innocent as he'd been saying all along. Nick would listen to him," Sharp said. "It's heartbreaking."
House's mother Joyce is among those who provided statements in support of Sutton's clemency petition, describing him as her son's "saving grace."
"As my son often told me, Nick is the only reason Paul is alive today. As a mother, it was so difficult not to be able to care for my son. I owe so much to Nick for providing Paul with the care that I was unable to give him."
Sutton is also credited with saving fellow death row inmate Pervis Payne and caring for him afterward, according to the clemency petition. Sutton rushed to get aid for Payne after he nearly died from a punctured intestinal tract.
When Payne returned to the prison after a month in the hospital, Sutton looked out for his friend. And when Payne was too weak to do his assigned job, Sutton did his work for several months.
Another inmate, Lee Hall, went blind while on death row, but wasn't provided a cane or walking stick. Sutton regularly guided Lee around the prison and ensured he was protected from other inmates who saw him as a "vulnerable target."
"Quite simply, Nick, who once murdered a man behind bars, now makes the prison a safer and more secure place for staff and other inmates," the petition states.
For Sharp, it was "getting sober and getting structure allowed the Nick who could have been to come out."
"Let's not put him in the electric chair now," Sharp told Newsweek.
A spokesperson for the Tennessee governor's office said: "We don't comment on the governor's deliberations on these cases, but we should be releasing a statement on the decision [on Wednesday]."
This article has been updated with a comment from the governor's office.