The death toll from historic floods in Japan climbed to 176. Rescue workers struggled on Wednesday to search for dozens of people who are still missing after muddy floodwaters surged through the streets in the country's southwest.
The record downpours triggered a series of mudslides around Hiroshima and Okayama prefectures, as well as flooding homes across a wide swath of the region from Friday afternoon to early Saturday. This is Japan's highest death toll in a rain-related natural disaster since 1982, The Japan Times reported.
In the days after the destruction, neighbors could be seen sifting through the debris and helping each other carry waterlogged furniture to curbsides.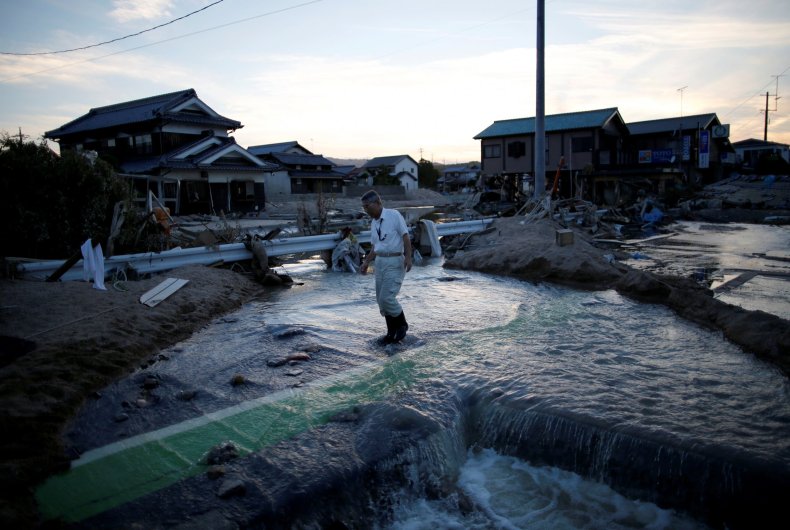 Although the extent of the damage is yet to be determined, as of Tuesday morning, as many as 347 homes were destroyed or partially damaged and 9,868 homes were flooded, the Fire and Disaster Management Agency reported.
Thousands of homes were left with no electricity or running water, and many residents were forced to seek emergency shelter.
As of Sunday, more than 30,000 people were staying at emergency shelters, The Guardian reported. Many evacuees are now suffering through a heat wave that followed the rainfall, unable to take showers or find their way to hospitals for medical care.
Almost 2 million people were still subject to evacuation orders early this week, while tens of thousands of rescue workers braved the muddy waters to find people trapped in their homes.
Prime Minister Shinzo Abe visited the devastated region and promised that the government would do whatever it could to help residents return to normal life, the Kyodo News agency reported.
Businesses throughout the area were also forced to stop operations. Automotive manufacturers Mazda and Daihatsu said they had suspended work at plants in three prefectures.
In the city of Kurashiki, Teruo Sasai, whose house was flooded out, said he could not believe how much destruction had overtaken his neighborhood.
"The floodwaters were up over my house, probably reaching 4 or 5 meters [13 to 16 feet], up past the roof all the way to the TV antenna. Thankfully, I was OK and nobody in this neighborhood was severely injured," he told The Japan Times.
"We're still cleaning up. But I'd guess that in order to recover, it's going to take at least a year and cost hundreds of millions of yen or more," he said.