Death Toll From Interstate 81 Crash Climbs to 6 After 80-Vehicle Pileup
The massive pileup on a Pennsylvania highway that took place Monday morning has now killed six people and state police estimated that it involved at least 80 vehicles.
At least two dozen other motorists were taken to four hospitals for treatment following the crash, Pennsylvania State Police said in a press release.
The crash was believed to have been caused by severe snow squalls in the area Monday morning, and people were trapped inside vehicles as multiple semi-trucks caught fire in the area.
The incident report from police said that identities of those who died in the crash or in the days since will be released once families are notified.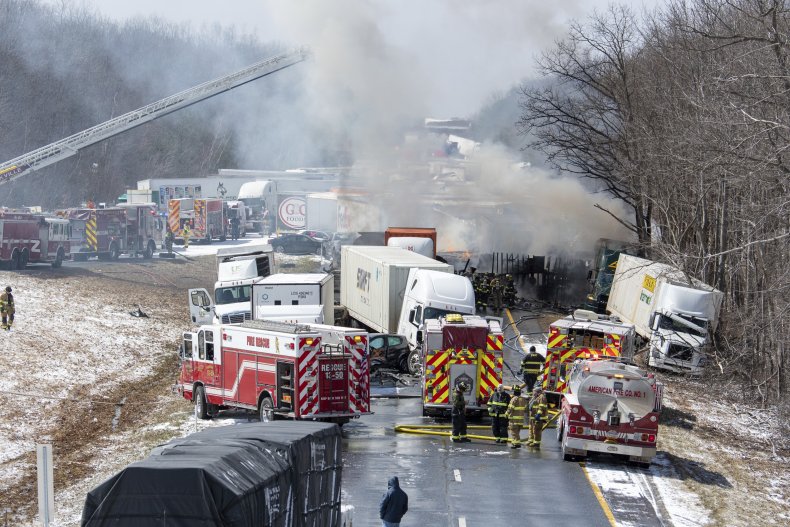 Video shared on social media spread rapidly Monday morning, showing several cars and semi-trucks either losing control and driving off the road, or crashing into other cars and trucks because of low visibility and snowy conditions. The video also shows smoke rising from the scene as multiple trucks were on fire, and shows people leave their cars and flee into nearby wooded areas for safety.
State authorities said that vehicles were being searched one at a time to ensure no one was trapped inside, and the exterior of the vehicle was then marked with a red X so it was clear that the vehicle was empty, Newsweek reported Monday.
Some vehicles burned so intensely that they were either mostly destroyed or had partially "melted onto the highway," according to the Associated Press. The updated incident report states that the road was reopened just after midnight, early Wednesday morning.
As of Tuesday evening, construction crews were working to remove the rest of the vehicles from the scene and complete repairs necessary for the road to reopen, State Police Troop L Public Information Officer David Beohm said on Twitter.
The release said the pileup included 41 passenger vehicles and 39 commercial vehicles, which is larger than the initial 50- to 60-vehicle estimate.
Beohm told Newsweek on Wednesday that he was told the plan was to "mill" some of the asphalt, removing it from the highway in order to make the surface level and safely driveable again, and said he doesn't believe the road had to be repaved because it was able to be opened overnight.
Authorities on Monday defined the pileup as a "mass casualty incident," which refers to "an event that overwhelms the local healthcare system, where the number of casualties vastly exceeds the local resources and capabilities in a short period of time," Newsweek reported.
Snow squalls were persistent in the area Monday morning and afternoon, and are often the cause of sudden crashes in winter conditions, according to the National Weather Service (NWS). They typically consist of sudden heavy snowfall and high winds which can reduce visibility and create icy, unsafe conditions within minutes.
The NWS recommends constantly being aware of weather forecasts, and if a squall occurs while driving, increase the distance between yourself and other cars and be prepared to stop, but don't brake suddenly as icy conditions could result in losing control of the vehicle.
Update 3/30/22, 1:05 p.m. ET: This story has been updated with additional information.