Chattanooga Death Toll Rises as Navy Petty Officer Dies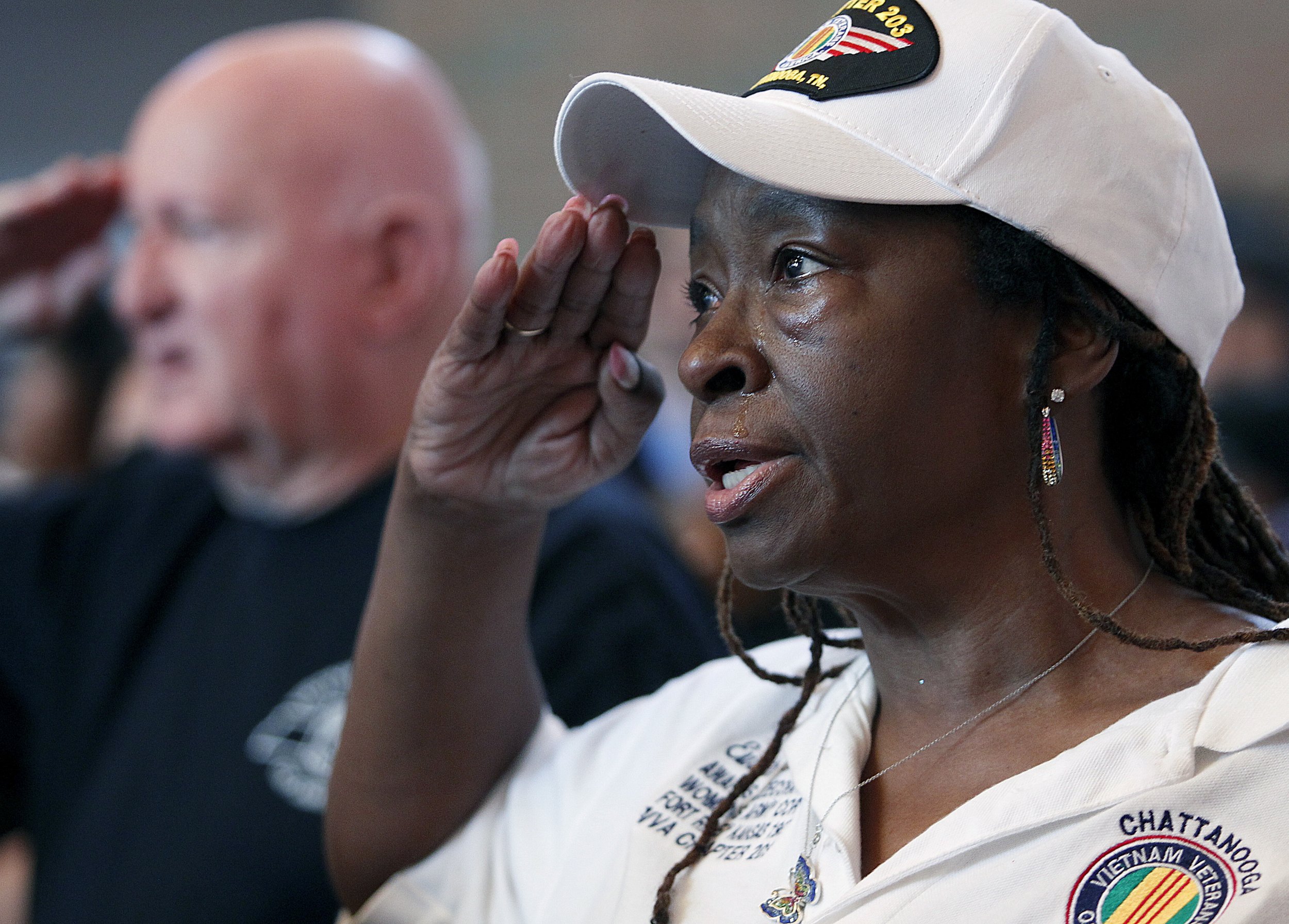 Updated | CHATTANOOGA, Tenn. (Reuters) - A male U.S. Navy petty officer has died of wounds sustained in this week's shooting in Chattanooga, Tennessee, the U.S. Navy said on Saturday, raising the number of people killed in the attack to five.
The suspected shooter, Mohammod Youssuf Abdulazeez, a Kuwaiti-born naturalized U.S. citizen, also died on Thursday in a firefight with police after the rampage at a military recruiting office and a training center six miles away.
The Navy's brief statement did not identify the petty officer who died or provide his age or hometown.
But family members have identified him as Navy Petty Officer 2nd Class Randall Smith, a reservist on active duty who leaves behind a wife and three young daughters, according to media reports.
Four U.S. Marines were also killed in the attack and two other people, a Marine and a police officer, were wounded.
A little more than 24 hours after the shooting, the FBI said it continued to investigate it as an act of terrorism and that it was "premature" to speculate on the motive.
"We are exploring all travel that he has done and we have asked our intelligence partners throughout the world to provide us with any information they may have," Ed Reinhold, FBI special agent in charge, said during a news conference on Friday.
The suspect traveled to Jordan and possibly other Middle Eastern countries for seven months last year, according to authorities, who are looking for any signs of a connection to Islamist militants.
Investigators will try to establish if he was part of an organization or the latest "lone wolf" militant. President Barack Obama has said radicalized individuals acting on their own pose a greater risk to the country than a large-scale operation.
Friends were shocked by the actions of Abdulazeez, who they said lived about 150 miles (241 km) away in Franklin, Tennessee, but had returned to his hometown to visit family for the Islamic fasting month of Ramadan, which ended Thursday.
Born to Palestinian parents and raised in a Chattanooga suburb, Abdulazeez may have family in Jordan and may have made several stops, said a government source, adding that a visit to Yemen, long viewed as a training ground for Islamic militants, has not been ruled out.
Law enforcement officials have said they are investigating whether Abdulazeez was inspired by Islamic State or similar militant groups. Islamic State had threatened to step up violence during Ramadan.
But the FBI has stressed it had no indication that the attack was linked to that group.
Investigators believe family or psychological issues may have contributed, according to a government source, who was not authorized to speak on the record.
Abdulazeez sprayed gunfire at a joint military recruiting center in a strip mall, then drove to a Naval Reserve Center about 6 miles (10 km) away, where he killed the Marines before he himself was shot dead. Three other people were injured, including the sailor who the Navy said had died on Saturday.
The Marine Corps identified the four slain Marines as Gunnery Sergeant Thomas Sullivan of Hampden, Massachusetts, Staff Sergeant David Wyatt of Burke, North Carolina, Sergeant Carson Holmquist of Polk, Wisconsin and reservist Lance Corporal Squire Wells of Cobb, Georgia.